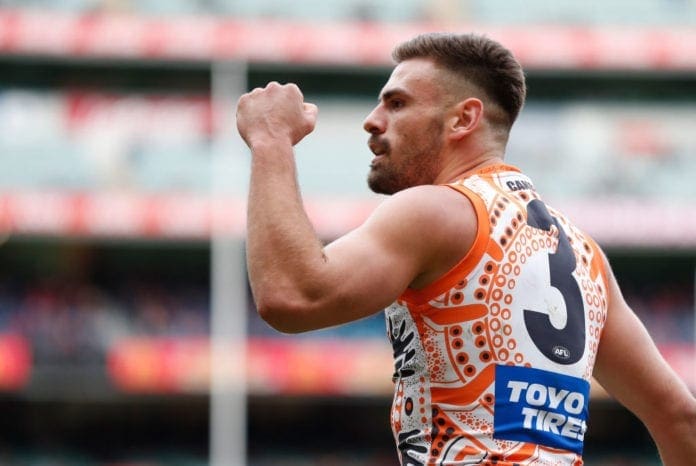 St Kilda great Leigh Montagna has called for GWS to be brave in selection and make captain Stephen Coniglio earn his place in the side after his VFL return last week.
Coniglio returned on managed minutes last weekend collecting 16 disposals in the Giants' one-point win over Casey.
Speaking on Fox Footy's First Crack, Montagna said that Coniglio wouldn't fit back into the Giants midfield in its current state.
"He's fit and available, but I tell you what, he's not going to break into that midfield," he said.
"They dropped Tom Green who was unbelievable on the weekend to give Matt de Boer a crack at tagging. They had to move de Boer back out of the side.
"(Jacob) Hopper, (Tim) Taranto, Callan Ward has had an excellent year going back into the midfield after trialling him at halfback.
"I can't see Coniglio being a part of the midfield mix. They've already got four or five midfielders better than him. Hopper, Taranto, Ward and Green are all ahead of him, they want to get Kelly in there a little bit more."
Green has been a superb asset this season and is a live chance in the race for the NAB Rising Star. With him stepping up along with Hopper taking his game to another level, the Giants have again re-established their midfield as a dominating force.
Josh Kelly has hit arguably career-best form this season as he weighs up whether to re-commit to the Giants or depart for pastures new. Coniglio has simply not be missed the way a captain usually would be.
SEE ALSO: Forgotten Cat could be on the move
Coniglio has struggled since being named skipper after he signed a long-term deal to stay at the Giants. The 27-year-old was dropped last season after his form resembled a shell of the player Coniglio had become known as.
Montagna believes there is a spot for Coniglio in the GWS side but not as a midfielder.
"I just think they need to find a new spot for Coniglio whether it's half back half, half forward or maybe as a wing," he said.
"They've just got to be careful because at the moment they way they're going you don't want to upset the apple cart too much by bringing in a player you think it might help.
The Giants are closing in on a finals spot after they beat Melbourne at the MCG on the weekend and now sit in eighth spot on the ladder.