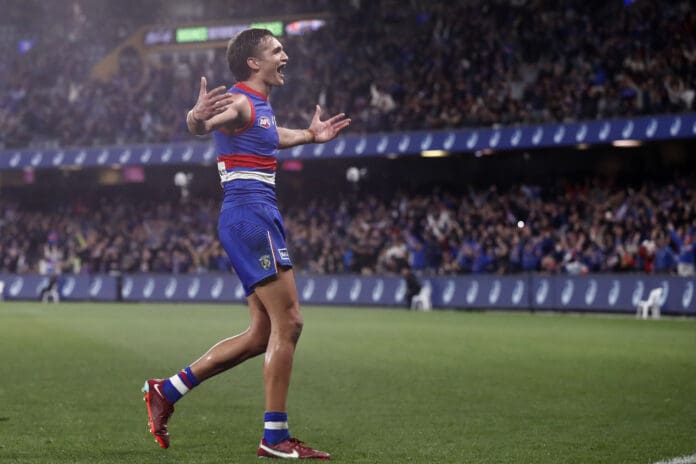 Jamarra Ugle-Hagan has spoken about his post-goal celebration on Thursday night, when he lifted his jumper and pointed to his skin in a recreation of Nicky Winmar's iconic pose, saying that it was a spur-of-the-moment decision.
The Bulldogs confirmed after their Round 2 loss against St Kilda that Ugle-Hagan had been racially vilified by a Saints fan, with the young Dog spending Monday away from the club.
On Thursday night, though, the 20-year-old led the Dogs to victory over Brisbane with a stellar five-goal effort.
Speaking to the media post-game, Ugle-Hagan said he was proud of the moment and hopes no other player will have to deal with racist abuse.
"I knew it was coming up to 30 years since Nicky Winmar did that, but it just came in the moment. I didn't know I was going to kick a goal tonight, so the celebration just came with it," he said.
"I felt pretty proud, going out there with all my mates who supported me in a tough week.
🖤❤️💛 pic.twitter.com/6LJyBOxRrx

— Western Bulldogs (@westernbulldogs) March 30, 2023
"To do that in front of everyone, hopefully it makes a stance and a moment, and hopefully people look back on it 30 years from now and say, 'From then, nothing's happened since'. Hopefully no one cops anything like I've been through."
Ugle-Hagan collected nine disposals and two marks alongside his bag of 5 goals, the last of which was kicked after the final siren to deliver the Dogs a 14-point win.
"I did get a bit emotional, especially when all the boys ran over to me. It was a special moment, not because I'd kicked five and the way I performed, but the week I've had and the boys have supported me – throughout the game and throughout the whole week they've supported me with messages, catching up during training and always ringing me and stuff," he said.
"That moment out there was probably a bit emotional because they love me. It's so easy to see, we're not just a football club, we're a big family.
"That's why I had Monday off, I knew if I came in Wednesday, I'd feel comfortable at our football club because we are a big family and everyone supports me, especially Bevo."
While Ugle-Hagan remained proud of his actions both on and off the field, the 20-year-old reminded fans that calling out poor behaviour shouldn't fall on the shoulders of players.
"Back in the day, they would have had it a lot worse. But now, players are sick of it and they're making a stance and we're calling them out, we're pointing them out and we're sorting it out," Ugle-Hagan said.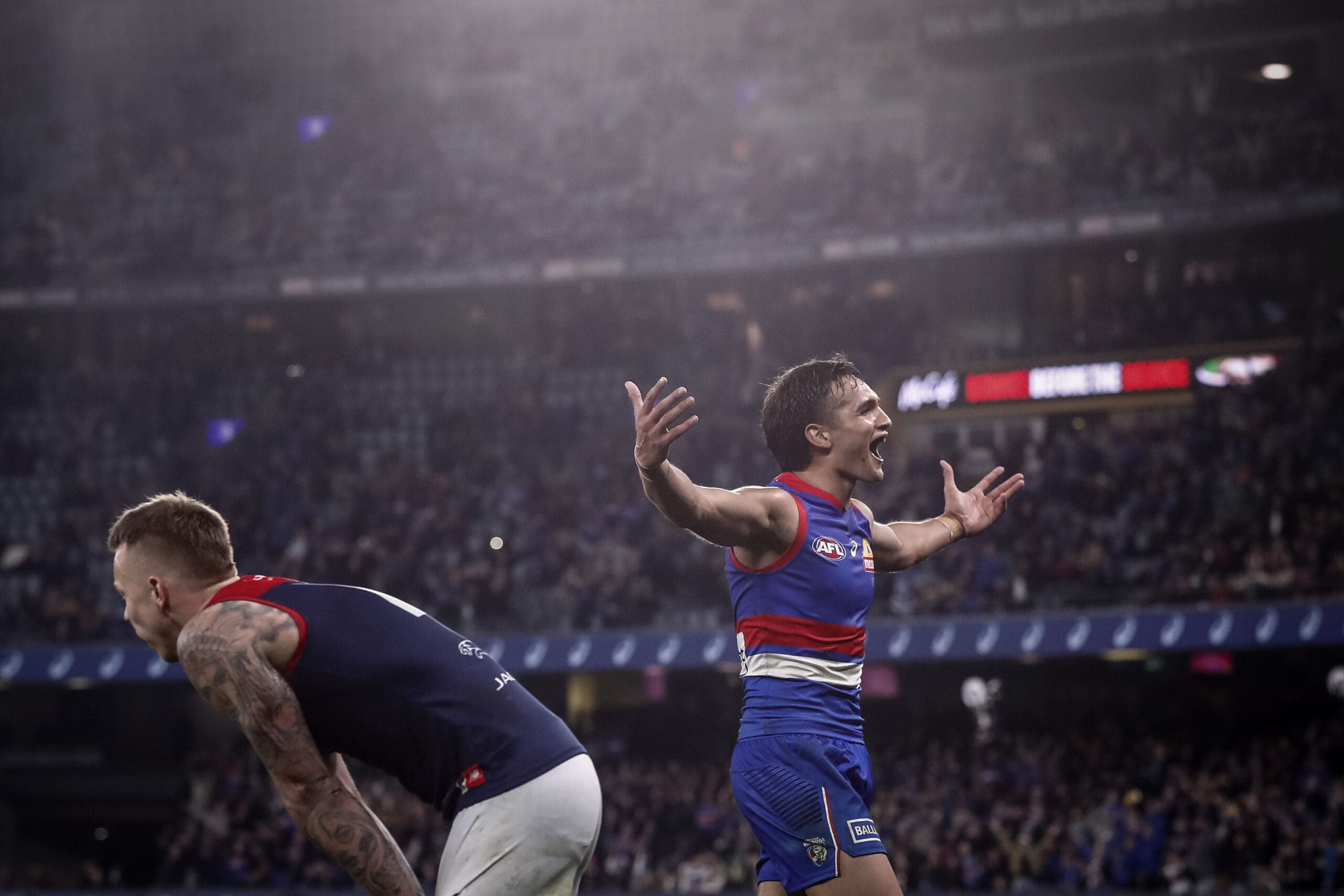 "You can hear a thousand compliments, and then one bad comment, and you're going to remember that one bad comment rather than the thousand compliments.
"I just want someone to point them out, rather than me contact the club and have to say this happened. I'd rather someone in the stands to point them out and let them know it's not the right thing to say.
"That goes with any race, not just Aboriginals and Indigenous boys and girls, it's all races in the League. Making a stance and it only takes a little bit to make a comment and say it's not the best thing to say. Then they're going to say that to the next person, and it'll follow on and on."
Ugle-Hagan's Bulldogs staved off a late-charging Lions outfit at Marvel Stadium on Thursday night to claim their first win of the 2023 season.