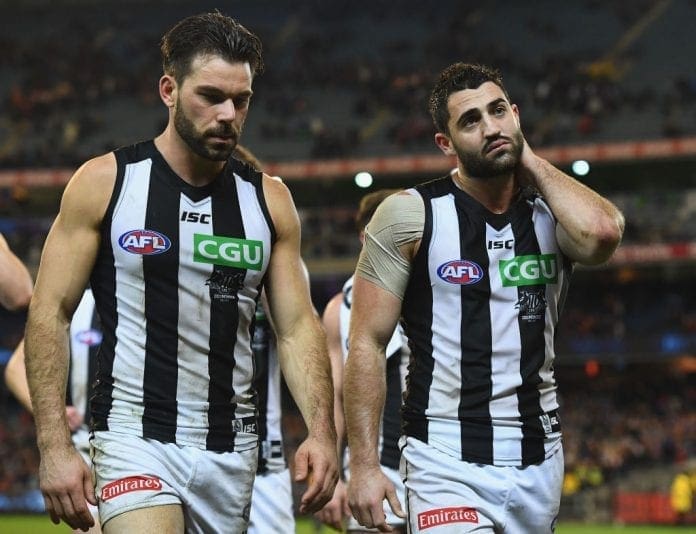 Collingwood coach Nathan Buckley says he can understand the frustration of Pies supporters after some free kicks went Melbourne's way in the dying stages of his side's four-point loss to the Demons on Monday.
With Collingwood on the attack and Melbourne holding on to a 10-point lead with just minutes remaining, several free kicks went the Demons' way, while the Pies were possibly unlucky to be awarded a shot on goal after Jayden Junt seemed to incorrectly dispose of the ball inside the Pies' forward 50.
Levi Greenwood and Steele Sidebottom were both caught holding the ball in the tense finish by decisions that could have gone either way, and while Buckley admitted his side weren't looked upon favourably by the umpires, it doesn't excuse them from losing the game.
"I don't think we got the rub of the green but that's gonna happen. Ultimately, late in the game, they're easy ones to go to," Buckley told Channel Nine's Footy Classified on Monday night.
"Invariably it evens up, definitely across a long enough period, but the Collingwood supporters would feel hard done by this week. Especially with those late decisions that stand out for you.
"But we did enough to put ourselves in a position to win and I think part of being a consistently good team is winning by enough to buffer the things that don't go your way from a luck perspective."
It was a massive result for both sides, as Melbourne leapt into sixth place on the ladder, with Collingwood now in 11th with a 5-7 record heading into their bye.
The Pies can take solace in the fact they're only one win outside the eight, with Buckley once again reiterating his side's intention is still to play finals.
Buckley's future continues to be one of the hottest topics of 2017, with the Collingwood coach out of contract at season's end.
The Collingwood boss understood the club has a big part to say in his future at the Pies, but did admit he still has a decision to make too.
"I think one thing people seem to forget is it's a two-way street," Buckley said.
"The club has got a decision on me on whether they think I'm the man for the job but I've also got a decision to think whether I'm going to put my hand up, whether I actually think I'm getting the job done that I want to get as well.
"I've got confidence in myself but the fact is that's a judgment I have to make as well.
"It's not a fait accompli that we just roll over — I want to make finals, I believe we're capable of making finals and that's where the comment came from. And I still think if given an even run we'll get there."