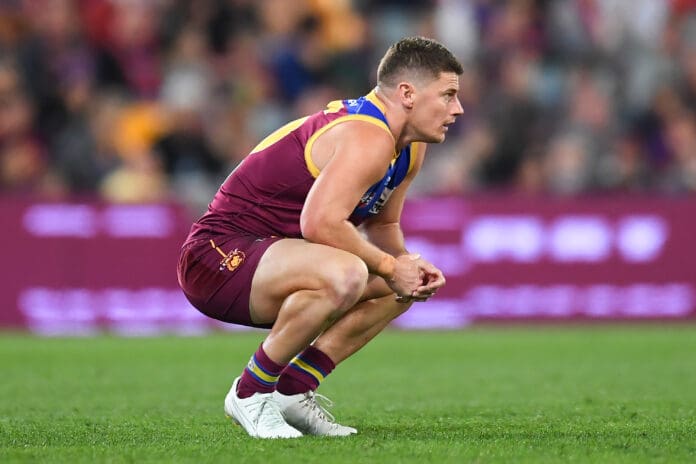 Brisbane veteran Dayne Zorko's has questioned the lack of action that has come from his interaction with Gold Coast co-captain Touk Miller from Saturday's Eound 20 QClash.
It may have been Gold Coast's best win over their rivals in the club's history, but it has astonishingly been overshadowed by an alleged 'squirrel grip' from Touk Miller to the nether region of his renowned fierce rival in Dayne Zorko.
This incident played out midway through the third quarter and was called out by the former Brisbane skipper immediately, who could be clearly heard shouting "he just f---ing grabbed my nuts!"
It was met with bemusement live in the Fox Footy commentary box, with David King contending "there's a lot in this really, it looks a bit messy, a bit ugly".
"Clearly Dayne Zorko doesn't like what's gone on but I think it's clearly accidental from Touk Miller's point of view."
It has now been dramatically amplified by Zorko on SEN Queensland, who revealed a clear disdain felt by the player for what occured, fervidly concluding that the AFL has essentially set the precedent for allowing players to "grab the groin region now and squeeze it and do whatever you want to it".
"So that's an interesting rule that's been cleared by the AFL," Zorko said.
"It's quite interesting that (he) got off. We had really good evidence to support the case.
"I tell you what, my groin region is quite bruised at the moment. It's funny how that all happens."
Lions would be disappointed with no MRO punishment for Touk Miller over a low low tackle on Zorko but it would have been hard to actually prove it was anything other than Miller trying to tackle his opponent. Zorko was far from thrilled with the incident #wrongtackle @FOXFOOTY pic.twitter.com/YUB4GerLu8

— Jon Ralph (@RalphyHeraldSun) July 30, 2023
It seems the controversy of the incident will only expand during the week as more talk addresses the action and response to the situation.
The AFL could be made to look silly for not placing punishment on Miller for a potential breach of player health and safety protocols.
The only certainty from this period is that the Gold Coast vs Brisbane and Miller vs Zorko rivalry has palpably grown, and will create a must-watch spectacle the next time they meet which, barring a 2023 miracle, won't happen until next season.
For now, both Miller and Zorko will be in action this weekend when Gold Coast travel to take on the Crows and Brisbane meet the Dockers in Perth.