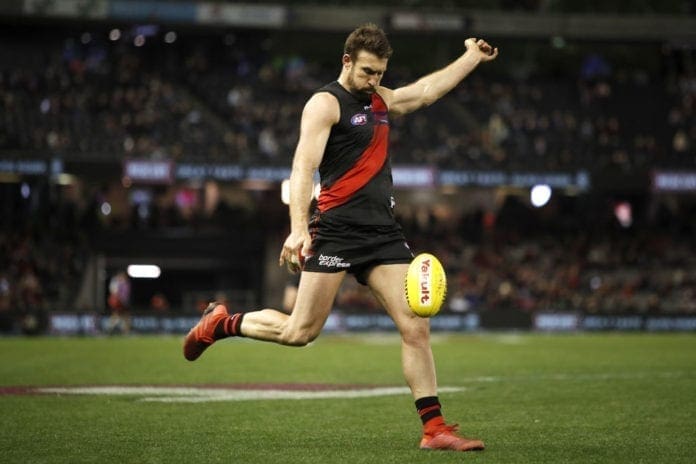 Essendon have a 'big decision' on their hands, as their equal leading goalkicker, Cale Hooker, is out of contract at season's end, with coach Ben Rutten remaining undecided on the spearhead's future at the club.
Hooker turns 33 years of age in October, and is in the fifth and final year of his contract, having helped revive the Bombers back into AFL Finals contention in Ben Rutten's first year of coaching, with 32 goals, playing in every game this season.
The 218-gamer has led an impressive forward alongside the likes of Anthony McDonald-Tipungwuti, Harrison Jones and Peter Wright, after being moved down forward from the backline in the pre-season, after star defender Michael Hurley went down with a hip infection.
Rutten claimed that he had held discussions with Hooker about his future, with the key forward keen to play on past his current contract, per AFL's Callum Twomey.
"There's probably not certainty about it just yet, but there's certainly been good conversation and good dialogue with Cale throughout the whole year as I am with a lot of players," Rutten said on Wednesday.
"I think Cale's been playing a really important role for us throughout this season. He's had some inexperienced guys in and around him and I think his impact and his ability to allow 'Jonesy' to do what he's been able to do this year, and support Pete, and Cale has been able to have some really significant impact in some games as well. We need to weigh all of that up and working with Cale as well."
"It's a big decision for both parties to be able to continue on and we'll make sure we do what's best for him and the footy club."
"We're certainly having conversations all the time about it and about how Cale's going and where we're going as a club so that communication is happening all the time. We're probably not going to come to a definitive conclusion just now but that'll work itself out as the season goes on."
The Bombers have shot back into finals contention after wins to Adelaide and North Melbourne, and face a crucial month of games to determine if they make the eight or not.
"It depends how much better we get in the next few weeks. We need to get better. We want to be preparing ourselves as best we can to perform in finals and win them and we need to get better, no doubt about that," Rutten explained.
"That's what we're striving to do in the back end of the season and that's what the season's for – to get qualifying position but also to get your game in order and at a position to be able to compete so that's what we'll be doing."
The Bombers face the GWS Giants in a make-or-break clash for both sides' AFL Finals aspirations on Sunday at Metricon Stadium.