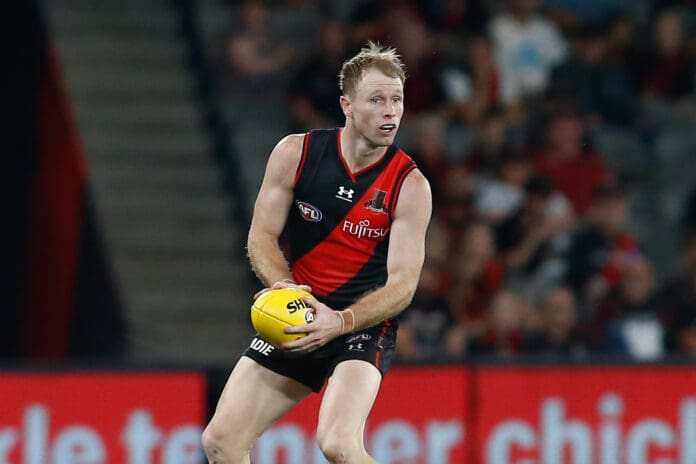 Nick Hind has explained the interaction he had with embattled coach Ben Rutten which occurred prior to Sunday's 84-point loss to the 11th-placed Power.
The Bombers were labelled as uncompetitive and disinterested throughout the twilight affair, with Rutten now coming under intense scrutiny as the lure of Alastair Clarkson has, well and truly, made its way to Windy Hill.
Contextless footage of Hind appeared on Nine's Footy Classified in the wake of the damning loss, with Kane Cornes claiming Essendon players had "checked out", with Hind seemingly appearing to ignore the under pressure coach.
"You ask whether the players have checked out - this is Round 20. I'm not sure I've seen vision of a player treating a coach like this," Cornes said.
"He doesn't want to sit next to Ben Rutten, Rutten says no sit here.
"He's trying to give him some feedback, some positive reinforcement, and the disengagement of Nick Hind on the interchange bench here - he can't even look at him here."
"I'm not sure I've seen vision of a player treating a coach like this."@kanecornes on the vision that shows how Bomber players have 'checked out' and why Ben Rutten's time appears to be up. #9FootyClassified | Watch on @Channel9 pic.twitter.com/wSVHdIeNJO

— Footy on Nine (@FootyonNine) August 15, 2022
The speedy Bomber was plastered over social media after the incident was originally highlighted, but has since claimed the interaction had no malice.
"I wasn't ignoring him at all," Hind said.
"I had just been tackled pretty heavily and just come to the bench and that's really all there is to it.
"I was listening to him for sure. I've got a great relationship with 'Truck' (Rutten), we joke all the time and, I do, I've got a great relationship with him so there wasn't really anything to it."
The Bombers have found themselves front and centre in the wake of Sunday's performance, with Hind's interaction with his coach, which evidently played out a fortnight prior, only adding fuel to the fire surrounding the top job.
While the club has publicly confirmed Rutten remains as head coach, reports earlier in the week suggested that the Bombers are pursuing the in demand Clarkson.