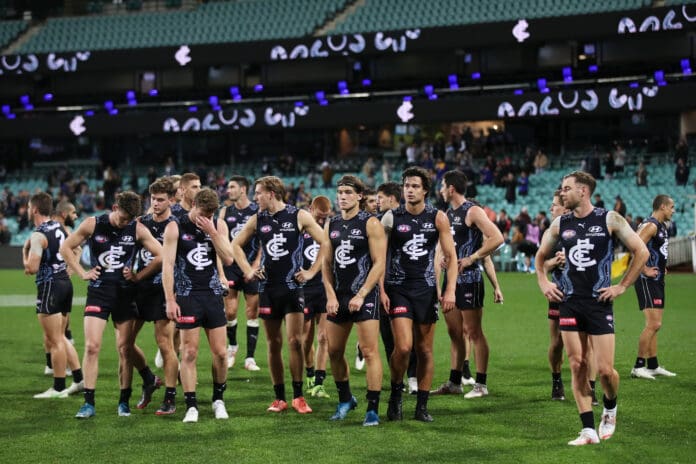 Blues president Luke Sayers has declared that Carlton will be aiming to play finals football in 2022 with expectations not lowering despite a new coach coming through the door.
Sayers cited "sustained and uncompromising high performance" as the club's primary focus going forward, and announced that: "Our expectation based on the list that we have is we are looking to make finals in 2022."
He continued: "The primary focus from this day forward will be about sustained and uncompromising performance, winning games, playing ourselves into the finals, giving ourselves the greatest chance of winning premierships.
"To be blunt about it, today is not the day to talk about what may happen in the future. It's a day to draw a line in the sand based on the review.
"David was not able to influence and get the best out of our playing group and there are a number of things that factored into this decision."
Assistant coach Dale Amos will not continue with the club in 2022, as well as former president Mark LoGiudice, Jeanne Pratt, Chris Judd and Christopher Townsend, who have all departed the board. Greg Williams, Tim Lincoln, Lahra Carey and Robert Priestley are the new board inclusions.
"Right at the moment it's right to assume that's the full stop on staff movement," Sayers said.
CEO Cain Liddle said members should be excited by the changes and that the board had done the right thing by acting on what had been a poor season.
"We've had the courage in the middle of the season to launch an independent review ... I would be more concerned as a member if the board had sat back and done nothing," Carlton chief executive Cain Liddle told reporters.
Carlton is searching for its 9th coach since the year 2000, matching Essendon for the most of any team during that period.
"It won't surprise anyone that, come tomorrow, I'll be in the market looking for the best, most experienced coach to bring the potential of our playing list to the fore. And that will kick off in earnest tomorrow," Sayers said.
Teague took over as senior coach in an interim capacity midway through the 2019 season after the sacking of Brendon Bolton, but was unable to reach the finals during his two and a half years in charge of the Blues.