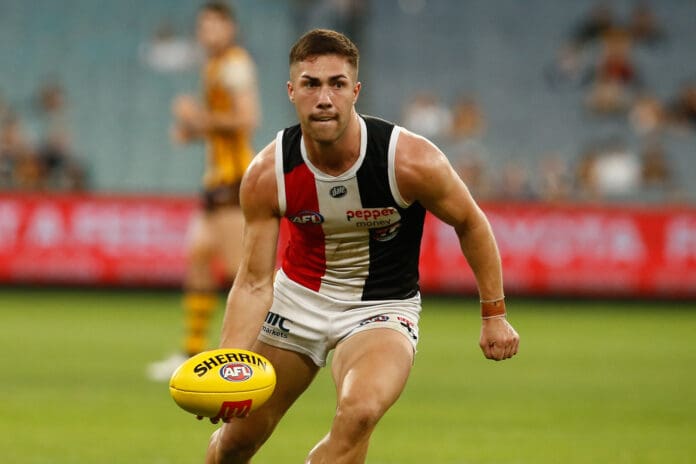 A popular Carlton free-agent target is reportedly 'a watch' to be pursued by a Victorian rival club, despite him having been linked to Princes Park for most of this year.
St Kilda restricted free agent Jade Gresham has been the subject of movement rumours this year due to his contract status, finding himself heavily linked to a move to the Blues.
However, despite recently being spotted at Carlton's headquarters at Princes Park, historic rival Essendon has reportedly been touted as an alternative potential landing spot for the forward-midfielder, pending the condition of its salary cap.
During the latest episode of the Tradies podcast, reporter Mitch Cleary explained that while Gresham had been sighted at Carlton's training base, it was for a different reason than his impending off-contract status.
"I had three separate messages during the week about Jade Gresham, saying he was spotted at Carlton," revealed Cleary on Wednesday's episode.
"[I thought, there's] something going on here, players don't usually meet at clubs much anymore ... The hardcore walk through the facility doesn't happen as often, so I thought; 'why is all this Jade Gresham [to] Carlton stuff picking up?'
"So, I put the calls in and I realised Jade Gresham was at Carlton but he was there for his younger brother's Next Generation Academy awards night because his brother is part of the Carlton Next Generation Academy."
Quizzed by fellow journalist Sam McClure about Carlton's remaining interest in Gresham, Cleary stated the Blues' intrigue has died down somewhat since the start of the year.
"Not as much as they did at the start of the year, because I think the form of Lachie Fogarty (has been impressive), David Cuningham's come back from injury, [so] I think the need for a player like Gresham is not there like it once was.
"I can't see him (Gresham) being at St Kilda next year, given what's happened this year, I don't think Ross (Lyon) has been enamoured with everything he's brought to the side this year."
Considering the likelihood of a Moorabbin departure for Gresham and Carlton's decreasing interest, Cleary surfaced the Bombers as a potential landing spot, depending on how Darcy Parish's contract standoff plays out.
"[There's] a watch, just around Gresham and Essendon," stated Cleary.
"Only because of the salary cap room and the fact that what happens with Parish (is important). Let's say Parish stays and Ben McKay goes to the Bombers, it leaves the Bombers with a chance to keep going and using their salary cap even though they've re-signed (Mason) Redman; I think there's still room to move with that cap.
"Essendon's just a watch for me around Gresham."
As the 25-year-old holds a restricted-free-agent status, St Kilda can still match any offer sheet signed by Gresham with another club.
However, taking into account Cleary's comments and the general consensus, a mutual parting of ways between Gresham and the Saints seems the overarching likelihood.