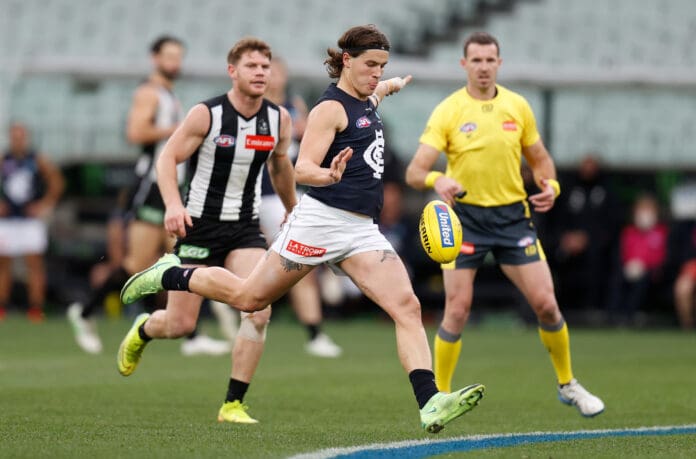 Carlton youngster Liam Stocker has opened up in an emotional interview with the club, speaking on how he had to win back the trust of teammates after he departed the hub last season for personal reasons.
Stocker found his way back into the Carlton senior side early this year and became a regular for the Blues in defence by season's end.
Raw, open and honest.

Sharing his story. Coming "back from the brink" in his own words, Liam Stocker speaks freely to Carlton Media about where he's come from, the journey he's on and what he wants to achieve after a personally significant 2021.

— Carlton FC (@CarltonFC) August 30, 2021
The skilful right-footer was famously drafted by the Blues in 2018, who traded away a future first-round pick for the Crows' first-round selection on draft night in order to secure Stocker.
Speaking with Carlton Media, Stocker said that the way he left the hub last season made his return to the club difficult, but felt he had done the right thing by himself and his teammates by leaving.
"There was bit of uncertainty," Stocker said.
"The way I left, I didn't tell many people what was going on and I left it up to assumption which can sometimes be difficult for people to understand. Particularly when you're so close to them.
"I feel like I'm now as close and integrated (in the group) as you can get. I've got some of my closest mates here and I feel like I'm friends with everyone here. I've said when speaking to the group that I do love everyone here and that's true."
The silky midfielder-turned-hardened defender added that he felt he had to win back some brownie points with the teammates he had left in Queensland. Stocker said he had limited-to-no contact with teammates after returning home.
"Going into the pre-season was kind of strange because I hadn't seen anyone for six or seven months and nobody had seen photos of me or anything so it was kind of like welcoming back someone from the wilderness," Stocker recalled.
"For me it was bout earning my teammates trust and respect. Obviously leaving the way I did wasn't ideal but it was for my betterment and my teammates betterment.
"I felt like a new draftee when I came in, because no one had seen me in quite a long time. Everyone was a bit surprised by the way I looked, I had the long hair and I guess I was an unknown commodity when I came back and everyone was kind of wondering whether my output would be the same, better or worse.
"Whether my time in the wilderness had changed me as a person properly or whether it was just for show.
"I got to change my identity in the group to a degree I was comfortable with."
Stocker has taken Melbourne's latest lockdown as an opportunity to help those who may be struggling. He has regularly posted lifeline and other mental health help lines on his Instagram stories for those who may need some guidance in tough times.
Stocker said helping people helped him feel complete as the person he wants to be. He said that he was hoping to provide support that he perhaps didn't always have.
The21-year-old added that breaking down the stigma around mental health was something that meant a lot to him, and speaking about it is something that helps keep him in touch with where he is at with his own wellbeing.
"My ability to contribute off-field to what Carlton is (something I want to work on)," Stocker said.
"I know my social initiatives are changing a lot because I feel I can give a lot more now that I'm a more complete person.
"Looking through my social media, it's just crawling with negativity. We can drawn into it a bit at the moment or we can become better people out of it and I guess the big development for me is that I do a lot more for other people than I ever did and it makes me feel like a complete person.
"It makes me feel more on top of the stuff I go through which is three quarters to 90% of the battle. I think it's incredibly important to the make-up of Liam Stocker and who I am, which has sort of been the whole journey.
"Figuring out who I am entirely and who I can grow into. Staying true to my values is something really important to me, that stuff's non-negotiable. Trying to help people who might be in the same situation as I was in once upon a time.
"I never had quite the same assistance available to me or someone in my life who was doing that so I love to be able to provide that to people. Just shedding a light on how common it is and trying to destigmatise mental health. Because we all have issues with it."
Stocker has quickly become a Carlton fan favourite with his gorgeous right foot pairing with his tough, no nonsense approach to the game, endearing him to Carlton fans during a tough year for the Baggers.
The silky defender said that he feels being a Carlton player is his true calling in life.
"I think pulling on the navy blue jumper is my calling. I really love playing for the supporters, I love how passionate everyone is," said Stocker.
"I find so much joy and so much pride in pulling on the CFC logo. I never really expected to when I got drafted and I probably didn't appreciate it in my first year.
"I really enjoyed pulling on the jumper. I hadn't done that for two years and that's what it was all about for me this year, just getting back to where I think I belong. I'm so grateful for the year that I've had. The respect of my teammates is something I've been craving for a while."
Stocker was drafted as a midfielder, but has honed his craft down back at AFL level. He says that he has formed a strong bond with his fellow defenders and is happy to contribute to the team wherever he can.
"I love that back seven. The camaraderie we have is pretty clear to see. I'd run through a brick wall happily for any of those guys," Stocker added.
"I just wanted a spot back in the team, it didn't matter if I was the sub I was going to do it. To my own admission in my first season I wasn't really a defender, I was just a halfback who enjoyed getting the footy.