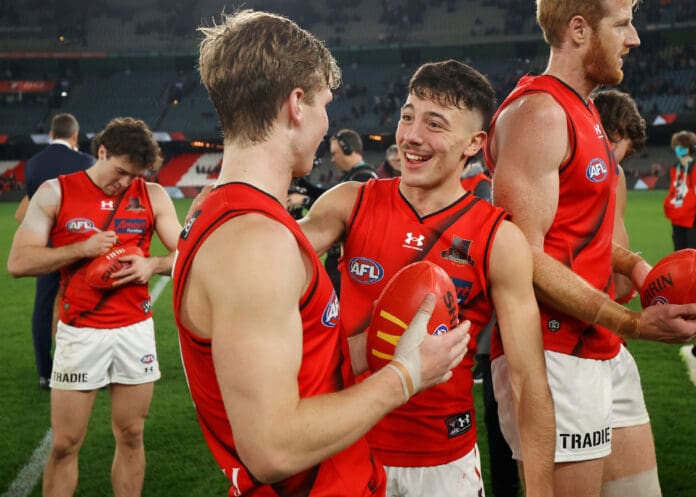 He has only been at the club for a little over a month, but mid-season draft sensation Massimo D'Ambrosio already has lofty ambitions for Essendon.
To say the exquisitely-skilled defender has hit the ground running would be an understatement.
D'Ambrosio made his AFL debut after playing just one VFL game and has not looked back, slotting seamlessly into the Bombers' backline.
He's already averaging 17 touches across his three games and capped off the impressive start to his career with 23 disposals during the Dons' upset win over top-four aspirants Sydney last weekend.
That performance netted him the Round 16 Rising Star nomination, making him the first-ever mid-season recruit to receive that particular honour in the same year he was drafted.
The 19-year-old is the latest addition to a growing group of promising youngsters at Tullamarine, which already features Jordan Ridley, Nic Martin, Harrison Jones, Archie Perkins, Ben Hobbs, Nik Cox, Sam Draper, Jye Caldwell, Sam Durham, Zach Reid and Tex Wanganeen, who are all aged 23 or younger.
From the @NAB AFL Mid-Season Rookie Draft to NAB AFL Rising Star nominee in 34 days 👏

Congratulations, Massimo D'Ambrosio! pic.twitter.com/OeUU5MP9pD

— AFL (@AFL) July 4, 2022
But D'Ambrosio speaks as though he is already a 10-year veteran of the club, and isn't shy about sharing what he believes that group can achieve together.
"I think Essendon have got a really strong group and we're pushing for something great," D'Ambrosio told Zero Hanger.
"We're really bonding at the moment, we're learning a lot off each other."
Despite their victory over the Swans, Essendon have had an incredibly disappointing season, and remains in 16th spot on the ladder with a 4-11 record.
But D'Ambrosio saw the second half of the year as the perfect launching pad for the latest incarnation of the 'Baby Bombers' to start pushing towards their goal of achieving greatness
"I think going forward we can really do some damage and put some wins on the board," he said.
"Every game we're going out there to win."
After enduring the disappointment of being overlooked in last year's national draft, and overcoming a debilitating two-year period ruined by back stress fractures, having fun has been one of the driving forces behind the former Western Jets co-captain forcing himself onto an AFL list.
"I just went back to enjoying my footy, which is the main thing, and everything else took care of itself," he said.
"That was the main change for me, just that mindset shift."
And rather than stifle that momentum he has built since the pre-season, his new coach Ben Rutten was keen to further harness it.
"'Truck' (Rutten) and all of the coaches and the players have taken a weight off my shoulders just telling me to go back to enjoying my football," he said.
"There's no real expectation on me to have 35 touches, it's just me being able to play a team role and go out there and put a smile on my face.
"That's the main thing I've been doing and focusing on and I'm really enjoying my time out on the field."
D'Ambrosio believes his injury woes as a teenager turned off recruiters last year, but to the layman, it seems incomprehensible that he was overlooked in November given he already has one of the most lethal field kicks in the Essendon team.
"Coming into the club, my strength was my kicking and my decision-making," he said.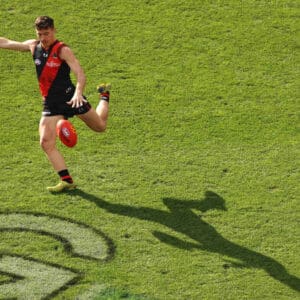 "I think some people may say that coming into an AFL system, you shy away from your strengths, but the club has really helped me bring my confidence out on the field to be able to bring out my strength."
Despite having made such an immediate impact for the Bombers, playing in two wins from three games after they only managed two from their first 12 this year, D'Ambrosio is still very much a kid at heart, and it has still barely sunk in that he is living out his dream of playing AFL football.
"I still can't believe that I'm on an AFL list," he said.
"I'm still pinching myself, for sure. Coming into the club was one thing but then playing in an AFL game three times now ... to be able to fulfill that (dream) and play against the best, I think it's really surreal to me."