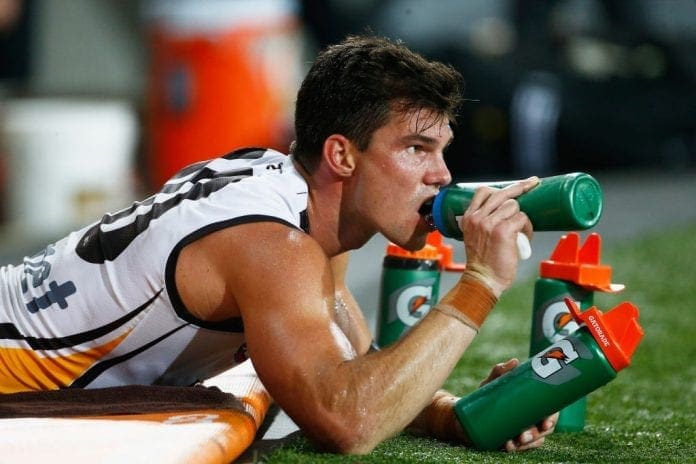 Jaeger O'Meara's latest injury setback has not deterred former Tiger and Crow Chris Knights' faith in the new Hawk that he will overcome the problems with his troublesome knee.
Knights retired in 2015 at just 28 years old after failing to recover from a patella tendon injury, a similar injury that halted O'Meara progression to stardom in the latter years of his time on the Gold Coast.
The Hawks revealed yesterday that O'Meara is now suffering from a new injury in his knee which would keep the Hawk out of the game for an extended period of time.
Speaking on SEN Breakfast, Knights said getting to know O'Meara has given him the belief that he will get through the latest setback.
"It doesn't surprise me, but at the same time I thought he was through it," Knights said on Wednesday.
"He was starting to play some really good football for the Hawks and I was enjoying watching him move past the injury.
"It looks like it is something different but in the same knee. I'm not really sure on his current situation, but I know him as a guy and as an athlete and if anyone is going to get through it, it will be him."
Knights remembered his own setbacks while recovering from the injury before it progressively became so bad that it forced him into retirement.
"About half way through (the rehab) I was tracking in a similar fashion and then it started to deteriorate," he said.
"We went in for another scan and we couldn't see anything. Then I said to the doc and the medical staff it's really getting worse and was pretty painful.
"I was having to pull out of training with the cold sweats it was that sore. They opened me up and discovered there was a chipped bone inside."
The Hawks will be taking no chances on O'Meara, as elite performance manager Andrew Russell said yesterday.
"It's a new injury, different to what he had before," Russell said.
"We want him back at full fitness, which he's not. We got him to 90 to 95 per cent then new pain surfaced."