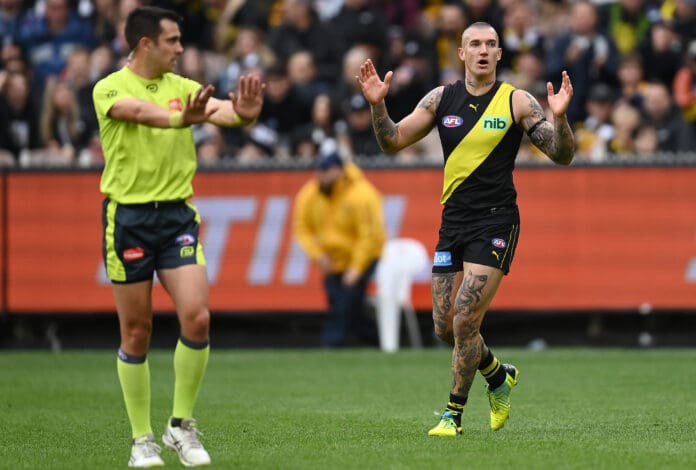 By the halfway mark of an AFL season, the general expectation is that new rules - or interpretations of old rules - introduced for that season would've well and truly settled down.
As is often the case, like a child with a new toy, umpires are very keen to try out their shiny brand new rules overexuberantly in the opening rounds.
They then receive sharp criticism from fans and media alike about being so trigger-happy in their implementation, and might even get a quiet word or two from head office, and before you know it, by Round 3 or 4, it all evens out and the rules are used in moderation.
It's a formula as old as time itself.
The fact that the league finds it necessary to tinker with the rules so frequently is a frustrating argument for another day.
However, as we near the midway point of the 2022 AFL season, the newest and shiniest interpretation in the umpires' arsenal - the crackdown on umpire dissent - seems to be getting even more out of hand.
Much like how the universe continues to expand at an increasingly accelerated rate, rather than slowing down, it leaves onlookers perplexed.
The most recent outrageous example of this came last Friday night when Carlton took on Sydney at Marvel Stadium.
Swans youngster Chad Warner was penalised for running too far without taking a bounce, and his immediate, instinctive reaction was a benign "what the hell" gesture with his arms slightly out (for the record his elbows were 'bent' - surely that's a good compromise).
And for this heinous crime, Warner gave away a 50-metre penalty.
Ridiculous. Footy is an emotional game. Players are human. It's impossible to stamp out natural emotions. It's one step away from legislating against breathing.
The odd thing is that the umpire dissent crackdown actually did seem to calm down after the first month, but has been ramped up again in recent weeks. It's almost as if umpires recognised how silly the interpretation was and went back to the good old days of 2021 in their officiating, but were then dragged back into line by head honcho, Brad Scott and co. and forced to continue being overly strict about it.
The rationale behind the tightening up of umpire dissent is noble, but it is having the reverse effect. The officiating of the dissent rule creates even more animosity and resentment towards the people tasked with officiating the game from players and fans alike.
And on the topic of soft 50m penalties, which are now an endemic blight on the modern game, it's got to such a petty level that players are now trying to milk a bonus 50m penalty, after already receiving (at times) dubious ones in the first place, by running into the man on the mark.
Is that what we really want this mighty sport reduced to? A foot race for a 100m penalty? It's a shocking look.
But if only those issues were the only ones causing major concern for the average footy fan.
Alas, they are not.
The dangerous tackle interpretation went into a weird space last week when North Melbourne's Tarryn Thomas delivered one of the best tackles you'd ever wish to see on star Narrm (Melbourne) wingman, Ed Langdon.
Thomas upended Langdon rugby-style and drove him into the Marvel Stadium turf, leaving the Demon with injured ribs and eventually being subbed out.
But incredibly, Langdon was rewarded with the free kick. Not only that, there were rumblings that Thomas might've even been at risk of being cited by the match review panel.
What bizarre parallel universe are we living in?
And later on Saturday, Richmond co-captain, Dylan Grimes, executed a magnificent tackle on Essendon young gun, Ben Hobbs, deep in the Tigers defence, but he too was penalised for it supposedly being dangerous.
The need to protect the head in this day and age is understandable with all the research being done into concussions and CTE, but it cannot be done at the expense of the soul of the sport.
It must be remembered that Aussie Rules is inherently a brutal, risky, dangerous contact sport. That's what the players sign up for. They understand what they're getting themselves into. You don't have to be a footy player if you deem the risks to be too great to your health.
On Sunday, 63 free kicks were paid in the match between Hawthorn and Brisbane - this was the most in 10 years - and none were softer than the little love tap that Lions star Lachie Neale delivered to Hawthorn midfielder Jai Newcombe's chest. It was such a nothing incident, that Newcombe probably didn't even know why he was rewarded with a free kick.
And, in the last game of Round 10 between Fremantle and Collingwood at Optus Stadium, the deliberate out-of-bounds interpretation seemed to get dialled up to ten, prompting Magpies coach Craig McRae to speak after the match.
"To be honest I wasn't sure if there was a directive around anything towards the boundary was deliberate, because it just seemed like that, wasn't it? I'm not sure, I didn't get that before the game. I did ask that question."
With so many incidental free kicks being paid and the game being over-officiated to within an inch of its life, is it any wonder that crowd numbers are at their lowest since 1996 (excluding pandemic years)?
Fans come to watch the players, not the umpires.
The best umpires are the ones you don't notice. An over-correction back the other way on many of these rules is desperately required ahead of Round 11.
And while we're at it, can we also scrap the ruck nomination, sliding-below-the-knees rule and every single tiggy-touchwood free kick that gets paid from a ruck contest?
Thanks!