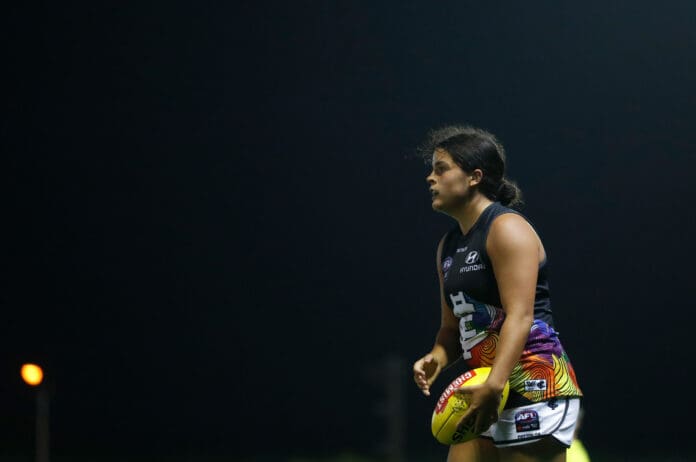 Blues best-and-fairest winner Madison Prespakis and teammate Georgia Gee have committed to playing for expansion side Essendon this upcoming season.
As first reported by the Herald Sun's Lauren Wood on Monday, the Bombers have managed to lure Prespakis to The Hangar on a lucrative contract worth more than $150,000.
Speaking on Monday night, Prespakis, 21, expressed her gratitude towards the Carlton coaching staff and players, as well as declaring her goals for the future.
"I've enjoyed my time both on and off the field at this amazing club," she said.
"As an athlete/individual, I want to keep striving to get better in all aspects of my life. I truly believe that this next step is the right one for me.
"I'm very excited to begin my next chapter as an AFLW player with Essendon. Growing up as a Bombers fan, this is a chance to live out a childhood dream and don the sash."
SEE ALSO: Arnell to make history as inaugural Port Adelaide AFLW coach
Madison Prespakis has told Carlton she is leaving and has committed to Essendon. Huge move to spark a bumper month of #AFLW expansion moves. More, with @DanielCherny here: https://t.co/fuLEkxWjnS pic.twitter.com/jqr2q77fDh

— Lauren Wood (@LaurenHeraldSun) April 11, 2022
Prespakis, who took home the 2019 AFL Women's Rising Star award, wants to leave a footballing legacy similar to that of Melbourne's Daisy Pearce and Adelaide's Erin Phillips.
"I just want to keep getting better," she said.
"When I finish playing footy, I want to be someone like Daisy Pearce and Erin Phillips and leave a legacy for my name and for the footy club I play at.
"[My aim is] definitely to keep getting better every year, keep getting fitter and stronger and keep working on my game, because I'm only 21 and I'd like to think I've still got another 10 years ahead of me."
Gee, an up-and-coming midfielder/forward, was selected by the Blues with their first pick in the 2017 AFL Women's Draft and has since played 30 games in the navy blue.
Carlton AFLW football boss Brett Munro explained the club's decision not to "compromise" its list-build strategy by trying to match Essendon's hefty offers for the duo.
"[League expansion] has its positives for the AFLW competition as a whole but for existing clubs, it places you in an unavoidably tough situation in terms of being able to compete with those offers," he said.
"You never want to lose good players, you want to do everything possible to keep them, however, it has to be within reason.
"We have been detailed with our strategy in how we've gone about building this playing list, through the draft, to now having the youngest list in the competition that we believe will set ourselves up for sustained success.
"To compromise that strategy entirely for the possibility of retaining a player would have put that long term goal at risk, which would not have been in the best interest of the football club."
Prespakis and Gee's switch to Bomber-land is set to become official when the AFLW sign and trade period opens in early May.