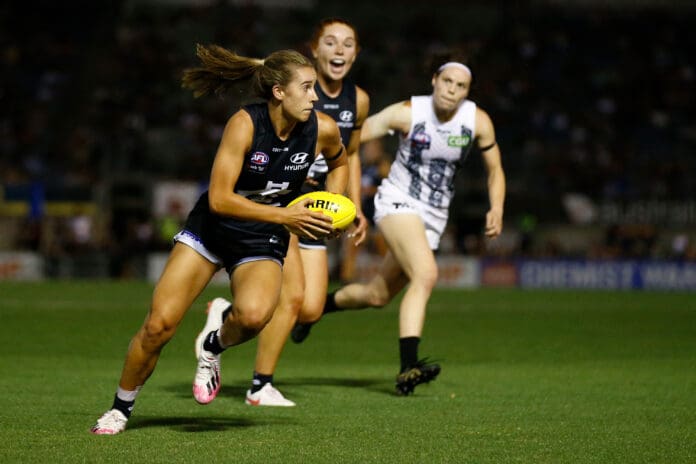 With the AFLW season less than a month away, clubs are beginning to shape their best lineups in the build-up to Round 1.
The women's game has seen stunning growth from the emerging generation of talent since the AFLW's inception, and 2022 looks to be no different.
With all 14 sides having aggressively recruited through the draft across the past several seasons, we've looked to predict which young names are set for a defining campaign.
Here are the players set for a breakout season in 2022.
Adelaide
After a lively debut season, Teah Charlton is on an upward trajectory. The 19-year-old proved herself more than capable at the elite level, averaging 9.2 disposals in 2021. Charlton put her skills on display in a two-goal performance against St Kilda where she was rewarded with a Goal of the Year nomination.
Charlton is surrounded by excellent role models and the competition's elite with two-time Best and Fairest winner Erin Phillips and club captain Chelsea Randall leading the Crows. All things point to a breakout season for Teah Charlton in 2022.
Brisbane
After being drafted from the Brisbane academy, Isabel Dawes has had the dream start to her AFLW career. In just two seasons, the 21-year-old has been a part of a premiership-winning midfield, a member of the 22under22 2021 squad as well as receiving a NAB Rising Star nomination in round one of 2021.
Dawes has been described to have boundless enthusiasm to go along with her ball-winning ability. With experience and confidence behind her, Dawes will be one to watch in 2022.
Carlton
After an eclectic start to her AFLW career, Mimi Hill's debut season came to a sudden halt when she ruptured her ACL in Round 6 ruling her out for the remainder of the season.
In her first six games, she averaged 12.3 disposals and her ability to run and carry was a valuable asset for the Blues. She worked in the midfield alongside the competition's best young talent in Madison Prespakis, Grace Egan, and Breann Moody.
Hill also proved handy around goal, snapping two important majors in the Blues' clash with North Melbourne.
Mimi has returned to pre-season training in full flight and looks primed for another exciting season in 2022.
Collingwood
After making history as the club's first-ever father-daughter recruit, Tarni did not disappoint in her debut season. Joining the same club as her father and brothers, Brown looked at home in the black and white and played every game for the season.
Coming from a basketball background, Brown's ability to handle the ball in congestion was a highlight of her game. Her run and carry saw her combine with the likes of Brianna Davey and Chloe Molloy.
Brown's consistency throughout the season saw her awarded with a NAB Rising Star nomination. She has the potential to become one of the competition's best outside midfielders, with 2022 providing her with plenty of opportunities to showcase her talent.
Fremantle
The Dockers jet was Fremantle's first pick in the 2020 draft, taken at Pick 14. Verrier's unique ability to adapt and play across all three lines impressed coaches and fans. The 19-year-old possesses elite foot skills, instantly becoming an efficient user with ball in hand.
She was awarded Fremantle's best first-year player in 2021 and as she grows and works alongside 2021 AFLW best and fairest winner, Kiara Bowers, she'll look toward becoming the next best midfielder for the Dockers.
Geelong
Nina Morrison looked like the next best thing after being taken with Pick 1 in the 2018 draft. In her debut match, she earned a Rising Star nomination in a best on ground performance.
Morrison is a contested ball beast and is hard to stop once in full flight. However, back-to-back ACL injuries have limited her to just seven games in three years. Morrison has recently been named as a part of Geelong's leadership group for 2022.
This pre-season, Morrison has returned looking fit and ready to have the impact in 2022 that we all initially anticipated.
Gold Coast
Lucy Single is a Gold Coast Suns Academy graduate who impressed onlookers in her debut season. She played nine games averaging 9.9 disposals and 3.1 tackles.
Her elite endurance saw her win the 2km time trial over the pre-season, and this fitness translated onto the field. Coming from a rugby sevens background, Single is speedy and agile but can also lay a hard tackle.
After an outstanding first season, Single will look to take her game to the next level in 2022.
Greater Western Sydney 
19-year-old Tarni Evans managed seven games in her debut season. Standing at 178cm tall, her height has allowed her to swing between the forward line and defence, playing multiple roles for her team when needed.
As she continues to grow into her body and add strength to her game she has the potential to be a leading tall of the competition. Her marking ability also continues to improve the more she plays.
Evans will look to solidify her position on the field and help fill any voids for the Giants at either end.
Melbourne
Zanker is entering her fifth season in the red and blue, but her recent move to playing on-ball has changed her game yet again. After finding a home in the ruck she averaged 7.5 hit-outs in 2021. Her netball background has given her speed and agility despite standing at 183cm tall.
The 22-year-old has continually shown growth and improvement in her first four seasons and 2022 shouldn't be any different.
North Melbourne
Eddey was taken with North's top pick in the 2020 draft. After playing just 10 games for the Roos she already ranks second in disposal efficiency going at 84.6 per cent. With the strength and talent already running through North's midfield, Eddey is in good company as she learns and grows.
With pace to burn, Eddey looks ready to burst out of the gates in 2022.
Richmond
Taken with Pick 1 in the 2020 draft, Ellie Mckenzie did not let the Tiger army down this year. Whilst her side struggled through the season, Mckenzie was a shining light for the Richmond fans.
The 19-year-old played in the centre as well as spending time resting up forward. She is an explosive left-footer with plenty of room to grow. McKenzie's efforts saw her rewarded with a Rising Star nomination where she finished runner up for the award.
With the likes of Monique Conti to learn from, Mckenzie is in great shape to set the competition on fire in 2022 and beyond.
St Kilda
Olivia Vesley 
Vesley is another young midfielder whose 2021 was lost to injury. After being overlooked in the 2017 and 2018 drafts, Vesley signed with St Kilda in their 2019 expansion club signing period.
Vesley's debut season was characterised by her efforts in and around the contest. Her strength was an asset in winning the ball as she averaged 15 disposals in 2020. The 22-year-old has the skill of bringing her teammates into the game. Vesley was awarded joint club best and fairest winner in 2020.
With the Saints losing key midfielders in Tyanna Smith and potentially two-time club best and fairest winner Georgia Patrikios, Vesley will be a key player for the Saints in 2022.
West Coast
Bowen had an impressive resume before she had even played an AFLW game. After captaining Western Australia in the under-18s competition she was also awarded All-Australian Honours.
She debuted in West Coast's inaugural match and fast became an integral part of the Eagles' midfield. Her ability to find the ball saw her averaging 19 disposals, four tackles and seven clearances in just her second season.
Bowen also earned All-Australian honours in 2021, there is no ceiling for the 20-year-old in 2022.
Western Bulldogs
Newton was taken with Pick 1 in the 2019 draft and has not missed a game since making her debut in round one of 2020. Newton impressed in her first season, averaging 13.2 disposals across the six matches and receiving a rising star nomination in Round 6. However, she struggled to find the ball as much in 2021.
With the leadership from star captain Ellie Blackburn and two years of experience behind her, Newton is set to have a breakout season in 2022.