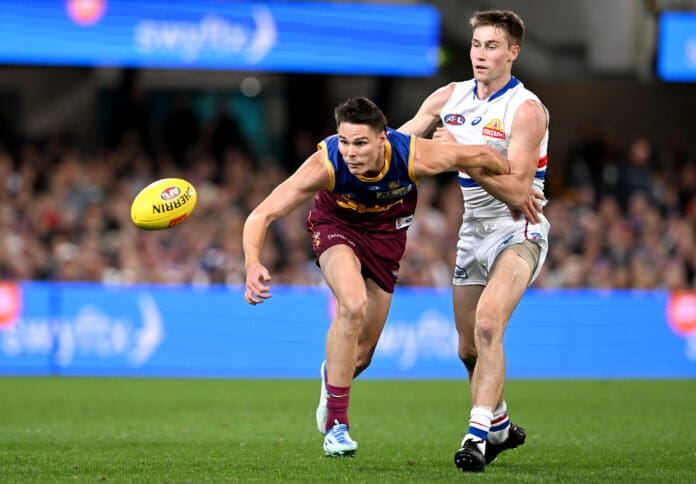 Brisbane forward Eric Hipwood has avoided suspension for his incident involving Bulldogs defender Ryan Gardner and umpire Jacob Mollison during last Thursday's match at the Gabba.
Hipwood has received a $2500 fine by the AFL Tribunal.
After being referred directly to the AFL Tribunal by the Match Review Officer, Hipwood was able to argue his case after pleading not guilty to either charge of intentional or careless contact.
The Brisbane tall suggested that the incident in question was an accident, with Gardner causing the initial contact.
Hipwood also stated that he was unaware of Mollison, with his eyes set on teammate Zac Bailey.
"I would never do that (intentionally push him into umpire)," Hipwood said.
TRADE NEWS: Roos targeting AFL veteran
"I wasn't looking to engage with my defender at all.
"I would not have at all (made contact with the umpire if Gardner hadn't engaged contact).
"I remember it quite clearly, I did not see the umpire.
"My eyes are on Zac Bailey, the ball, Charlie Cameron and Ryan Gardner in case of contact."
Hipwood's representatives used past incidents involving Sydney's Callum Mills from Round 4, 2021, and North Melbourne's Jed Anderson from Round 21, 2021.
AFL representative Nick Pane raised three questions to the Tribunal:
Did Hipwood cause contact to be made with the umpire?
If so, was Hipwood's conduct intentional or careless?
What is the appropriate sanction for Hipwood's conduct, if found intentional or careless?
Pane argued that evidence of the incident was sufficient enough to rule Hipwood's actions as intentional, or "at least careless.
A solid collision with the umpire gives Hipwood space... pic.twitter.com/XXND1ehdmG

— 7AFL (@7AFL) June 30, 2022
The AFL pushed for a two-match suspension, stating: "a fine is far from adequate."
Pane suggested that if the AFL rule the contact as "careless" then Hipwood should be handed at least a one-game ban.
Brisbane representative Adrian Anderson argued that the incident was "almost inevitable", also suggesting that there is not enough evidence to declare his intent to push Gardner into the umpire even if Hipwood was aware of Mollison.
SEE ALSO: FUTURE OF TIGERS STAR NO CERTAINTY
Anderson also declared that Gardner's action of a shepherd was illegal under the laws of the game.
"The opponent (Gardner) has done something that is illegal in the game - a shepherd that is more than five metres away from the ball," he said.
"The umpire is actually moving towards the players.
"[There was] no other realistic option available to Hipwood in this situation."
After some deliberation the AFL Tribunal reached its decision, with Hipwood still found guilty of careless contact but only handed a financial sanction.
It will mean Hipwood will be able to face Essendon at the Gabba in Round 17.