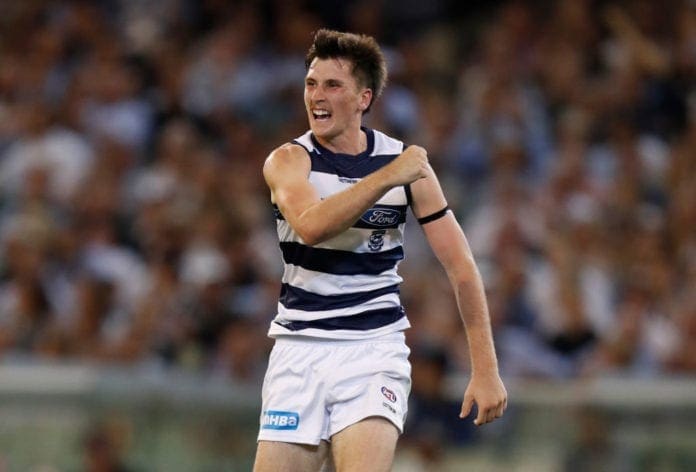 Geelong list manager Stephen Wells has provided an update on the club's plans for youngster Charlie Constable.
Constable was drafted with pick 36 in the 2017 national draft but has only managed 12 AFL games from four seasons in the league.
Stuck behind a powerhouse midfield line-up, the 22-year-old spent most of this season in Geelong's VFL affiliate.
Constable's lack of game time has fuelled speculation the young midfielder might choose to seek greater opportunity elsewhere.
Speaking on AFL Trade Radio, Wells remained hopeful Geelong would be able to re-sign Constable beyond 2022.
"We're going to work all of that out in the next couple of weeks," Wells said.
"We've got out list management decisions after the trade period before the 31st of October when we have to put our list in.
"He (Constable) is certainly a player we want to talk about."
Despite struggling to break into Geelong's AFL side, Constable has impressed during his time at Geelong at VFL level.
The big-bodied youngster averaged 32 disposals across nine games this season, including back-to-back performances gathering 40-plus.
"We'd love to have Charlie remain at the club, but we've just got to work out the best opportunity for Charlie to have a successful AFL career," Wells added.
"Whether that's with us, or it might be that his circumstances might change."
Contracted until the end of 2022, Constable will have the option of entering into the draft if doesn't sign a new deal at Geelong.
Constable's manager Marty Pask spoke earlier in the year about his clients need for more senior opportunities.
"We've had good dialogue all year around opportunity and the need for opportunity," he said.
"The door's not shut on Charlie returning to Geelong. They've got a very open mind in terms of where he may sit in 12 to 18 months down the track."
Pask did not rule out a potential move away from Geelong for Constable however, stating he and his client would be open to discussing a venture to another club.
"Should an opportunity arise now and it's a good one … then obviously he will look at it," Pask added.
"What he does at the second-tier competition is nothing short of outstanding.
"I think we'll know more in the next couple of weeks, but we're very open-minded where he sits."