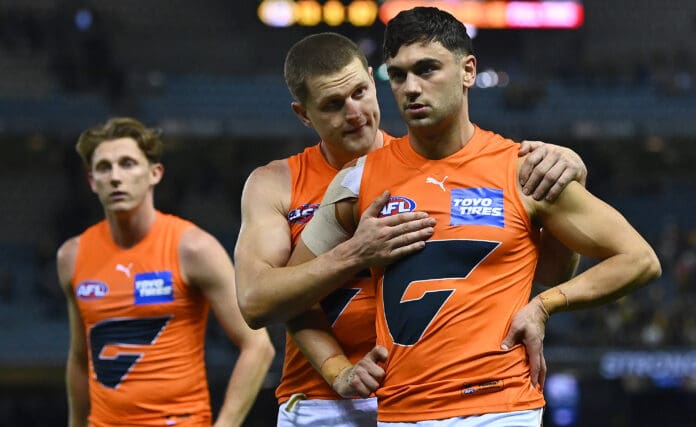 The GWS Giants are facing yet another mass "exodus" of their senior playing group, per reports from 3AW's Sam McLure.
Sitting in 15th place and with an interim coach at the helm, the club is set to miss out on any September action after a 7th place finish in 2021, with four key names now reportedly set to head to the exit come years end.
Tim Taranto, Jacob Hopper, Bobby Hill and Tanner Bruhn have all been named as potential departures as the Giants look to clear up cap space to begin their ascent back up the ladder, with McLure reporting that rival Victorian clubs are circling the quartet.
"There's another player exodus. We've been here before with the Giants," McClure said on 3AW's Sportsday.
"I've already talked about Tim Taranto, I think that he won't be there next year. Jacob Hopper you can now put in that same situation, I believe will leave GWS this trade period with one year left on his deal. And Bobby Hill and Tanner Bruhn I think will both join them out the exit door.
"This is once again salary cap based. We talk a lot about the Giants and the fact they pay their four highest-paid players the best part of $4 million per season - Coniglio, Kelly, Greene and Whitfield. Who are all stars.
"And Nick Haynes ... he's coming to the last two years of a heavily back-ended contract.
"When you add him in, and Taranto and Hopper - if they were all playing in the same side next year, they'd be taking up $6.5 million of the Giants' $13 million salary cap. That's half.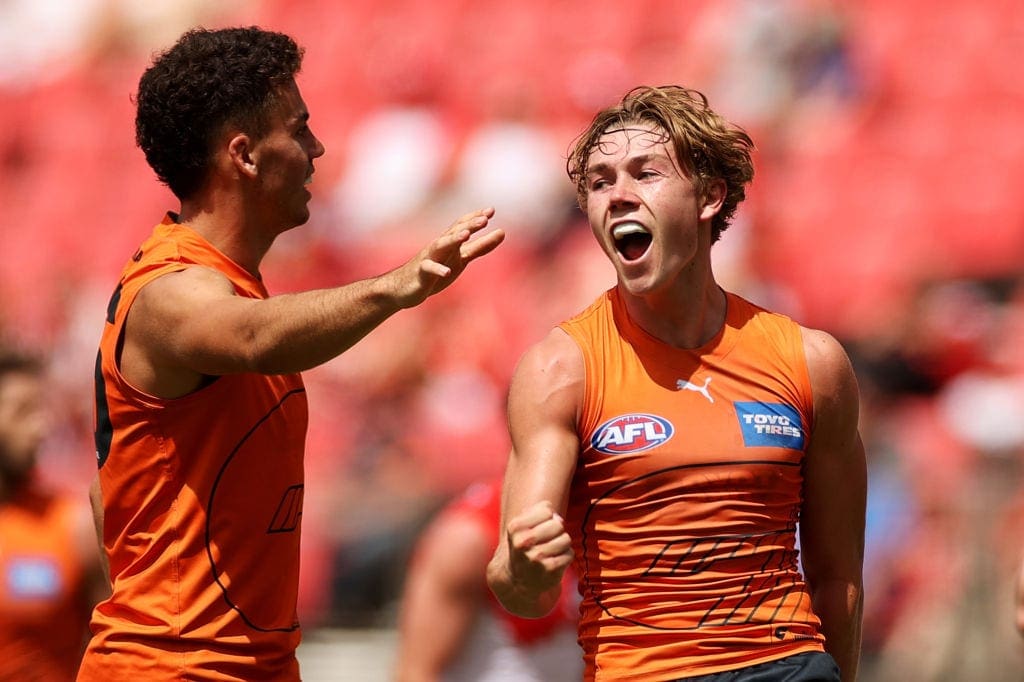 "That's not as much of an issue if you're top four, if you're playing in prelims, you're contending for flags. But in what Matthew Lloyd believes to be a bottom four side at the moment, it of course is going to be an issue."
The exodus has been flagged as something of a mini-rebuild for the bottom ten Giants, with the club reportedly hoping for high draft picks in exchange for the valuable Taranto and Hopper.
While McLure stated that Taranto wasn't desperate to head out of Western Sydney, the club did see the value in trading the 24-year-old.
"One (reason they would trade him) is about cash, one is about seeing this change in coach, potential change in assistant coaches and then the football department, as the chance of a mini-reset," McClure explained.
"And by trading out Taranto and Hopper, they believe they have the depth of the (players like) Tom Green, Finn Callaghan, Xavier O'Halloran, Lachie Ash, they can make up for those and for those players in their prime, cash in on their trade value.
"If I'm Collingwood, I'm trying to package up my first-round pick this year to get both Hill and Taranto through the door.
"Taranto and Hopper would free up, let's call it $1.5 million. Hill and Bruhn add a little bit to that so let's call it $2 million."
Hill has been linked to a potential move to Collingwood after requesting a trade to Essendon last year, while Bruhn is reportedly keen to explore a move back home to Victoria.
Both Hopper and Taranto have been linked to several clubs keen to acquire the services of the two stars, including Adelaide, Richmond, and Geelong.