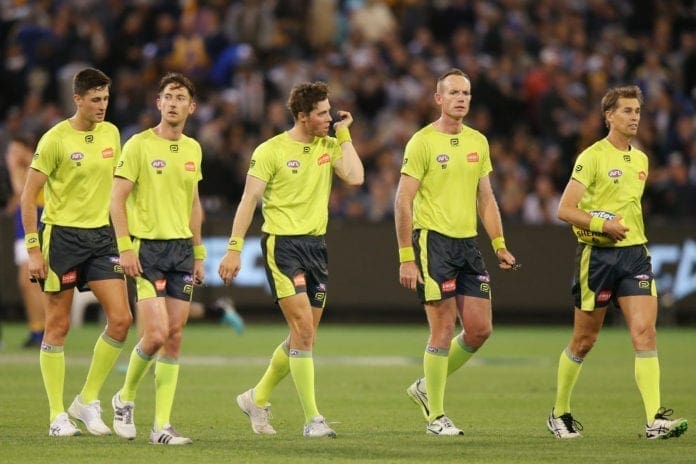 The AFL will work on establishing whether a fourth field umpire will be added to the game in 2023 following much fan dissent this season regarding the standard of officiating.
Umpires have constantly been much-maligned figures in the footballing landscape, however, season 2022 saw even more discussion surrounding ensuring that the right choices are made, with several game-changing decisions marring matches.
However, the AFL is now once again toying with the idea of adding an extra field umpire in 2023 and are now putting in motion testing with umpire coaches, AFL officials and umpires themselves all joining discussions.
The intention is to take the running load off of the umpire's shoulders by having an extra person on field, allowing for them to focus on the game more by limiting exertion.
Speaking to 3AW in August, head of competition management Laura Kane explained the methodology behind adding another officiator.
"If you couple that with how big the oval is and the surface of the field is, it's a really hard job. If our umpires can run less at those high speeds and position themselves better, we think it will lead to better decision-making," Kane said.
"It will also lead to more opportunity, less fatigue, we can keep our best umpires for longer, and we can have opportunities for women to come through the pathway in a different way than they ever have before."
It isn't the first time that four on-field umpires have been trialled, with the concept being put into practice for two rounds in the 2018 season, leading to a decrease in the running distance for umpires and an increase in free kicks.
There are also murmurs that the change will be trialled in the Northern Territory Football League over the summer before being given the go-ahead for the AFL.
There has been a significant decrease in the number of umpires across all levels of the game, with the lack of officiators even at the grassroots level telling a story of reluctance by youths to enter the umpiring sphere.
Abuse and the overworking of umpires were the main factors behind a lack of participation in officiating, with matches reportedly being under-officiated as a result.
It remains to be seen whether the change will be implemented next season and how the footballing community will take it, however, it's safe to say that fans would rather see something being done regarding umpiring as opposed to nothing.