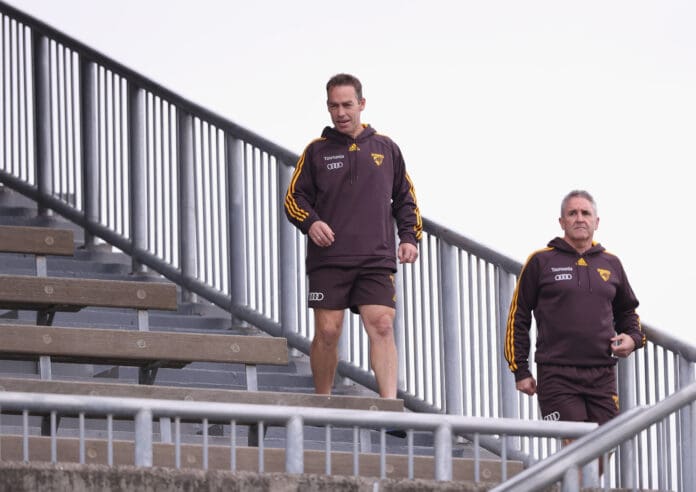 The AFL is said to be moving toward wrapping up the independent investigation into historical claims of racism and sexism at the Hawthorn Football Club.
This latest revelation comes more than eight months since the allegations came to light via an ABC report, with former Hawks head coach Alastair Clarkson, assistant Chris Fagan and fellow staffer Jason Burt named by anonymous First Nations players and partners as having committed alleged atrocities.
Now, with the protracted investigation providing little but pain to numerous parties, it is said that Clarkson, Fagan and Burt can soon expect to be exonerated.
As reported by Jake Niall of The Age, a pair of anonymous sources have stated that the trio will have no case to answer.
Niall also reported that the AFL will be taking necessary checks on the four-person panel before soon reliving them of their duties.
The Age report comes less than a week after Clarkson enacted a leave of absence from his senior coaching post at North Melbourne, citing an inability to perform his role due to mental and physical strains associated with the investigation.
Clarkson, Fagan and Burt were slated to attend mediation with cooperating parties in Adelaide next week, however, with Clarkson on leave and Fagan still leading the Brisbane Lions, it remains highly unlikely that any of the former Hawthorn employees will make appearances.
Clarkson, Fagan and Burt have previously denied the allegations levelled at them, including claims that a partner of a former First Nations player at Hawthorn was allegedly asked to abort an unborn child.
Clarkson's void at Arden Street has been filled by former Carlton and St Kilda head coach Brett Ratten on an interim basis.
A timeline for the 55-year-old's return has not been provided.