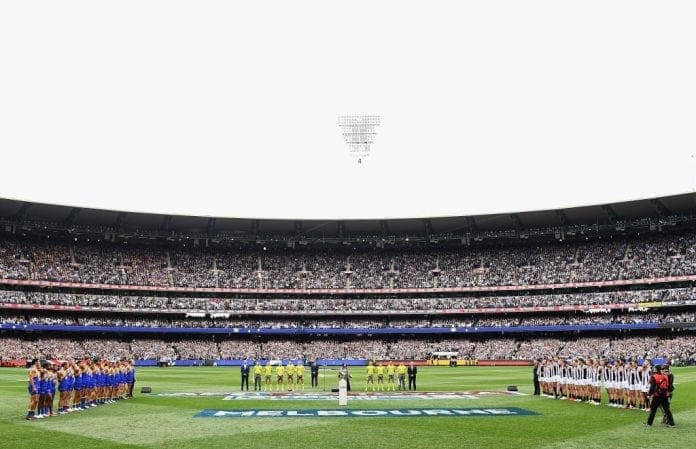 Queensland is the favoured location for this years' Grand Final, with a formal announcement expected to come on Wednesday, according to the Herald Sun.
It was reported that the AFL Commission is expected to reward Queensland's $200 million involvement in this years' season.
A 7pm game on October 24 looks like, but the AFL Commission are still in the reviewing process.
The Gabba could see a Grand Final of 30,000 people, while Port Adelaide and West Coast will reportedly be able to host home finals all the way until the preliminary final if given the right.
AFL Chief Executive Gillon McLachlan will be part of Tuesday's decision before making a formal announcement in Queensland on Wednesday.
Geelong president and former AFL Commission member Colin Carter told the Herald Sun he "hopes Queensland gets [to hold the final]."
"It would be incredible for our code and they deserve it because they have had most of the competition camped up there this year.
"There is no reason why they shouldn't get it," he said.
"A bit more than half of the Australian population is north of the Murray River and the development of footy in Queensland is terrific and a story most people don't know a lot about.
"This would kick it along another distance."
Gabba still favoured to host the #AFL Grand Final, but keep your eye on Optus Stadium…
Market: https://t.co/d0ZnA70iHW pic.twitter.com/3WcB3fPujK

— Sportsbet.com.au (@sportsbetcomau) August 28, 2020
The Queensland Government have said they understand they can't compare with Western Australia's financial might, and won't be able to hold the Grand Final at the same capacity as WA [60,000 people].
Senior AFL sources told the Herald Sun that "financial pitches from state governments, including Western Australia, had been nowhere near the $36 million reported."
These sources also mentioned the league would be making a grave mistake should they not reward Queensland for its' work this season.
It's said there will be around 2000 AFL staff, players and families and 15 clubs in Queensland by Tuesday night.
'VIP' attendees to this years' Grand Final could also bypass the state's 14-day quarantine requirements to attend the game.
South Australian Premier Steven Marshall sought more information regarding the state's pitch to hold the Grand Final at Adelaide Oval.
"They asked several questions following up from the proposal that we made last week. We're hopeful that we get a positive response from the AFL in the coming days," he said.