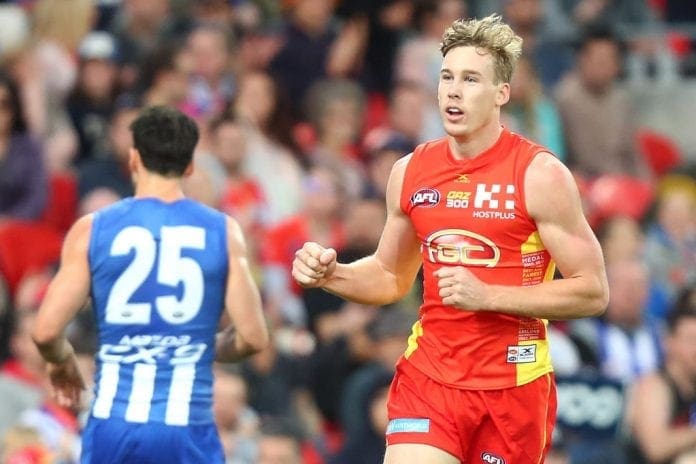 403-game AFL legend Kevin Bartlett believes Gold Coast co-captain won't re-sign with the Suns this season, and will be at another club in 2019.
Bartlett believes the 25-year-old could sign the most lucrative contract in the game's history, and says Lynch could become the league's first "$2 million-dollar man".
Lynch has already been linked to big Victorian clubs including Collingwood, Hawthorn and Richmond, with Melbourne set to be Lynch's preferred destination if he chooses to leave the Suns.
"I've got a gut feeling that Tom Lynch will come back to Melbourne come the end of 2018. I think he'll get that many big offers that will be too good to refuse," Bartlett told SEN on Wednesday.
"It'll be a bit like (Gary) Ablett going to the Gold Coast Suns, it'll be a bit like Buddy Franklin going up to Sydney.
"They are going to splash so much money at him. He might be the first $1.5 million man, maybe he could be the first $2 million man.
"I don't think he'll be (at the Suns) at the end of 2018."
Lynch was elevated to co-captain alongside Steven May at the start of the 2017 season, playing 19 games and kicking 2.3 goals per match across the season.
The two-time B&F winner and 2016 All-Australian has played 121 games for the Suns since 2011, but could be set for a big payday should he leave the Queensland club.
New Gold Coast coach Stuart Dew spoke to SEN on Wednesday and was asked about Lynch's future, although he said his job wasn't to speculate on the future of his star player.
"My job, really, is to create an environment where he wants to be part of it," Dew told SEN.
"I'm not going to be able to speculate on timelines, that's not for me to say — but I guess I'm going to be answering it the same and everyone's probably going to be sick of hearing it as much as I'll be sick of getting asked.
"As soon as there's any news, obviously everyone's going to know. But until then, I think we will be giving the same answer because that's the fact."