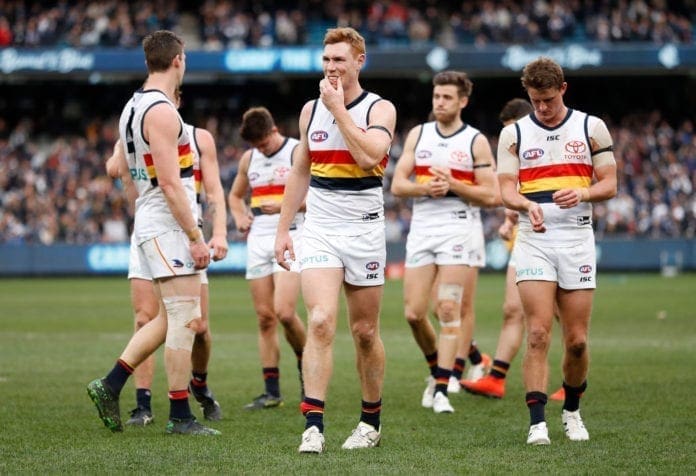 Adelaide Crows assistant coach Ben Hart has copped the brunt of the AFL's punishment for the Crows flouting social distancing regulations, but AFL legend Garry Lyon says that the punishment wasn't enough.
The AFL has stood down Hart for six weeks and told by the league to not have any contact with players until June 22 for his part in organising a group training session for 16 players while under 14 days quarantine in the Barossa Valley.
Senior players Tom Doedee and Kyle Hartigan were among the group of 16 players who broke into two groups of eight to participate in eight minutes of team drills after a two hour session.
The Crows have maintained that permission was granted by the AFL, state officials and police, with the AFL accepting that Adelaide did not purposely flout the system.
However, speaking on FOX Footy Live, Garry Lyon has expressed doubt that Adelaide made a innocent mistake and says the league should have cracked down on the Crows.
"They should have looked at a draft pick. That's what they should have done for contravening a rule that put the competition in doubt," he said.
"They put the restart in doubt, it's the very thing they went cap in hand to the government for in the last two weeks to say we are great citizens and you can trust our players.
"You know what, 95 per cent of players have done it except for these knuckleheads who have put the restart back.
"It's incumbent upon the players to understand the rules they are governed by. It's your responsibility as a player. It's not an obscure rule, it's been the front page of the paper and leading the news for four days."
The other 14 players involved in the breach were William Hamill, Ayce Taylor, Lachlan Sholl, Jordon Butts, Lachlan Gollant, Ronin O'Connor, Ben Keays, Fischer McAsey, Josh Worrell, Billy Frampton, Elliott Himmelberg, Myles Poholke and Lachlan Murphy.
All 16 players have been given suspended one-match bans, which will expire at the end of the 2020 season.
Despite the Crows receiving a slap on the wrist, the AFL has warned any future breaches of social distancing rules could see players suspended for the season or be deregistered
AFL legal counsel Andrew Dillon has stated that the league will clarify regulations relating to social distancing in the coming days.
"We all have a very clear responsibility to ensure we do everything we can to stop the spread of the virus. The protocols are clear and the actions in this matter, whilst not pre-planned, are a breach of them."
"We take this matter extremely seriously. We will not compromise the health and well-being of the community, and remind everyone in the industry – players, coaches, officials and staff - that they have a responsibility to adhere to the rules for the safety of everyone in the community."