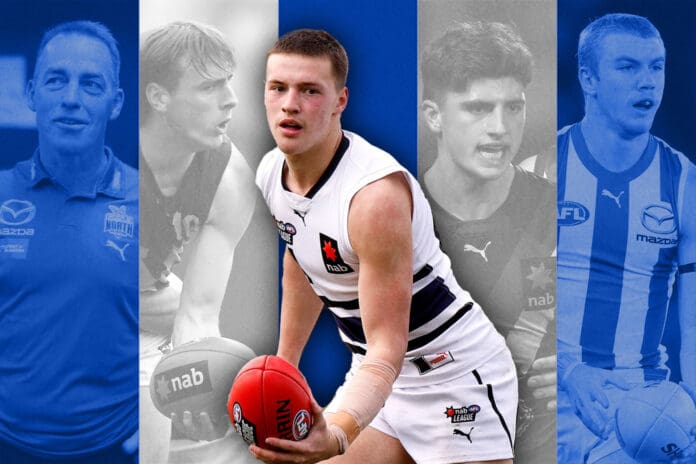 A topsy-turvy trade window has seen North Melbourne left with two of the opening three selections at this month's National Draft after parting with last year's No.1 selection and the first overall pick for 2022.
Jason Horne-Francis' shock exit has forced the Roos back to the drawing board as they assess their options for the future, however this year they head into the draft with an even stronger hand.
Adding to the changes at Arden Street, four-time premiership coach Alastair Clarkson has taken the wheel as he looks to steer the Shinboners back toward the top eight conversations, while their list management and recruiting cohort underwent a major facelift earlier this tear,
With plenty of work still needed, this year's draft looms as a critical one for the Roos to get right as they plan to work their way back up the ladder.
Draft Hand
Picks: 2, 3, 23, 40, 43, 70, 77
After trading in Picks 2 and 3, the Roos are set to shape the early order of the 2022 National Draft.
Following a likely matched bid on Brisbane father-son Will Ashcroft, which could come from the Roos should the Giants look elsewhere, North Melbourne are tipped to enter the draft at third overall to begin their two successive selections.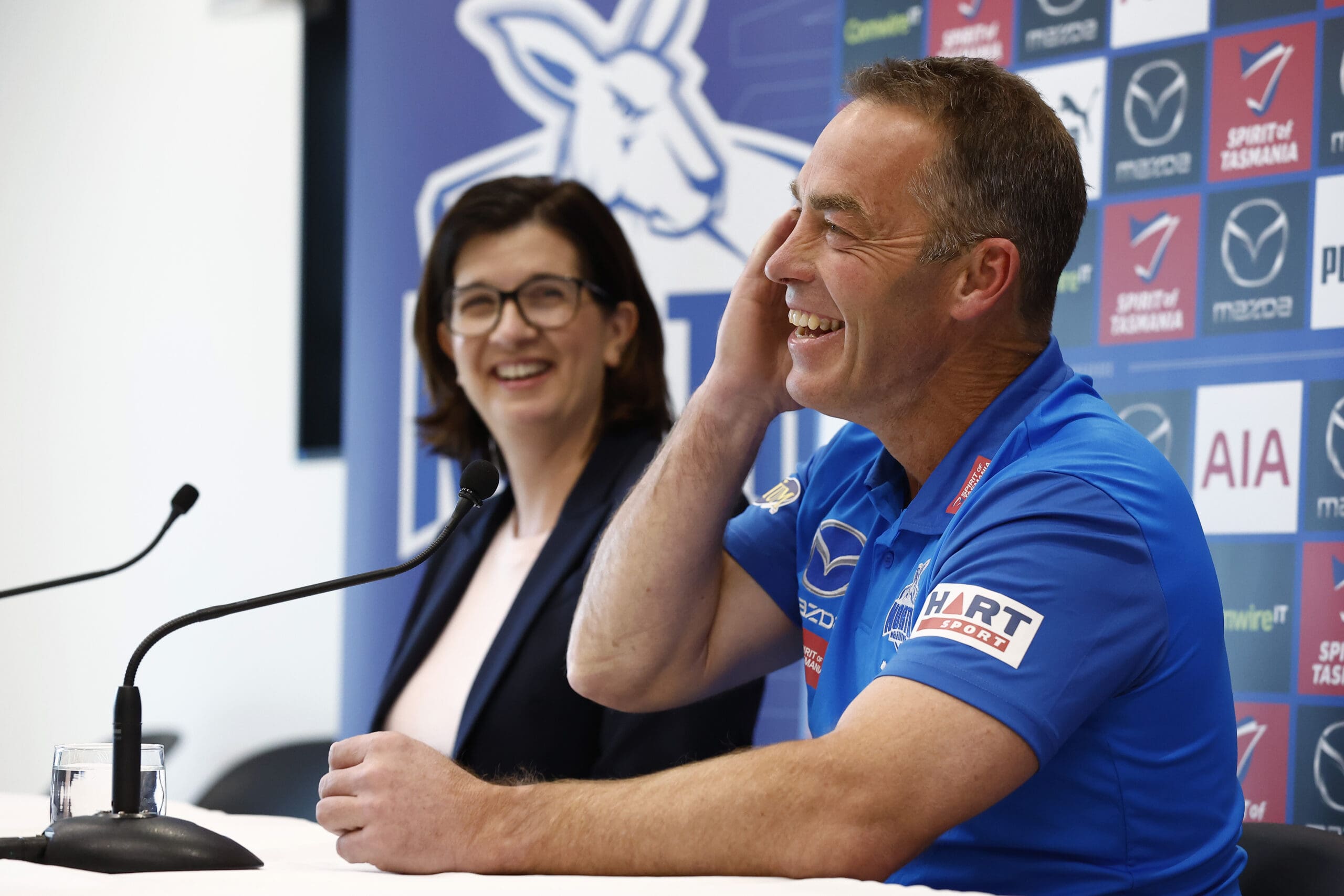 They'll re-enter the draft in the second round should their hand stay the same, with Pick 23 holding great value, while further selections at 40, 43, 70 and 77 also pose as required selections given their links to an exciting father-son prospect of their own.
List Needs
Fire Power:
The aforementioned departure of Horne-Francis has again left North Melbourne to consider further midfield options, despite the South Australian being their sixth-straight first-round selection of an onballer.
But while their engine room needs are one area of discussion, it's the grunt and edge Horne-Francis was going to give North Melbourne that is also an unfortunate loss for Alastair Clarkson.
Whether it be a contested ball-winning machine or a mercurial forward threat, a spark is needed to ignite the club's pathway back to premiership contention.
Adding to the pool of talent the Roos will dive into. father-son selection Cooper Harvey, son of club great Brent, is a prospect that can be that difference once given the chance.
Tall Forward:
A key-forward partner for first-strong target Nick Larkey has been an area of need for North Melbourne for some time, and the National Draft might be where the Roos find an answer to this issue.
With their opening pair of top 3 selections likely used for midfield and forward options (we'll discuss this later), the Roos are likely to have seen the standout tall forward options taken by the time they're on the clock for the third time.
At Pick 23 the Roos will still be within reaching distance of a number of promising forward options, whether that be a medium-sized attacker in the Jack Gunston frame or a ruck-forward hybrid that could fill multiple voids.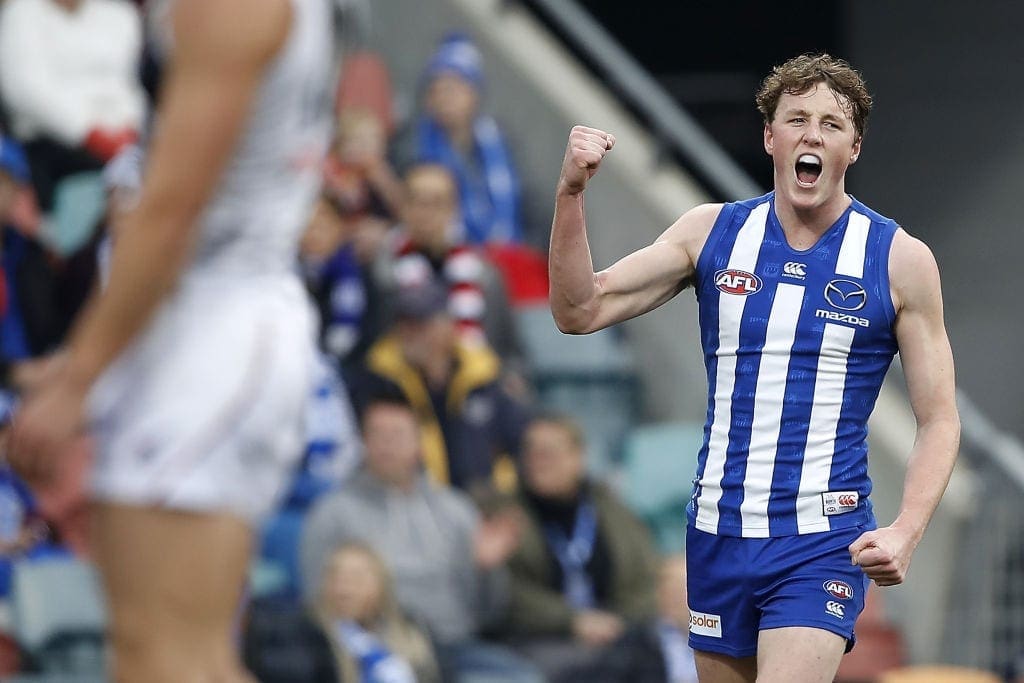 Best Available:
Sometimes scouting players and opting for the name atop of your list among the available players can be the best option. It's one that has worked for Sydney in recent years and its something the Roos should strongly consider with a number of their selections.
It's likely to be the avenue North Melbourne takes with Picks 2 and 3, with the Roos presumably already locked in on those two selections already. Likely selecting from a trio of leading names that are touted to follow Ashcroft and reported GWS target Aaron Cadman, North will come away with two stars in the making.
Even further down the order, whether that be Pick 23 or all the way back to 77th overall,
Ideal Prospects
Harry Sheezel:
A player that is sure to give the Roos some flare in their forward third, Sheezel is among the leading options for North Melbourne to consider with one of their two early selections.
The Sandringham star booted a NAB League-high 36 goals in 2022, while also averaging 19.3 touches, 3.3 tackles, 3.6 marks and 2.9 inside 50s per game from his 14 outings for the Dragons.
A menace for opposing defenders, Sheezel could be the spark plug the Roos are after.
George Wardlaw:
When it comes to selecting the 'best available', it will be hard to see North Melbourne not opting for Wardlaw with either Pick 2 or 3 at the National Draft.
The Oakleigh Chargers bull is a sensational ball-winner and put plenty of runs on the board before battling injuries throughout the year.
Looking to fill the void left by Horne-Francis, Wardlaw can be the fitting selection that serves alongside the likes of Luke Davies-Uniacke and Jy Simpkin.
Max Gruzewski:
A versatile swingman option the Roos could take a punt on with Pick 23, Gruzewski could be an enticing forward selection given his promising ability and ceiling.
Standing at 193cm, Gruzewski is under-sized as a key-forward option, but he can complement Nick Larkey in attack, with the Roos remaining hopeful they can get the best out of Callum Coleman-Jones and Charlie Comben.
Another option for the second-round is South Australian Isaac Keeler, who could share the ruck-forward duties with Coleman-Jones as a lethal key-position pairing. Should they look later into the draft for a forward target, then West Adelaide's Tom Scully firms as a possible option.