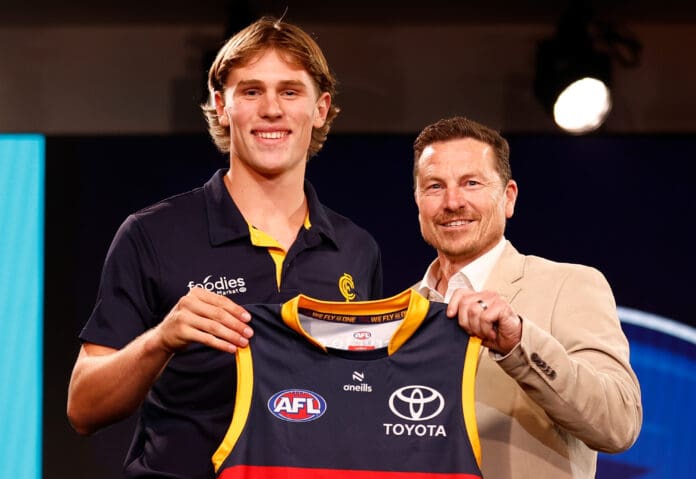 Adelaide's opening night at the AFL Draft was headlined by a "bold play" to trade their way up the order and secure access to top-rated Western Australian Dan Curtin, who is viewed as a "really, really high class" teenager by the Crows.
A trade with GWS saw the Crows part with multiple first-round picks to secure Pick 8 and, subsequently, Curtin - who had garnered interest from West Coast and Essendon after sliding to the Giants' opening selection.
Adelaide won the bidding war for the Claremont kid, who is arguably the most ready-made talent in his draft class.
The Crows had met with Curtin early into the year, but their interest was piqued in recent days as list manager Justin Reid and his team began to pull the needed strings to prepare for a move up the draft order for the WA young gun.
Speaking after a busy first night at the draft, Crows list manager Hamish Ogilvie said it was a "bold play" that saw Adelaide secure a player whom the club views as "a great fit".
"It was a bold play and credit to the Giants for helping us get it done. We saw the opportunity, we probably started to think three or four days ago it was maybe a chance. The guys did a lot of preparation with scenarios to be able to do it," Ogilvie said.
"It was probably pretty bold and something we didn't really factor in three or four days ago, but the opportunity was just too good. That's the great thing about trading on the night and future trading, when these opportunities present you've just got to be ready.
"We're just so pleased to have him at the club. He's got a lot of what we need. It was a great opportunity, a bold play and it worked for us which was great.
"It wasn't late interest, we interviewed him in March when he was in Fremantle. He was always a player who we rated highly. Even from last year, we knew he was probably going to be out of our reach, but we were able to manipulate some picks and still stay in the draft which is a really good thing.
"We knew that if it got to us Dan was happy to come to Adelaide. It was a great fit and worked well."
Curtin's versatility and senior experience is what sees him separated from the rest of this year's draft class, with the listed key defender frequently featuring in midfield for WA at the National Championships - going toe-to-toe with some of the best midfielders and tall forwards in the same carnival.
The back end of his draft campaign would see Curtin awarded a call-up to Claremont's senior side amid a finals push in the WAFL, with the teenager looking at home against bigger bodies in his half-dozen appearances.
A finals meeting with Subiaco wouldn't go Claremont's way, but Curtin proved he has what it takes, and did so under the close watch of the Crows.
Adelaide is also excited by Curtin's ability to play in attack, but Ogilvie is expecting the Pick 8 selection to start his career at the other end of the field where he can display his clean ball use and defensive strengths.
"People forget how good of a forward he was," Ogilvie said. 
"As a young player he was a forward that's moved back and obviously the midfield stuff is great, that's that's a fantastic bonus for his development.
"We think he probably starts back. His ball use as a all is really, really high class. It's clear we've had a couple of issues with injuries to our tall backs, and he's played great senior footy already.
"I loved the Claremont-Subiaco final. I loved what he did and how the coach used him and threw him around. He's a pretty well-rounded player, his groundball is really good and that kick is rare for a player that tall."
With the departure of Tom Doedee and ACL setback to Nick Murray, Curtin firms as a strong chance to be lining up for the Crows in their Round 1 meeting against Gold Coast next March.
The Crows have set "no expectations, no limitations" for Curtin's playing chances, but know he'll put his best foot forward.
"That'll be up to the coaches and Dan," Ogilvie said of a Round 1 debut for Curtin.
"Knowing the person he is, I'm sure Dan's going to push to be as good as he can as early as he can. So no expectations, no limitations.
"We love the fact that he's played senior footy and they've done a great job with him, Claremont, so credit to them to get him ready.
"He's as ready as most kids are, so we'll see what happens."
The Crows secured Sandringham Dragons utility Charlie Edwards with their second selection of the night at Pick 21 - a selection the club secured in their trade with GWS that also landed them access to Curtin.
The Sandhurst product was an easy choice for the Crows on Monday night, with Ogilvie having moved for a big-bodied midfielder who could start his career across all three lines of the field.
"Charlie is sort of that tall mid we've sort of been looking for," he said.
"Jordan Dawson's tall but people forget how tall he is and how good in the air Jordan is, but it'll be great to have Charlie to come in and learn from those guys.
"He wanted to come to Adelaide. He's a Bendigo kid off the farm so he's already moved and is very mature. A really smart kid (who can play) three parts of the ground really well. Started off halfback, did a great job and then midfield and forward. Some of his short cameos in the forward line during the finals were really exciting.
"So at that size, and with his athletic ability it gives us really good scope and you want players who can play lots of spots."
One of the shock draft moves on the night was Adelaide's selection of Murray Bushrangers dasher Oscar Ryan, who was taken at Pick 27 in what was the Crows' final pick of the night.
While it might've come as a surprise to Ryan and onlookers, Adelaide decided to select the versatile flanker given Brisbane and West Coast were also showing interest in the Sheppartin junior.
Not wanting to "take the risk", Ogilvie went again, splitting the club's third pick and calling Ryan's name, which came as a shock to the defender.
"It wasn't a surprise to us," Ogilvie said.
"There was just the debate of could we go back a little bit and still get him. I didn't want the guys to take the risk of any chance that we might lose him, because we sort of knew Brisbane and West Coast were pretty keen as well.
"It wouldn't have been a shock to some clubs. He's just such a great person and some of his footy is really exciting. We think he can probably move off half-back and play on the wing or in midfield as well in time.
"That's the great joy of the draft, to see a kid like Oscar, his Mom and Dad will be so pleased. We had great meetings with them. We really, really enjoyed meeting him and he is an A-grade, top-class kid and has got really good footy skills."
Adelaide won't add to their trio of draft selections through the second night of the draft, with attention now turning to Wednesday's Rookie Draft where the Crows will re-select Will Hamill and James Borlase.
The Crows might not be done adding to their list however, with Irish import Karl Gallagher to commence a train and trial period at West Lakes when he lands in South Australia on November 25.
After taking part and impressing the Crows at the 2019 Draft Combine, Gallagher is set to be trialled for a role across half-back via a potential category B rookie deal.
"We'll have a look at Kyle and he'll have a look at us. He's been a pro already and plays in a very good team in Ireland. He's the youngest player in the Monaghan senior team," Ogilvie said.
"What we loved about him in 2019 was his athletic ability. So with the Cat B guys and the Irish guys what you get is a bonus. He's played midfield and full-forward in Ireland, but we think he'd probably start half-back and wing in those sorts of roles with his athletic ability.
"I'm really excited for Karl, he's a great lad. People are really going to enjoy meeting him and our coaches are going to enjoy working with him. So I'm looking forward to getting him over at the end of the week."