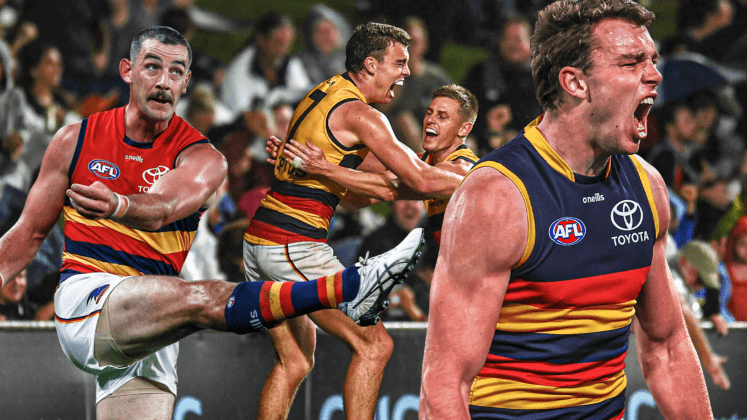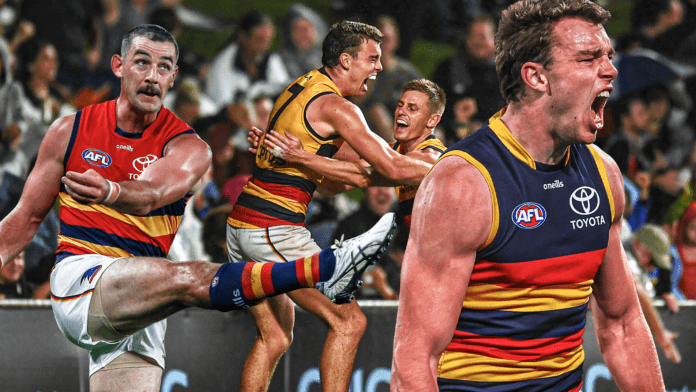 Every AFL newcomer needs a specific mix of time and patience before they reach the top, even moreso if you're a two-metre key forward. For Adelaide's Riley Thilthorpe, the combination of setting high standards and blocking outside noise has helped the Crows youngster learn nothing will come easily.
The towering local lad who was plucked by the Crows with their opening selection after a wooden-spoon finish, with the pressure of having an astounding impact almost immediately assigned to his shoulders.
While his playing career would start in style, two years on from a memorable debut Thilthorpe has admitted he isn't at the level he thought he might be.
Speaking to Zero Hanger, Thilthorpe explained while he hasn't reached the heights he set himself to achieve early into his career, he's been able to find consistency in his game after falling out of the Crows' side on a trio of occasions last year.
"The AFL is always going to be tough, it has its ups and downs," the 21-year-old said.
"But I've felt like I've been a lot more consistent this year compared to the last couple of years in being able to play my role in most games.
"I definitely haven't had the impact I would like to, but I feel like I've been able to play my role a lot better than I have in the past few years. It's been nice to cement my spot in the team and play every week. We're all building together which is really good.
"You always judged yourself a little bit harsher. I definitely had higher goals for the year and I definitely want to be having more of an impact. I'm playing my role and am looking to build from here.
"I'd love to have a big impact and help the team win the last few games to hopefully push and go deep into finals. That's definitely the goal and I'm working hard to try and do that."
After immediately having his name up in light thanks to a match-winning, five-goal debut performance in 2020, Thilthorpe was eventually left to realise headlines weren't always going to come in the form of praise.
A quieter Round 1 performance last year for the former No.2 draft pick saw him dropped from Matthew Nicks' plans, with Thilthorpe - a teenager at the time - suddenly swept up in the outside noise and distractions that questioned the second-year Crow's place.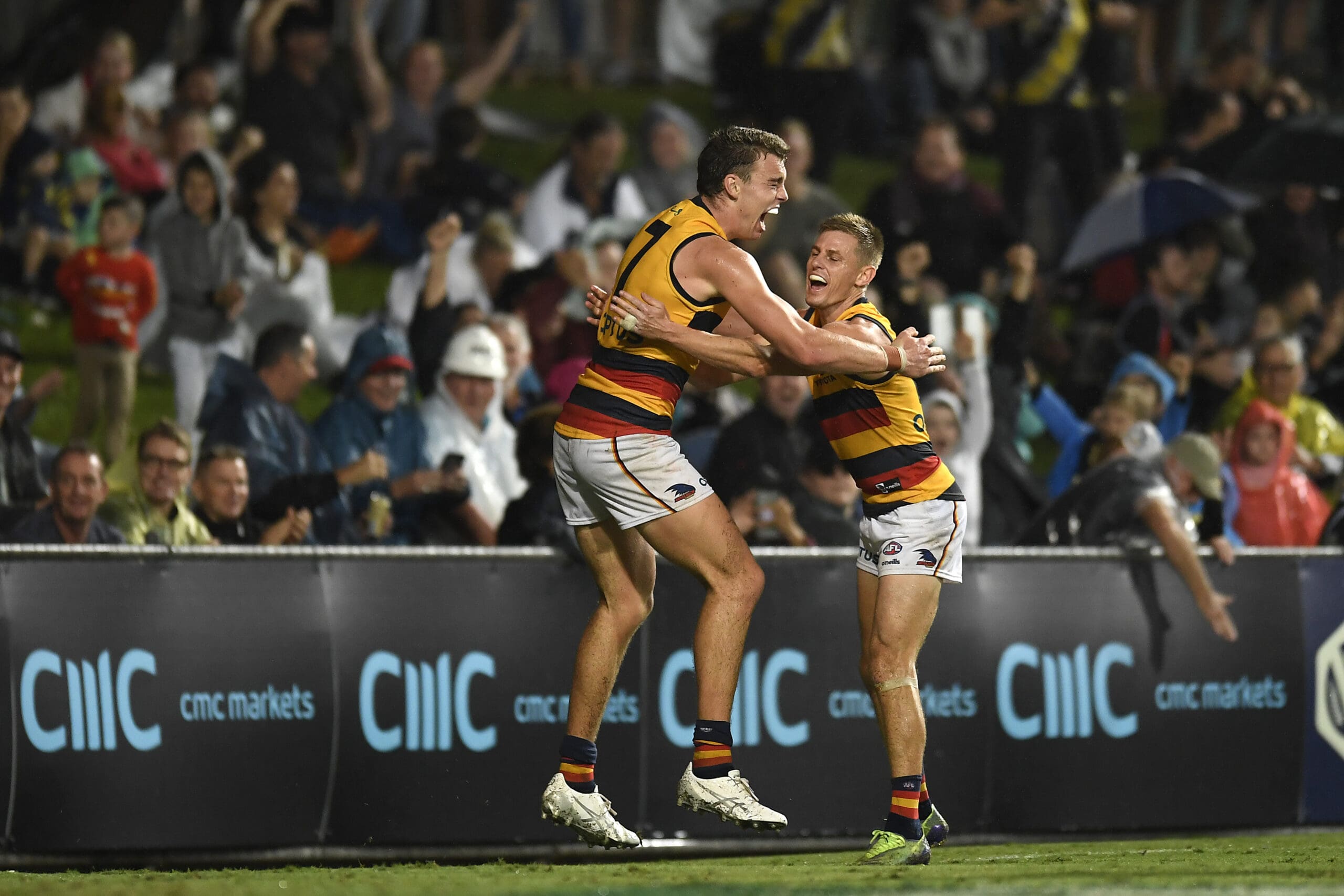 While acknowledging his form wasn't where it could be, it was a "turning point" for Thilthorpe, with the fledgling forward only maturing as a result of the backlash.
"I learnt pretty quick to try and avoid all that (external noise)," he said.
"Last year was sort of the turning point when I looked at some of the stuff (being said) after being dropped following Round 1. Yeah, I wasn't going as well as I'd like to.
"I learnt that that's probably not the way to do it and you don't want to ride the roller coaster. You want to try and keep pretty level-headed, so I try and stay away from some of that stuff.
"I've got a great bunch of people around me and my family. I'm just focusing on what I can control. I'm working close with my coaches and working on the right things. It's all going to come, I just need to trust the process."
While the numbers might not map out clear growth in Thilthorpe's game this year, he has managed to find a role under Nicks to help the Crows' cause in 2023.
Thilthorpe has booted 17 goals from his 18 matches so far this season, a campaign that culminated in Round 3 as he booted five goals in the Showdown. The Goodwood junior hasn't been able to find the same vein of form since, going goalless in eight games.
Nevertheless, the upside-rich Adelaide youngster has been able to build on other areas of his game while continuing to work on his forward craft, with Thilthorpe offering support as a pinch-hit ruckman while being a target in attack.
Both he and fellow emerging forward Darcy Fogarty have formed the supporting cast to 63-goal forward Taylor Walker this year, with the young pair "definitely ready" to rise to the occasion as part of Adelaide's succession plan.
Walker has handed down priceless advice to Thilthorpe since the 202cm-tall Crows fan became a teammate to his idol, with the club's all-time leading goalkicker showing he wants to be part of the club's future as much as its present.
"He's been massive. For him to be in some of the best form in his career right now is pretty incredible," Thilthorpe said of Walker.
"The stuff he's been able to teach me has been unbelievable. I'm so so lucky to have him to learn off from week to week and hopefully he's got a fair bit of footy left in him.
"'Fog' has worked unbelievably hard over the last couple of years, he's playing some unbelievable footy and probably not getting the reward that he should be getting.
"But we're definitely ready (for life after Walker). He's helped us out so much and we're so grateful to have him to learn off. We definitely want to contribute more and help the team more.
"I think we're slowly starting to get there and are building a bit of chemistry and cohesion between us. It's been really good this year playing sort of every game together. I love playing with both of them.
"We've got a really solid forward line that's young and we've got a lot of footy to play together for a few more years."
Adelaide will be needing a near-perfect run home to extend their season into September, with upcoming matches against Brisbane, Sydney and West Coast to either build or bludgeon their premiership prospects.
Saturday's trip to the Gabba will be a demanding encounter for Nicks' men, who are hoping to replicate their efforts from Round 11 in the corresponding match between the two sides when Adelaide recorded a 17-point win.
That victory has given the South Australian side the confidence to be the first club this year to claim a win over the Lions on their home deck, with the Crows wanting to remind the rest of the competition they're still in the hunt and have nothing to lose.
"It's a big challenge, especially to keep our season alive and keep pushing for the finals," Thilthorpe told Zero Hanger. 
"We beat them earlier in the year, so we know we can do it and now we're looking to be tougher for longer. We're pretty confident.
"We've looked at the last four games and viewed every game as if it was a final. The finals hunt is so tight that every team's gonna be bringing it and playing as if it's their last game.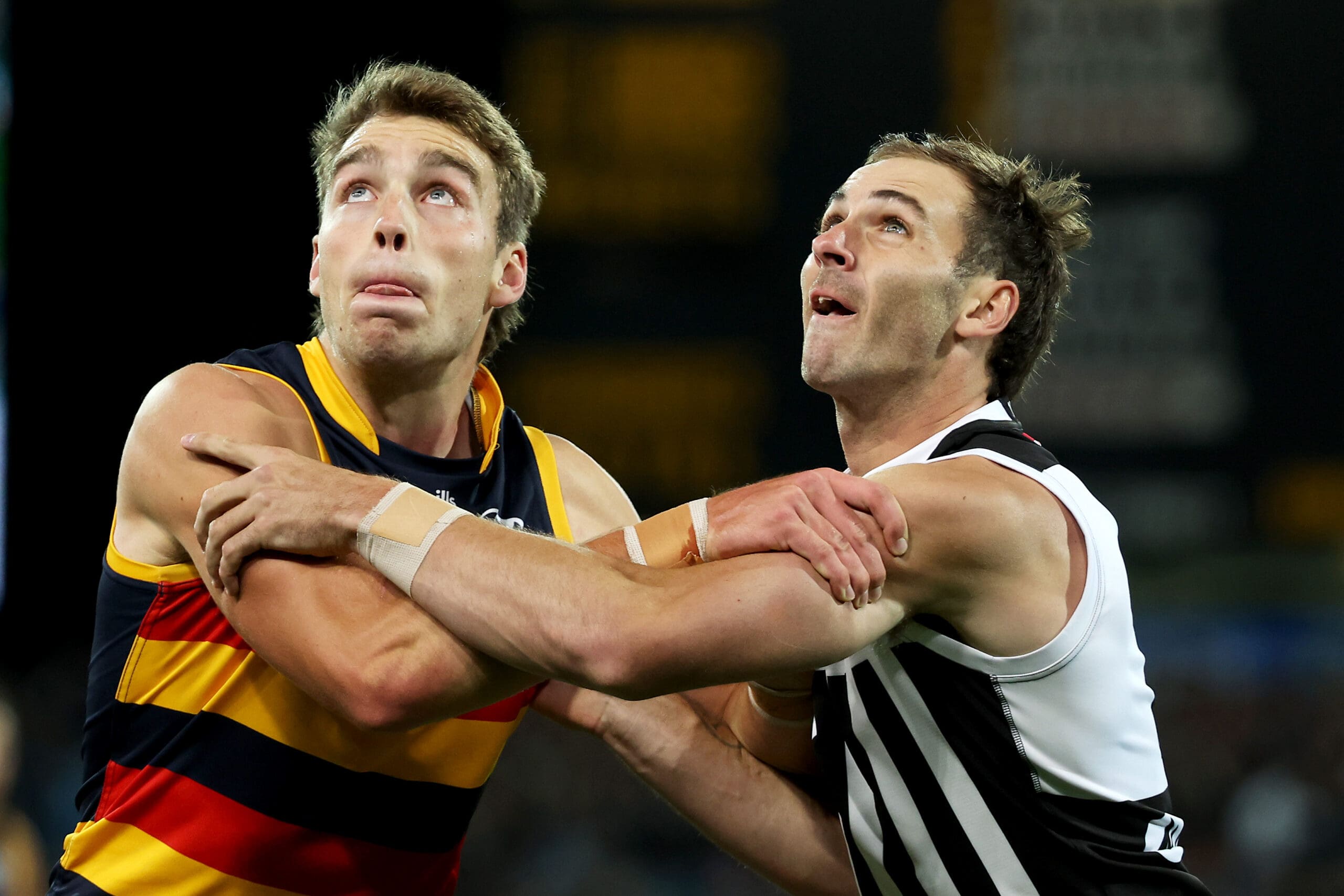 "We don't have a lot to lose, so we're going to give it a red-hot crack.
"Last year we sort of showed glimpses but probably weren't consistent enough. So to put some four-quarter performances together and win a few of those games has been really good.
"We've definitely left a few games out there though, which is probably hurting us now. But we're definitely a finals team and hopefully we can get there."
While they may not reach the dais this year, Adelaide's pursuit for a third AFL premiership is what is driving the club's sprightly young squad.
Having only been alive for Port Adelaide's 2004 triumph, Thilthorpe - a die-hard Adelaide fan growing up - dreams of bringing a premiership back to West Lakes Boulevard
"Being from Adelaide and seeing how much the premierships in 1997 and 1998 meant not only the Crows but the whole state - it's definitely something we want to bring back," he said.
"I wasn't alive for those two, but I'd love to see the Crows get a few more premierships.
"Hopefully I can help them do that."