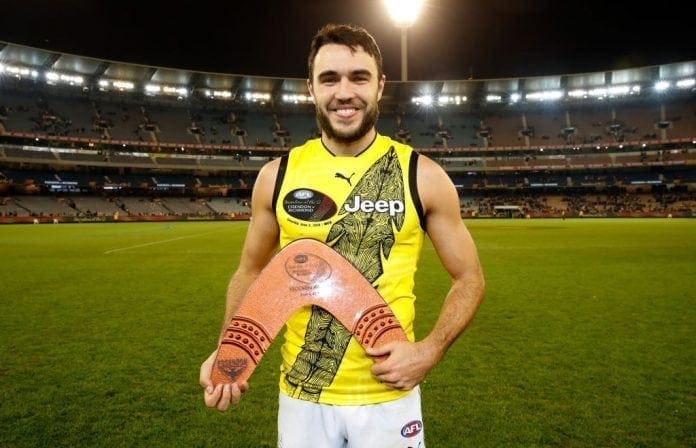 Richmond's recently retired three-time premiership player Shane Edwards has signed with the Adelaide Crows to manage Indigenous Player Development and assist the Club's recruiting team.
Edwards retired after the Tigers' dramatic 2022 finals exit after playing 303 games through 16 years with the club, earning an All-Australian blazer in 2018, and becoming Richmond's first Indigenous 300-game player.
His reputation in the game as an illustrious Indigenous figure significantly enhances Adelaide's football department, especially after recent cultural turmoil which damaged the club considerably.
Since Eddie Betts' emotional biography 'The Boy From Boomerang Crescent' sent shockwaves through the AFL landscape, the Crows have made multiple efforts to restore their relationship with the Indigenous community.
After recently adding electric small forward, Izak Rankine in a massive deal and moving Jeremy Johncock on to a more prominent role as Indigenous Programs Manager, Adelaide have seemingly dedicated this off-season to cultural improvement.
The club's Head of Football, Adam Kelly spoke on the decision:
"First and foremost, it is Shane's record of leadership and mentorship, and his obvious desire to support others to be their best that made him a great candidate for this role."
"His decorated playing career is obvious – over 300 games, three premierships and All-Australian honours – but just as impressive is his standing in the game and reputation as a highly respected football person and proud Indigenous man."
Shane Edwards also spoke on his decision to stay in the football landscape, revealing:
"I've been working in the recruiting department at Richmond for the past four or five years so it's always been a focus to try to move into that space when I finished playing".
"I think I've got a bit to offer in that department (Indigenous Player Development), regardless of whether it's my job title or not I would always be keen on helping out in that space, it's something I'm very passionate about and looking forward to."