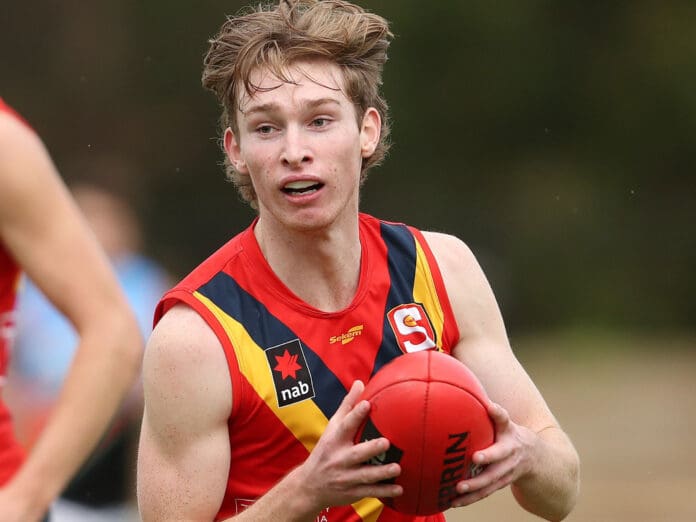 Adelaide could be busy early on draft night, despite holding pick 46 as their first selection after a busy trade period.
The Crows parted ways with their first-round pick to acquire Izak Rankine in October, while also taking part in a pick swap prior to Monday night's 2022 National Draft.
While their selections come beyond the first-round, the Crows will be keeping a keen eye on proceedings as they look to potentially improve their draft hand, while trying to snare a father-son prospect.
The son of Jim, who played 211 games for Norwood, Max Michalanney has been rated highly throughout his junior career and may end up as a potential first-round selection as he gains rival interest.
The Western Bulldogs, West Coast, Sydney, Collingwood and North Melbourne are among those most interested in the young defender, per reports from The Advertiser.
Adelaide do possess a solid 2023 draft hand, holding a first-round and two second-round selections, leaving them with plenty to negotiate with.
READ MORE: Max Michalanney draft profile
Speaking ahead of the draft, Adelaide National Recruiting Manager Hamish Ogilvie said the club was remaining "open minded" about their plans for the evening.
"With live trading and the trading of future picks you need to prepare for everything so we are open minded," Ogilvie said.
"This year is a bit different to previous years in that we were able to use our first round selection to bring in Izak Rankine which is a massive win for the Club.
"We have picks 46, 56 and 59 but they are likely to come in a bit after father-son and academy nominations are made, and we have been able to maintain a good hand for next year with a first and two second-round selections in 2023.
"We will wait to see where the bid comes for Max Michalanney and without putting an exact number on it, we are prepared for a range of scenarios to play out on the night."
Adelaide currently hold picks 46, 56 and 59.