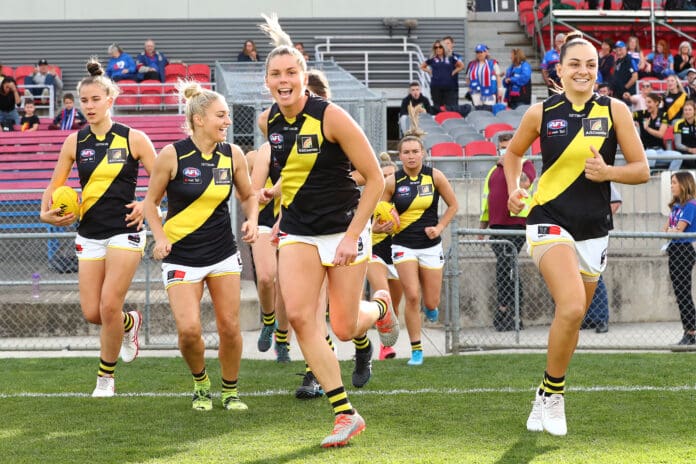 While a floating fixture is set to round out the final week of the 2022 AFLW season, the combatants for each of the seven games have been announced.
Following the announcement of the opening nine weeks of the schedule earlier this week, the AFL has stated that Round 10 will read as such:
Collingwood vs. Gold Coast SUNS at Victoria Park (VIC), TBC
Geelong Cats vs. GWS GIANTS at GMHBA Stadium (VIC), TBC
Melbourne vs. Carlton at Casey Fields (VIC), TBC
Kangaroos vs. West Coast Eagles at Arden Street (VIC), TBC
Richmond vs. Brisbane Lions at Swinburne Centre (VIC), TBC
St. Kilda vs. Adelaide Crows at RSEA Park (VIC), TBC
Western Bulldogs vs. Fremantle at Mars Stadium (VIC), TBC
Each of these contests will take place between Friday, March 11 and Sunday, March 13 and will coincide with the commencement of the 2022 AFL season.
RELATED: AFL reveal Round 1 fixture for 2022 season
Given it is uncertain which of the competition's 14-teams will be in finals contention entering the last weekend of the fixture, the dates and times of each match-up are set to be determined at a later date.
What is known is that each of Collingwood, Geelong, Melbourne, North Melbourne, Richmond, St Kilda and the Western Bulldogs will play hosts in an all-Victorian footy fest.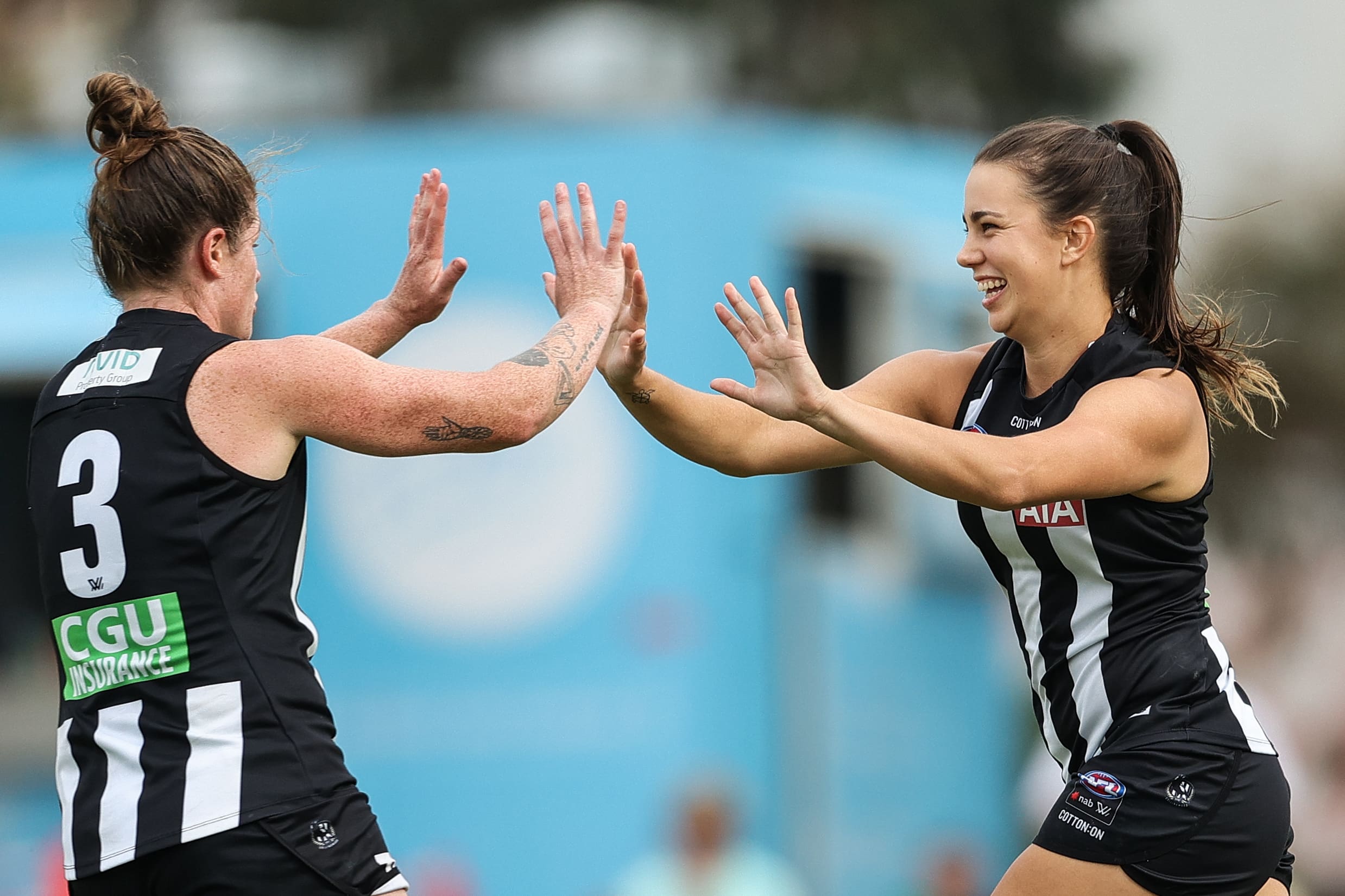 The season has been confirmed to start on January 7, with St Kilda and Richmond to kickstart the new season at Frankston's SkyBus Stadium.
Carlton and Collingwood have been moved from opening the new season to a Sunday afternoon slot in the second weekend of the new year as Ikon Park continues its redevelopment that has restricted its ability to host nighttime matches.
Complications due to COVID-19, such as Western Australia's border restrictions, have caused the league to delay the season. Originally scheduled for December, the 10-round season was pushed back by a month in order to prevent the WA teams potentially having to hub in the eastern states.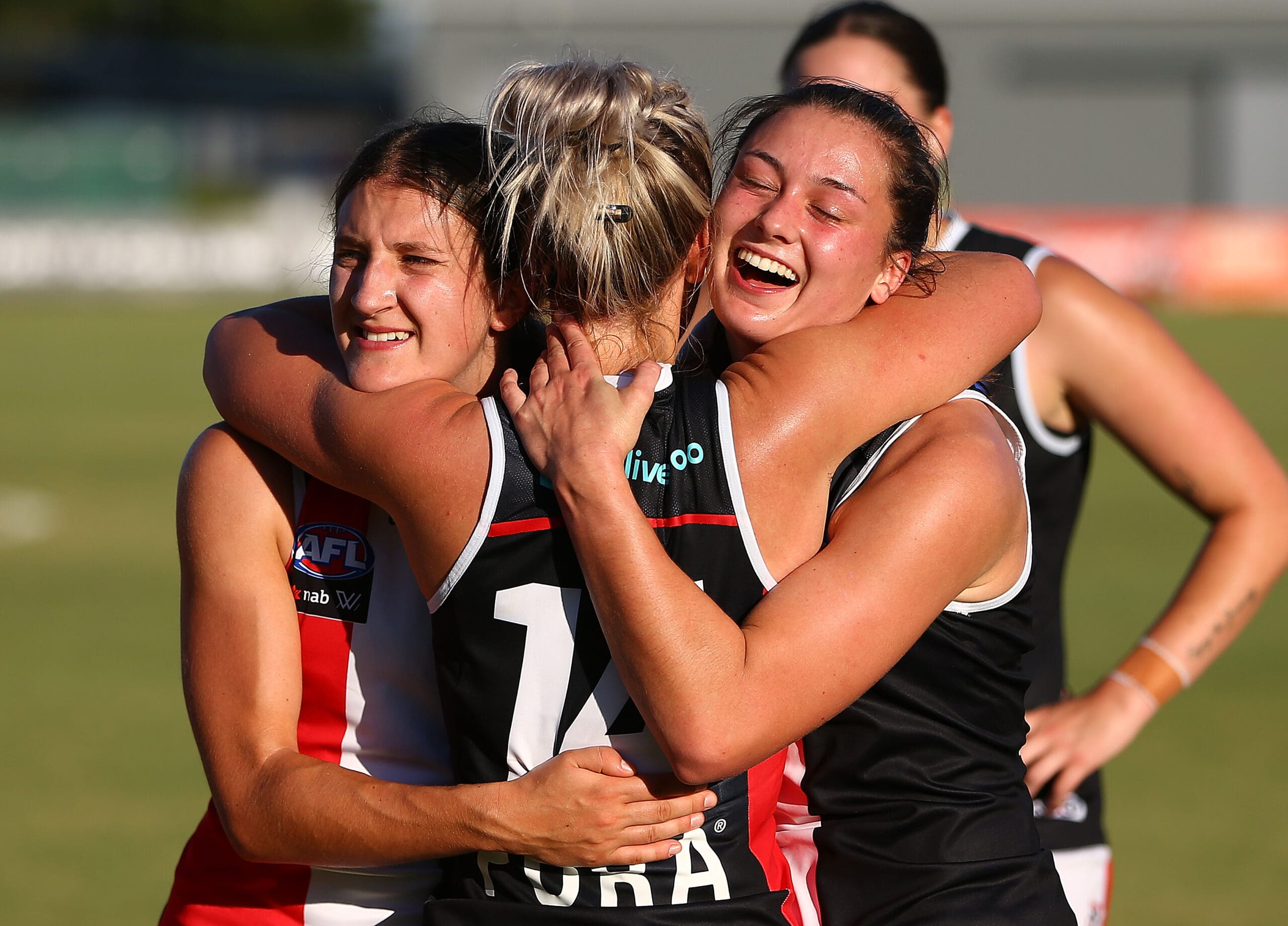 Essendon, Hawthorn, Port Adelaide, and Sydney will join at the end of 2022, bringing the league to an 18 team competition, while the 2021 season will remain with 14 teams. The AFLW no will longer use a conference system as it did previously, instead, all teams will be placed on the same ladder, with a finals series expected in March.
Reigning premiers Brisbane will kickstart their premiership defence against the Eagles in Western Australia on Sunday, January 9.
Rounds nine and 10 will remain floating fixtures to ease the AFLW's planning, which will follow Indigenous Round in Round 8, while Pride Round will be held in Round 3.
AFLW 2021 FIXTURE (All times AEDT)
Round 1
Friday January 7
St Kilda v Richmond, SkyBus Stadium, 7:15pm
Saturday January 8
North Melbourne Tasmanian Kangaroos v Geelong Cats, Arden Street, 5:10pm
Western Bulldogs v Melbourne, Victoria University Whitten Oval, 7:00pm
Fremantle v Adelaide Crows, Fremantle Oval, 8:50pm
Sunday January 9
Carlton v Collingwood, Ikon Park, 4:10pm
Gold Coast SUNS v GWS GIANTS, Great Barrier Reef Arena, 6:10pm
West Coast Eagles v Brisbane Lions, Mineral Resources Park, 8:10pm
Round 2
Friday January 14
Richmond v Melbourne, Swinburne Centre Punt Road Oval, 7:10pm
Saturday January 15
Collingwood v St Kilda, Victoria Park, 3:10pm
Brisbane Lions v Carlton, Maroochydore Multi Sports Complex, 5:10pm
Geelong Cats v Western Bulldogs, GMHBA Stadium, 7:10pm
West Coast Eagles v Gold Coast SUNS, Mineral Resources Park, 9:10pm
Sunday January 16
Adelaide Crows v North Melbourne Tasmanian Kangaroos, Norwood Oval, 3:10pm
Fremantle v GWS GIANTS, Fremantle Oval, 5:10pm
Round 3
Friday January 21
Geelong Cats v Collingwood, GMHBA Stadium, 7:10pm
Saturday January 22
Melbourne v St Kilda, Casey Fields, 3:10pm
Richmond v Fremantle, Swinburne Centre Punt Road Oval, 5:10pm
Gold Coast SUNS v Brisbane Lions, Metricon Stadium, 7:10pm
Sunday January 23
North Melbourne Tasmanian Kangaroos v GWS GIANTS, Arden Street, 1:10pm
Western Bulldogs v Carlton, Victoria University Whitten Oval, 3:10pm
West Coast Eagles v Adelaide Crows, Mineral Resources Park, 5:10pm
Round 4
Friday January 28
Gold Coast SUNS v Richmond, Metricon Stadium, 7:40pm
Saturday January 29
Adelaide Crows v Melbourne, Norwood Oval, 1:10pm
St Kilda v West Coast Eagles, Wilson Storage Trevor Barker Beach Oval, 3:10pm
Brisbane Lions v Geelong Cats, Maroochydore Multi Sports Complex, 5:10pm
Sunday January 30
Carlton v North Melbourne Tasmanian Kangaroos, Ikon Park, 1:10pm
Collingwood v Fremantle, Victoria Park, 3:10pm
GWS GIANTS v Western Bulldogs, Henson Park, 5:10pm
Round 5
Friday February 4
Geelong Cats v West Coast Eagles, GMHBA Stadium, 7:10pm
Saturday February 5
GWS GIANTS v St Kilda, Henson Park, 3:10pm
Brisbane Lions v Collingwood, Maroochydore Multi Sports Complex, 5:10pm
Western Bulldogs v Richmond, Victoria University Whitten Oval, 7:10pm
Sunday February 6
North Melbourne Tasmanian Kangaroos v Fremantle, North Hobart Oval, 1:10pm
Carlton v Adelaide Crows, Ikon Park, 3:10pm
Melbourne v Gold Coast SUNS, Casey Fields, 5:10pm
Round 6
Friday February 11
St Kilda v Brisbane Lions, TBC (either RSEA Park or Sky Bus Stadium), 3:10pm
Saturday February 12
Richmond v North Melbourne Tasmanian Kangaroos, Swinburne Centre Punt Road Oval, 3:10pm
Collingwood v West Coast Eagles, Victoria Park, 5:10pm
Fremantle v Carlton, Fremantle Oval, 7:10pm
Sunday February 13
Melbourne v GWS GIANTS, Casey Fields, 1:10pm
Adelaide Crows v Western Bulldogs, Norwood Oval, 3:10pm
Gold Coast SUNS v Geelong Cats, Fankhauser Reserve, 5:10pm
Round 7
Friday February 18
North Melbourne Tasmanian Kangaroos v Collingwood, University of Tasmania Stadium, 7:10pm
Saturday February 19
GWS GIANTS v Adelaide Crows, Blacktown International Sportspark, 3:10pm
Carlton v St Kilda, Ikon Park, 5:10pm
West Coast Eagles v Richmond, Mineral Resources Park, 7:10pm
Sunday February 20
Geelong Cats v Fremantle, GMHBA Stadium, 1:10pm
Brisbane Lions v Melbourne, Maroochydore Multi Sports Complex, 3:10pm
Western Bulldogs v Gold Coast SUNS, Victoria University Whitten Oval, 5:10pm
Round 8
Friday February 25
GWS GIANTS v Carlton, Manuka Oval, 7:10pm
Saturday February 26
Richmond v Geelong Cats, Swinburne Centre Punt Road Oval, 5:10pm
Melbourne v North Melbourne Tasmanian Kangaroos, Casey Fields, 7:10pm
Fremantle v West Coast Eagles, Optus Stadium, 9:10pm
Sunday February 27
Collingwood v Western Bulldogs, Victoria Park, 1:10pm
Adelaide Crows v Brisbane Lions, Norwood Oval, 3:10pm
Gold Coast SUNS v St Kilda, Metricon Stadium, 5:10pm
Round 9
Friday March 4 to Sunday March 6
Adelaide Crows v Collingwood, Norwood Oval, TBC
Brisbane Lions v North Melbourne Tasmanian Kangaroos, Maroochydore Multi Sports Complex, TBC
Carlton v Gold Coast SUNS, Ikon Park, TBC
Fremantle v Melbourne, Fremantle, TBC
GWS GIANTS v Richmond, Blacktown International Sportspark, TBC
St Kilda v Geelong Cats, RSEA Park, TBC
West Coast Eagles v Western Bulldogs, Mineral Resources Park, TBC