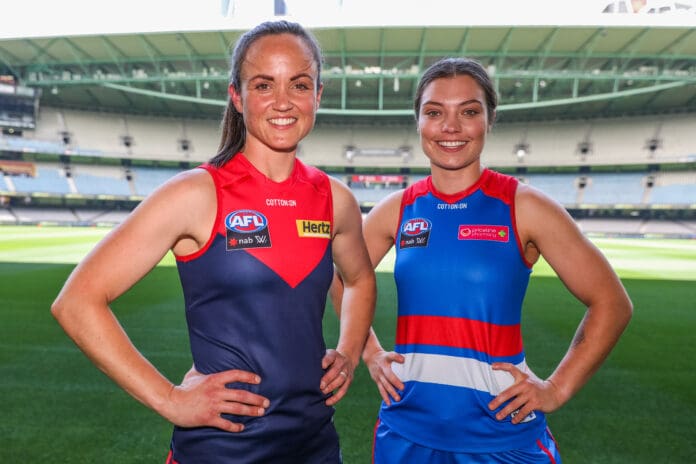 The 2022 AFLW regular season is over and clubs have begun handing out their annual end of season awards.
View through each and every club that has revealed their award winners for this season so far.
Adelaide
After claiming two medals in the AFLW Grand Final, Adelaide ball-magnet Anne Hatchard has added to her decorated season for the Crows in claiming the club's 2022 Club Champion honours.
Hatchard capped off a premiership-winning campaign with the second best and fairest victory of her career, adding to her best-afield nod in her side's grand final win over Melbourne.
The bullish midfielder recorded 26 disposals, nine marks and six tackles in the season decider, completing a career-best season for the Morphettville Park product.
Hatchard also shared the Adelaide's Players' Player Award with Sarah Allen at the Crows' awards night, with Allen also claiming the Best Defensive Player gong.
Club Champion – Anne Hatchard
Runner-up – Ebony Marinoff
Third place – Sarah Allan
Leading Goalkicker Award – Ashleigh Woodland
Players' Player – Anne Hatchard and Sarah Allan
Best Defensive Player – Sarah Allan
Brisbane
Elite midfielder Emily Bates continued on her winning ways, adding Brisbane's Best and Fairest gon to her seasonal haul of the AFLCA Player of the Year Award, the AFLCA MVP and the league's best and fairest for the 2022 season.
While another premiership medallion eluded the 26-year-old this summer, Bates' campaign comprised of averages that included 21.3 disposals, 11.2 contested possessions, 7.1 tackles, and 5.6 clearances was nothing short of stellar.
Bates used her acceptance speech to put the club's faithful at ease, claiming that her future remained in maroon, blue and gold into the future.
Following the Yeronga South Brisbane product onto the podium was Greta Bodey whose season included 13 goals for Craig Starcevich's side.
Best and Fairest Winner - Emily Bates
Runner-up - Greta Bodey
Best First-Year Player - Lulu Pullar
'All For One' Award - Nat Grider
Most Competitive Award - Belle Dawes
Most Relentless Award - Taylor Smith
Trademark Player Award - Cathy Svarc
Best Finals Player - Emily Bates
Carlton
Carlton's season never reached any great heights, winning just four games out of ten and failing to match it with the top sides in the competition.
Midfielder Madison Prespakis was once again a standout for the Blues, capping off her 2022 campaign with the club's best and fairest honours, claiming the award with a three-vote deficit over Kerryn Harrington.
Prespakis averaged 20.5 disposals, 3.6 clearances and 3.5 tackles across her 10 appearances for the season.
Best and Fairest Winner: Madison Prespakis
Most Valuable Bluebagger: Kerryn Harrington
Rookie of the Year: Paige Trudgeon
Coaches' Award: Daisy Walker
Collingwood
Electric midfielder Jamiee Lambert made history at Collingwood's awards night, becoming the first AFLW Pie to win the best and fairest award on three occasions.
Lambert placed 24 votes ahead of second place finisher Ruby Schleicher, capping off a dominant year that saw her awarded with a second All-Australian selection. The 29-year-old averaged 20.3 disposals and 6.1 tackles in 2022, playing all 11 games for the Pies.
Other awards saw Lauren Butler earn the Player's Player title, while Eliza James was presented with the Best First Year Player award.
Best and Fairest winner: Jaimee Lambert
Player's Player Award: Lauren Butler
Best First Year Player: Eliza James
Fremantle
Dockers captain Hayley Miller has snapped star midfielder Kiara Bower's three-year best and fairest streak, claiming her maiden club gong.
Miller secured the honour with 191 votes, placing herself atop the podium accompanied by Ebony Antonio and Ange Stannett in second and third respectively.
The 26-year-old recorded 18.7 disposals, 10.3 contested possessions, 3.6 clearances and 6.1 tackles per game to also earn All-Australian honours in 2022.
Best and Fairest: Hayley Miller
Best Clubwoman Award: Ange Stannett
Players' Award: Ange Stannett
Best First Year Player Award: Jess Low
Geelong
Yet to announce their award winners. 
Gold Coast
Prominent Suns midfielder Ali Drennan has been awarded with her first club champion award, finishing just ahead of young guns Charlie Rowbottom and Jamie Stanton.
Drennan didn't miss a game in 2022, averaging 18 disposals and five tackles across her ten matches, including a record breaking performance in Round 6 when she amassed a club-high 30 disposals.
Best and Fairest winner: Ali Drennan
Most Professional Award: Tara Bohanna
Coach's Award: Claudia Whitford
Players' Player Award: Daisy D'Arcy
GWS Giants
Giants young gun Alyce Parker was crowned the Gabrielle Trainor Medal winner after narrowly edging out trio Alicia Eva, Cora Staunton and Nicola Barr for the club's top gong.
Parker enjoyed another strong campaign for the New South Wales club despite the Giants' lowly finish, averaging a team-high 18.7 possessions per game.
The young onballer also claimed the club's Members Choice Award, while Barr and Staunton also went home with awards of their own.
Best and Fairest Winner: Alyce Parker
Rising Star Award: Emily Pease
Giants Community Award: Nicola Barr
Members Choice Award: Alyce Parker
Mark of the Year: Katherine Smith, round five v St Kilda
Goal of the Year: Cora Staunton, Round 10 v Geelong
Leading Goalkicker: Cora Staunton (18)
Jacinda Barclay Fearless Award: Cora Staunton
Coaches Award: Haneen Zreika
Melbourne
Despite falling short of premiership glory in the City of Churches, the heart and soul of Melbourne's AFLW side, Daisy Pearce, claimed top honours for the third time in six seasons.
Having averaged 11 disposals and slotting 13 majors across the course of the summer, the 33-year-old pioneer earned the gong above her array of burgeoning peers.
The legendary figure also earned her third All-Australian call up in 2022, as well as being announced as the competition's leading captain.
Given her sustained dominance and the Redlegs still sitting well within their premiership window, Pearce now faces the tough decision of whether to play on or move into the coaching sphere.
Best and Fairest Winner: Daisy Pearce
Trademark Player Award: Shelley Heath
North Melbourne
Yet to announce their award winners. 
Richmond
Monique Conti claimed her third consecutive best and fairest title at Richmond's awards night, leading the count from the get go.
The star midfielder was electric in 2022 once again, averaging 24 disposals and 5.9 tackles per game. The 22-year-old's latest win takes her total to four, having claimed the title at the Western Bulldogs in 2019.
Bec Miller and Gabby Seymour followed closely behind in the count, while the "Players player" award was handed to Katie Brennan.
Best and Fairest: Monique Conti
Players' Player Award: Katie Brennan
Leading Goalkicker: Katie Brennan
Best First-Year Player: Emelia Yassir
St Kilda
Saints defender Bianca Jakobsson claimed her side's best and fairest honours with the lead of one vote, narrowly beating star teammate Tilly Lucas-Rodd for the honours.
Jakobsson polled votes in all 10 of St Kilda's matches to take out the award, while skipper Hanna Priest rounded out the podium.
Nicola Xenos was awarded as the Best Emerging Player, was Lucas-Rodd didn't go home empty-handed, crowded Sainter of the Year by the club's fans.
Best and Fairest Winner: Bianca Jakobsson
Best Emerging Player Award: Nicola Xenos
Fan-Voted Sainter of the Year: Tilly Lucas-Rodd
AFLW Personal Excellence and Dual Career Award: Jayde Van Dyk
West Coast
Eagles star Emma Swanson enjoyed a dominant season in the royal blue and gold, with her best and first polling showing a similar trend.
The West Coast captain polled 50 votes for the season, 24 more than the next best in Dana Hooker.
Swanson also took home the club's Player Trademark Award, while Charlie Thomas was noticed as the Eagles' best first-year player.
Club Champion: Emma Swanson
Player Trademark Award: Emma Swanson
Best First-Year Player: Charlie Thomas
Best Club Person: Andrea Gilmore
Western Bulldogs
In a fitting outcome, Bulldogs star duo Ellie Blackburn and Kirsty Lamb couldn't be split for the club's best and fairest honours, with the pair sharing the 2022 crown.
Blackburn and Lamb shared 102 votes after 10 games, with the former claiming her third Bulldogs club champion gong after winning the award in 2017 and 2021.
Lamb was also awarded as the Players' Player, while Elisabeth Georgostathis took home the Best Young Player Award.
Best and Fairest Award: Ellie Blackburn and Kirsty Lamb
Most Improved: Celine Moody
Coaches' Award: Isabelle Pritchard
Best Young Player: Elisabeth Georgostathis
Community Award: Bonnie Toogood
Players' Player: Kirsty Lamb
Trainers' Award: Isabella Grant & Kirsty Lamb
Leading Goalkicker: Bonnie Toogood