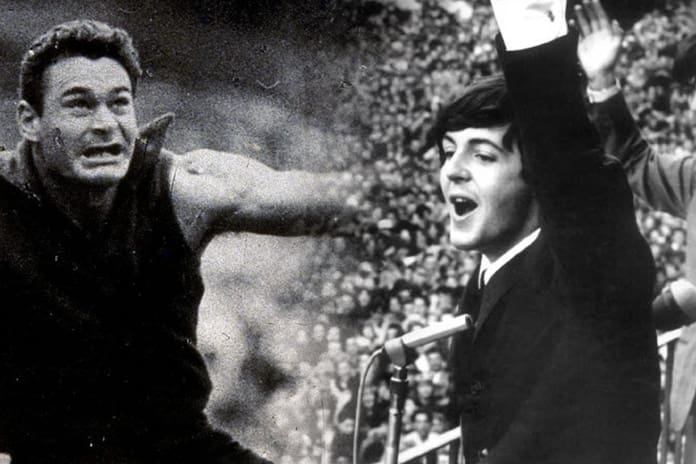 It has been a long time for the Melbourne Football Club since they last tasted success.
57 years to be exact, making it the longest active premiership drought in the AFL.
The last time Melbourne were in a Grand Final was 2000 - when they were wiped off the park by the Bombers to the tune of 10 goals, and the last time they won was in 1964 when Ron Barassi and Norm Smith led the Demons to a premiership over Collingwood by four points.
Now, let's go back in time to 1964 to see what the world was like when Melbourne last lifted the cup.
Sports
The Boston Celtics were a powerhouse in the NBA, winning their sixth title in a row defeating the San Francisco Warriors 4-1
The Summer Olympics took place in Tokyo, Japan with Australia placing eighth in the medal tally with six gold medals
St. George wins its ninth straight premiership against Balmain 11-6 in the New South Wales Rugby Football league [pre-NRL]
The St. Louis Cardinals defeated the New York Yankees in the World Series 4-3
Margaret Court wins the Australian Open and French Open in the same year
Roy Emerson wins the Australian, Wimbledon and US Opens in the same year
Entertainment
The Beatles were the most popular band in the world, and toured Australia and New Zealand in June
"I Want to Hold Your Hand" by The Beatles topped the Billboard 100 music charts
"Mary Poppins" starring Julie Andrews was the highest-grossing movie of the year, earning $102 million
"My Fair Lady" won Best Picture at the Academy Awards
"Bonanza" was the top-rated TV show of the year in the world
"Homicide" becomes the first drama TV series to be produced in Australia, become a big hit for Australian viewers over 12 years
Politics
Robert Menzies was the Prime Minister of Australia
Lyndon B. Johnson was the President of the United States
Peace
Martin Luther King Jr. wins the Nobel Peace Prize for his role and leadership for the civil rights of the African-American population
With so much having changed in the world across the last six-decades, will Melbourne's fortunes too be altered on Saturday with a grand new flag?