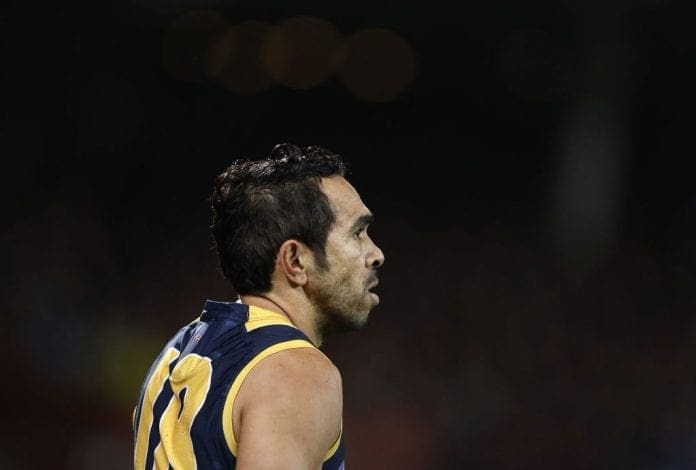 Carlton veteran and former Crows star Eddie Betts has broken his silence on the controversy surrounding Taylor Walker's racist slur.
In an interview with The Age, Betts stated Walker must own his mistake and learn from it in educating himself on the present and persistent issues of racism in both sport and life.
Betts has been a role model and constant voice in the Indigenous community to speak out on matters of racial vilification that have placed adversity on his own career.
The 34-year-old joined the Crows ahead of the 2014 season, playing six seasons alongside Walker in South Australia.
WATCH: Crows coach's emotional take on Walker controversy
Now back at Carlton and still fighting racism within the AFL landscape, Betts has spoken out on the league's latest controversy.
"He needs to learn from this," Betts said.
"He needs to own it. And he needs to work towards educating himself to be anti-racist, educating people around him, calling people out on racism when he hears it.
"Doing that is the only way we're all going to move forward on this.
"When it comes to racism, we're not moving forward – we're going backwards. The sad thing is that I'm used to it. That's the sad thing. We as Aboriginal people are used to it. And we keep fighting, but it's hard.
"I need people to understand this is what we go through. This is what Aboriginal people deal with in our everyday lives. It doesn't matter if you play AFL footy in the spotlight, or if you're in the community,"
"Racism does exist in Australia, and over the past 10 years of playing AFL footy, I have been racially abused every single year. It happened last week. It happened the week before that and the week before that."
Walker has issued an apology to North Adelaide player Robbie Young and an unnamed Adelaide official, both of which have accepted Walker's apology.
The former Crows captain has been handed a six-game suspension for his remark, and will donate $20,000 to charity and undertake an educational course of the AFL's approval.