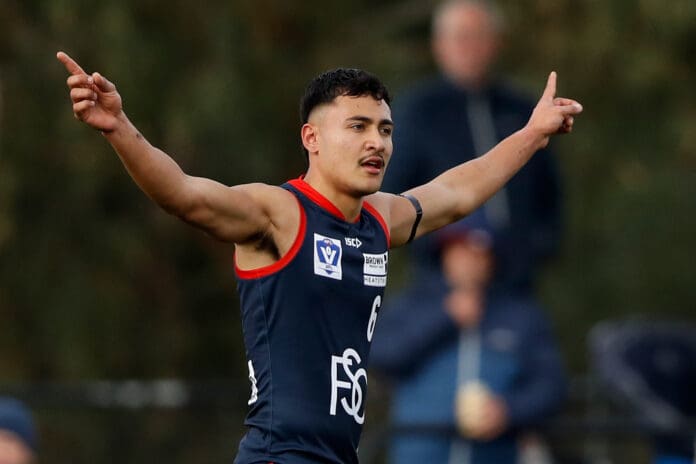 The VFL is set to introduce a 'Wildcard Round' for the 2023 finals series that will see four clubs fight for a final spot in the September action.
The second-tier competition will continue to feature 21 teams next season following the league's expansion in 2021, with Queensland and New South Wales state sides joining the Victorian league.
After Aspley opted against continuing their spell in the VFL after one year, the league pushed on with 21 teams this year to eventually see Casey claim the first VFL premiership since 2019 due to COVID.
Their premiership defence is set to begin in Autumn next year, with the 2023 home and away season set to run from the end of March through to the last weekend of August, with each side playing 18 matches along with four byes.
The first week of finals is reportedly set for a shake-up however, with a Wildcard Round to be introduced from next year.
That weekend would see the two matches held between seventh and 10th, and eighth and ninth on the ladder, with the highest-ranked winner joining the top six clubs in the finals.
"With 21 teams competing in the Smithy's VFL, the addition of the Wildcard Round provides more teams the opportunity to contend for finals," AFL state leagues competitive boss Jennie Loughnan said.
"We expect the Wildcard Round to create more anticipation and excitement for competing clubs and football fans throughout the home and away season, with more sides remaining in finals contention later into the regular season.
"We are extremely proud of the rich tradition and history of the VFL and its clubs, and are also open to exploring exciting new opportunities, such as the Wildcard Round, for clubs, players and fans involved within the competition."
The home and away fixture for the 2023 season is yet to be released, with the season's commencement to align with the second round of the AFL season.