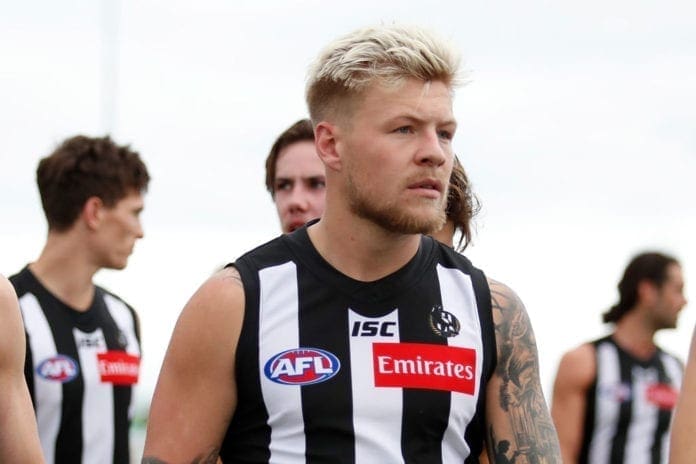 Collingwood player Jordan De Goey has had his US court case adjourned until January 28 as the 25-year-old's charges could be downgraded.
A plea deal could see the stood-down Magpie have his assault charge downgraded and avoid jail time for the incident that occurred at a New York hotel in October last year.
According to multiple reports, De Goey's lawyer Jacob Kaplan revealed he was awaiting an official offer from the Assistant District Attorney to have the charges downgraded to harassment in the second degree.
The agreement would likely see the case concluded, with De Goey not being required to return to the US, however he will remain under supervised release until January 28.
The plea deal is understood to be leaning on De Goey finding the right corrective program in Australia.
NEW: Jordan De Goey's charges set to be downgraded to harassment 2nd degree.
His lawyers now searching for a suitable corrective program for him to attend in Aus.
Remains under supervised release.
Due in NY court via video Jan 28.@9NewsAUS @TheTodayShow

— Michael Genovese (@GenoveseMichael) January 18, 2022
According to The Age, Collingwood won't make a call on De Goey's future with the club until after the case is finalised, with the star forward set to remain stood down until January 28.
The adjournment is the second delay in De Goey's court case, with the date having been moved to this year after it was originally set in early December of 2021.
Collingwood confirmed De Goey, who pleaded not guilty, would remain stood down during the previous adjournment for the alleged actions that had him jailed for charges of assault.
The initial charge of forcible touching was dropped at a hearing in November.