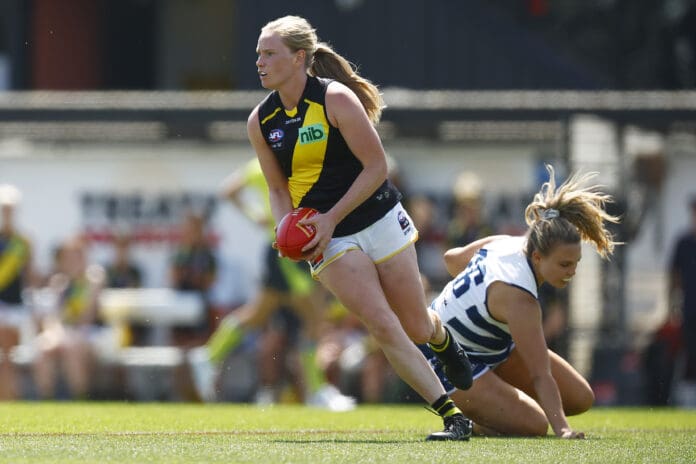 Richmond and Melbourne have been forced to make five changes each ahead of their blockbuster Round 2 clash scheduled for the Swinburne Centre (Punt Road Oval) on Friday night.
Following a first-up victory against her former St Kilda teammates, Tigers ruck Poppy Kelly will be forced to wait to make her second appearance in a yellow sash after sustaining a knee injury during the big-win in Frankston last week.
Livewire Emilia Yassir will also miss the sold-out game at Richmond headquarters following a head knock on debut.
The names of Sarah D'arcy, Maddie Shevlin and Tayla Stahl have also been struck from Ryan Ferguson's teamsheet due to mandatory health and safety protocols.
These losses will provide recent list elevation Meg Macdonald with an opportunity to debut in front of the packed house.
Sarah Sansonetti, Laura McClelland, Kodi Jacques and Sarah Dargan round out the remainder of Richmond's inclusions.
Despite also claiming an all-important opening week win, Melbourne has also been struck by poor health, with Maddi Gay, Shelley Scott, Sarah Lampard, Casey Sherriff and Shelley Heath all set to miss the primetime battle.
The quintet will be replaced by the returns of Sinead Goldrick, Lauren Magee, Gabrielle Colvin and Eliza McNamara after completing their isolations periods.
Demons head coach Mick Stinear has also recalled small-forward Krstel Petrevski to add further pep to his side's red hot forward unit.
Richmond v Melbourne
Swinburne Centre (Punt Road Oval), 7.10pm AEDT
RICHMOND
B: R.Miller 15 H.Cordner 23
HB: L.McClelland 16 J.Hosking 11 B.Lynch 32
C: T.Lavey 37 S.Hosking 7 K.Dempsey 19
HF: S.Reid 25 C.Bernardi 6 K.Jacques 10
F: K.Brennan - C 3 C.Wakefield 8
Foll: G.Seymour 28 M.Brancatisano 5 M.Conti 4
I/C: H.Burchell 9 M.Macdonald 38 M.Kiely 31 S.Dargan 17 S.Sansonetti 18
Emerg: I.Houtsma 36 A.Peterson 33
In: L.McClelland, K.Jacques, M.Macdonald, S.Dargan, S.Sansonetti
Out: E.Yassir (Concussion), P.Kelly (Knee), S.D'Arcy (HS Protocol), M.Shevlin (HS Protocol), T.Stahl (HS Protocol)
MELBOURNE
B: B.Tarrant 20 G.Colvin 32
HB: L.Birch 9 L.Magee 26 S.Goldrick 23
C: E.McNamara 22 T.Hanks 5 A.Bannan 16
HF: L.Mithen 14 K.Hore 10 J.Parry 19
F: T.Harris 7 D.Pearce - C 6
Foll: L.Pearce 15 E.Zanker 29 K.Paxman 4
I/C: A.Brown 28 M.Caris 21 E.West 11 M.Fitzsimon 24 K.Petrevski 31
Emerg: G.Campbell 1 J.Zanchetta 33
In: G.Colvin, L.Magee, S.Goldrick, E.McNamara, K.Petrevski
Out: S.Lampard (HS Protocol), S.Heath (HS Protocol), M.Gay (HS Protocol), C.Sherriff (HS Protocol), S.Scott (HS Protocol)