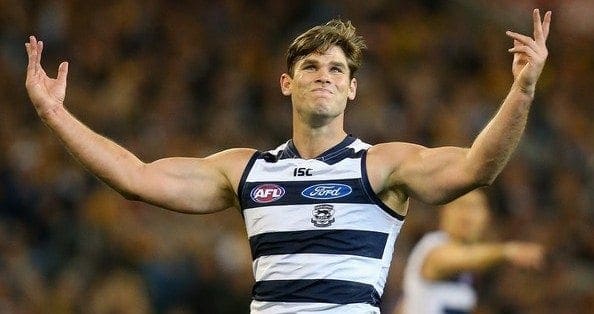 Great news for Geelong fans, with star forward Tom Hawkins committing to the Cats for life after signing a new long term deal.
Hawkins has signed a five-year contract extension with the Cats, keeping him at Geelong until at least the year 2020, when he will be 32.
The two-time premiership player has kicked 307 goals in 157 games for Geelong, after being taken as a father-son selection in the 2006 National Draft.
"It's taken its time, but I'm very happy with the decision that I've made along with my family, friends and my partner Emma," he told the club website on Thursday.
"I'm very excited to be on the journey with the Geelong Football Club for the next five years.
"It's the club I barracked for when I was younger, it's the club that supported my junior development and it's a club that my family has a rich history of involvement with.
"My family's connection with the club was one of the major reasons why I have stayed here.
"I want to keep the Hawkins-Le Deux legacy going at the footy club for many years to come.
"I see the next five years as a big challenge, but I'm excited by the challenge."
The 26-year-old's grandfather on his mother's side, his father and two uncles all played for Geelong.
Read more at GeelongCats.com.au