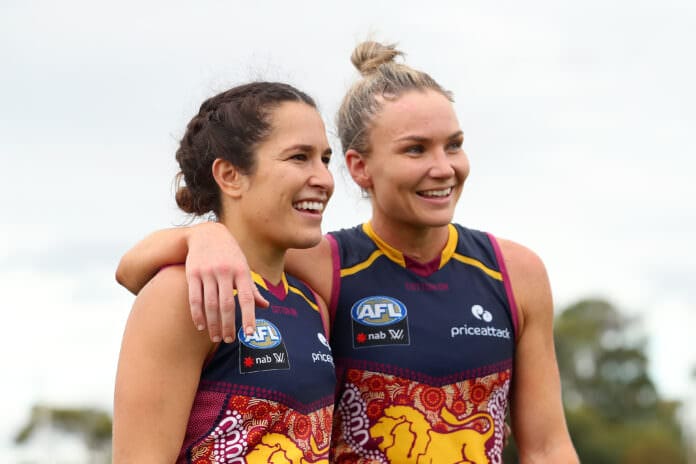 Brisbane and Melbourne will do battle before a sold-out crowd at the Lions' recently opened training and AFLW base in Springfield on Sunday after tickets for the showpiece event were snapped up in minutes.
The Lions made the short jaunt down the M5 last month, moving their silverware into their new home in mid-October.
However, with the 8000-capacity venue set to play host to season seven's finale in just five days' time, several logistical questions are still being asked, with Craig Starcevich's Lions only taking to the turf for the first time on Monday evening.
History made! The first team to ever step foot on Brighton Homes Arena 🙌 pic.twitter.com/uMtqP0m7C4

— Brisbane Lions AFLW (@lionsaflw) November 21, 2022
The $80 million facility was selected as the grand final venue after the hands of fixture-makers were forced as both the Gabba and Metricon Stadium remained unavailable due to prior bookings.
With the recently laid turf passing the AFL's inspection less than a week before the competition's premier teams face off, a modicum of bureaucratic red has been removed.
Yet, as the rolls were only rolled out in early October, and six weeks set as the routine time for turf to settle, the surface is likely to be touch-and-go when push comes to shove on Sunday.
Speaking in the lead-up to the clash between the competition's premier teams, Brisbane CEO Greg Swann went on the offensive, claiming he was "peeved" by criticism of the venue and its deck.
"It's actually a purpose-built AFLW ground. It's a stadium, it's got grandstands, we've got open air here because of the weather," Swann stated at the top of the week.
The long-term Lions administrator doubled down on his praise, stressing that the Queensland club were now fortunate to share facilities akin to those on show in the United States.
"It's not only the best place in Australia, I've been to (NFL teams) New York Giants and Philadelphia Eagles – it's every bit as good as those facilities," Swann added.
"It's our home for a long, long time and hopefully we're playing plenty of Grand Finals here over the next few years."
Tickets for the decider were frozen at the standard price of $10 for adult patrons and free for children.
Brisbane won through to their fourth AFLW Grand Final since the competition's commencement after cruising past Adelaide on Friday night.
Melbourne then progressed back to their second decider of the calendar year, holding off a gallant North Melbourne effort at Princes Park on Saturday afternoon.
The pair last met in Round 4 when the Lions jumped the Demons at Casey Fields by 15 points before a crowd of 757.