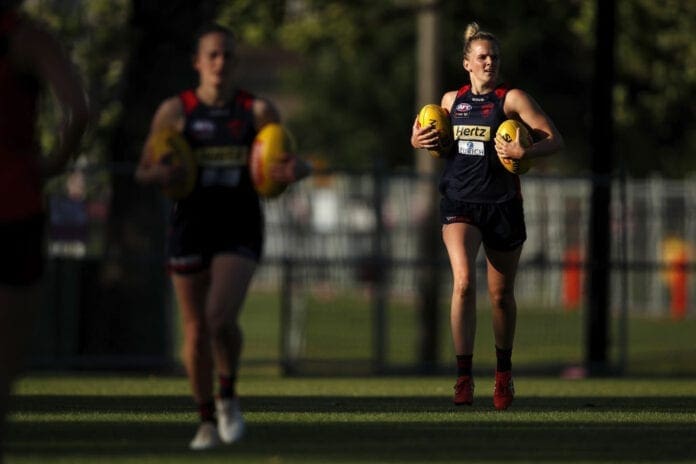 Shae Sloane has suffered a third ACL injury to cruelly put an end to her bid to return this season.
Melbourne confirmed in a statement yesterday that the defender had ruptured her ACL just weeks before she was set to return from the same injury.
Some tough news to share. 😔

Shae Sloane unfortunately sustained a third ACL injury at training on the weekend.

— Melbourne AFLW (@MelbourneAFLW) February 16, 2021
The 28-year-old suffered the injury to her left knee at training Saturday morning, with scans confirming the worst on Sunday afternoon.
The sister of Adelaide captain Rory Sloane now faces an up-hill battle to resume her AFLW career.
The former volleyball player suffered her first ACL injury to her right knee on her AFLW debut and 10 months later she re-injured the same knee at training.
Melbourne General Manager of AFLW football Daniel McPherson says the injury is a cruel blow considering how close Sloane was to a return.
"Shae unfortunately suffered an ACL rupture during a training session on Gosch's Paddock on Saturday morning. It was really an innocuous incident, whereby Shae simply went to change direction, and her left knee just gave way," McPherson told Melbourne Media.
"It's always devastating to see someone suffer an ACL injury, but when it happens to someone like Shae, who has done such an amazing job to get herself back to be so close to returning to play, it's just heartbreaking."
"Shae will take the time over the next few days to work through with our medical team the best course of action for her from here."