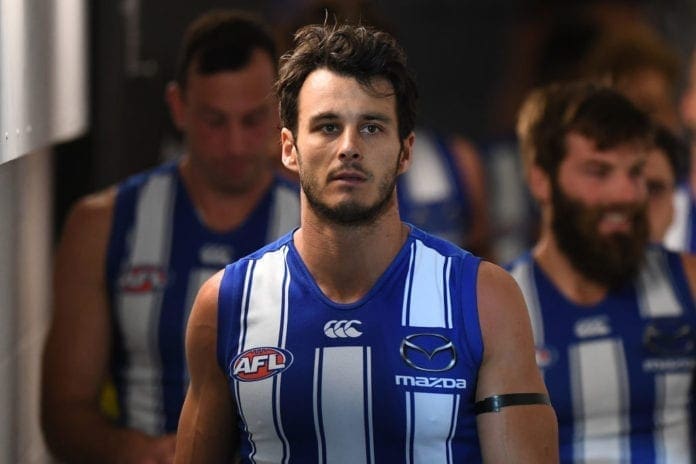 A season that will be more remembered for the off-season than anything that happened on-field as the Kangaroos look to 2021 for a fresh start. With Brutal list cuts and the club on the hunt for a new coach, the Kangaroos are starting new.
The Shinboners had a disastrous 2020, they looked flat on-field all season and they offered very little hope and showed no signs of the team Rhyce Shaw took over in 2019.
They were riddled with injuries, which exposed their lack of depth greatly as key players were sidelined, with the club unable to remain competitive.
They started the season 2-0, then went on to only beat Adelaide in their next 15 games.
BEST WIN
Round 1 vs St Kilda: Says a lot that their best win was way back in March. The Kangaroos looked well beaten by the Saints as they sat 5 goals down at half time and looking done. However, the shinboner spirit shone through and they fought back to claim a tough win.
Led by Ben Cunnington's dominant second half, the Kangaroos stormed over the top of the Saints, who turned out to be a much better side than they seemed on that day.
WORST LOSS
Round 14 vs Gold Coast: The loss to the Suns showed how far North Melbourne had fallen in hub life, with Gold Coast a vastly improved side from 2019. The Suns did look off the pace in the second half of the year, with four points up for grabs for either side.
However, they rediscovered their form against a North Melbourne side that looked disinterested, with that loss indicative of how low the Kangaroo's had gotten in the hub. The defeat showed they were probably a fair-way off where they though they were as they quickly looked to move on from the dismal display.
MVP
Jed Anderson: The tough inside midfielder was a shining light in 2020. He went toe-to-toe with some of the game's best inside midfielders all year. His tackling and aggression at the ball were trademark North Melbourne and his skill turned him into a fan favourite very quickly. 
MOST IMPROVED
Ben McKay: McKay cemented his spot in North's defence this year and was a strong matchup to some of the league's best forwards, impressively holding his own. It was hard to defend in a defence that faced countless entries, but McKay was very impressive. His marking was a feature of his game and there's still plenty of upside.
NEEDS TO LIFT
Cameron Zurhaar: It was a hard life in the North Melbourne forward line in 2020, there's no doubting that. Zurhaar needed to find a way to get himself more involved in games and couldn't. He poses the ability to turn games on their head but all-too-often he went missing when his team wasn't on top.
He has all the ability in the world and showed glimpses of his best in 2020, consistency is the key in 2021.
INS AND OUTS
Ins
Aidan Corr (GWS)
Lachie Young (Western Bulldogs)
Brisbane's future fourth-round pick
Jaidyn Stephenson
Atu Bosenavulagi
Pick 39 (Collingwood)
Pick 30 (Geelong)
Outs
Ben Brown (to Melbourne)
Shaun Higgins (to Geelong)
Pick 28
Future fourth-round pick
Pick 63
Paul Ahern (Delisted)
Joel Crocker (Delisted)
Majak Daw (Delisted)
Sam Durdin (Delisted)
Lachie Hosie (Delisted)
Ben Jacobs (Delisted)
Jamie Macmillan (Delisted)
Tom Murphy (Delisted)
Jasper Pittard (Delisted)
Marley Williams (Delisted)
Mason Wood (Delisted)
2021 CRYSTAL BALL
2021 is hard to judge for the Roos at the moment as they are yet to appoint a senior coach. Whoever does get the job has their work cut out for them, North cut a quarter of their list and look to be set on blooding youth. Long-term that is a good idea but in the short-term that will lead to some pain.
2021 will be long a long season for the Roos.