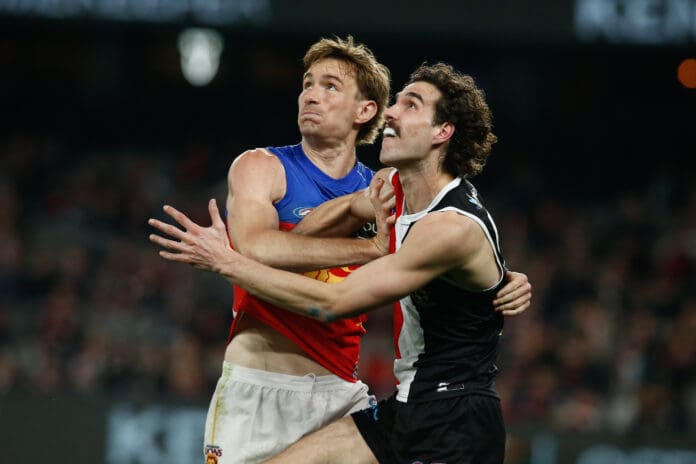 The Saints are not ruling out star key forward Max King from returning from his shoulder injury before this season's end.
St Kilda has revealed a 'key piece of information' found from an arthroscope that was performed on King's injured shoulder following his acquiescence to the ailment in the opening minutes of the Saints' loss to Melbourne last Saturday.
The Saints claim King's surgeon determined no 'further or lasting damage' could be done to the key forward's shoulder should he attempt to make a return before this season ceases.
While it's not yet known whether a 2023 return could come during the latter stages of the home and away season or during a potential finals run, Wednesday evening's update is a hopeful one for St Kilda supporters.
Acting General Manager of Football David Misson shared the latest on King based on the recent findings of the arthroscope.
"The key piece of information from the surgeon was that Max wouldn't be at risk of any further or lasting damage if he was to play again this year," Misson said on Wednesday.
"Max will now begin a rehabilitation period, which will include strength and functional milestones he'll need to hit along the way."
"The long-term solution will be to stabilise the joint with further surgery.
"This procedure will be different to the one Max underwent last year, and can be delayed until a later stage."
The starting-point timeline of King's rehabilitation is five weeks. However, that is subject to change depending on his recovery speed.
"We understand there will be a lot of interest in Max's progress, and we'll look to provide updates as often as practicable," Misson concluded.
St Kilda travels to play the reeling Gold Coast Suns this weekend.