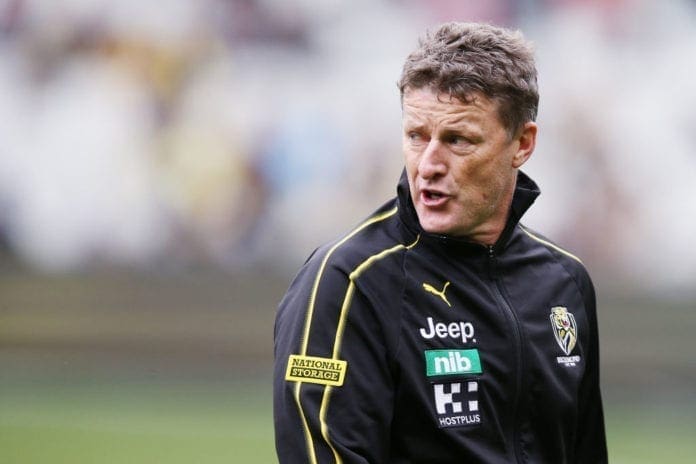 Richmond CEO Brendon Gale revealed he had to have a stern word with coach Damien Hardwick this season about the impact his negativity around AFL COVID-19 protocols had on the team.
In an extract from Conrad Marshall's new book 'The Hard Way', Gale spoke about the concern senior figures at the club had about Hardwick's demeanour at Punt Road before the club relocated to Queensland.
"Damien, as coach, is the most high-profile leader of our club," Gale said in The Hard Way and reported by Glenn McFarlane in the Herald Sun.
"The shadow he sets as a leader is very, very powerful. And he did struggle with it, and I think that was reflected by what we saw on the field."
"We had to say, 'We put our faith and trust in those who make these decisions, mate'. That was important. People are making these decisions based on advice, on evidence, on epidemiology. So even if you're not sure they're right, we just go with it. We don't question."
The book goes into detail about how Hardwick tore down COVID posters at the club's Punt Road facilities and his agitation around players training in individual groups.
Hardwick spoke about the way he handled the pandemic after Richmond's Grand Final win over Geelong in October.
"I couldn't understand why we were made to separate from training and the early days of COVID I could not understand what was going on and we were hearing what I thought was propaganda about the virus coming," Hardwick said after the Grand Final and reported by Peter Ryan for The Age.
"The reality was I was really struggling to get my head around it and the reality is if I am struggling the players are going to feed off that energy so I was at my very, very worst early days."
"I was just in a challenging viewpoint, it was detrimental to both me and my coaching and certainly our club."