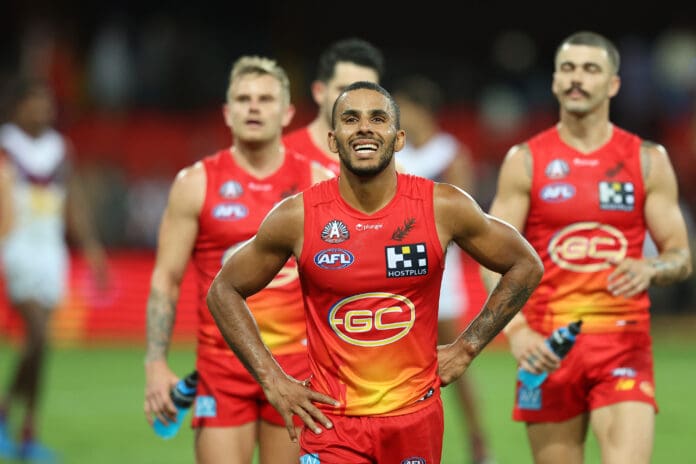 Back-to-back wins over Sydney and Fremantle have seen both pundits and punters heap praise on the Gold Coast Suns, crediting them for their giant-killing efforts.
However, for me, while credit is obviously deserved after the past fortnight, performances like these only add to the frustration that surrounds the expansion club.
Before we go any further, this is not a negative piece around the Suns - nor am I trying to take the gloss off the last couple of wins.
But the simple fact about the Suns is they have proven this year they're good enough to match it with the best teams in the competition - yet they've still faltered to those around, or below, them.
After nine rounds, Gold Coast boasts a 4-5 record - something similar to where most people would have seen them ahead of the 2022 season.
That was before a season-ending ACL injury to star forward Ben King, who subsequently committed to the club for a further two years, which led many to believe season 2022 could be Stuart Dew's last as the club's senior coach.
While King's presence is, without doubt, sorely missed, the unfashionable 'Cholboult' pairing of off-season recruits Mabior Chol and Levi Casboult has provided ample firepower inside 50 and allowed the club to kick a winning score most weeks.
When looking at the club's four wins, it's worth noting who they've beaten - West Coast, Carlton, Sydney and Fremantle.
The Round 1 win over the Eagles, despite being in Perth, carries less weight by the week given the powerhouse club's ongoing issues.
However, the other three currently fill 3rd, 4th and 5th on the ladder.
In fact, Gold Coast is one of only two teams to beat both Fremantle and Carlton, while they're just one of three sides who have beaten the Swans.
Add to this, that only Hawthorn has come closer to the undefeated reigning premiers Melbourne across the first nine weeks, and Gold Coast have proven they're a genuinely dangerous team when they're on.
But that's the point - to be taken seriously, the Suns can't just be dangerous 'when they're on'. It must be a weekly thing.
Just three weeks ago, Gold Coast was beaten by 25 points by Collingwood at the MCG - one of just two Collingwood wins in their last seven matches, with the other coming over the shambolic Bombers on ANZAC Day.
A week before that, the Suns lost the 'Q clash' against Brisbane by 52 points.
While Brisbane is a very good team, accepted as the most likely challenger to the Demons, a non-competitive effort against your fiercest rivals (even if it is largely manufactured) can't be accepted.
The other Gold Coast defeats have been a flattering 26-point loss to GWS, who have won just twice so far in 2022, and a defeat by the same margin at the hands of St Kilda where they were far from disgraced but never really a winning hope.
While the Saints sit 6th on the AFL ladder, and were red-hot when they faced the Suns, GWS were winless when the sides met and have since parted ways with senior coach Leon Cameron having recorded just one more win.
And it's losses like that, given the Suns have beaten far better sides than the Giants and taken it up with the unbeaten Demons, that frustrate. It really isn't good enough.
Before the mid-season bye, Gold Coast comes up against a beatable Western Bulldogs in Ballarat before back-to-back games in Darwin against Hawthorn and North Melbourne.
If the past two weeks are actually going to mean something, and this club is finally going to be taken seriously, then the Suns must emerge with - at worst - a 2-1 record from these three games.
Anything less must be considered a failure given we know how good they can be, while a win from each - taking them to 7-5 at the bye - might just indicate that the club is, finally, on the right track!