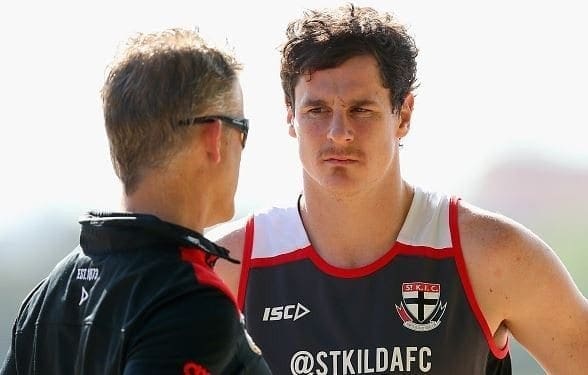 Player privacy rules will be tightened after Essendon provided Hawthorn with Jake Carlisle's location in Florida in the desperate last days of the trade period.
Four-time premiership coach Alastair Clarkson arrived unannounced at Carlisle's Florida hotel last month in a bold — but ultimately unsuccessful bid — to lure him to the Hawks.
Carlisle contacted his manager, Anthony McConville, to seek his guidance before agreeing to meet with Clarkson.
Clarkson was already in the US and made his pitch over lunch in a move that forced St Kilda to increase its offer.
Carlisle had provided Essendon with his travel itinerary to fulfil a requirement that the Australian Sports Anti-Doping Authority know the whereabouts of all players at all times.
AFLPA executive Ian Prendergast said: "We are aware of the allegation that Jake's whereabouts information was provided to a third party.
"On the face of it, given a player provides this information for a specific purpose as required by the AFL anti-doping code, it should not be passed on to a third party without the player's consent.
"However, based on the communication we've had with the relevant parties, we will not be requesting an investigation in relation to the allegation.
"We will raise this issue as part of a broader discussion with the AFL and the clubs aimed at enhancing the professional standards to be complied with in circumstances where players are looking to move clubs in the future."
Read more at HeraldSun.com.au