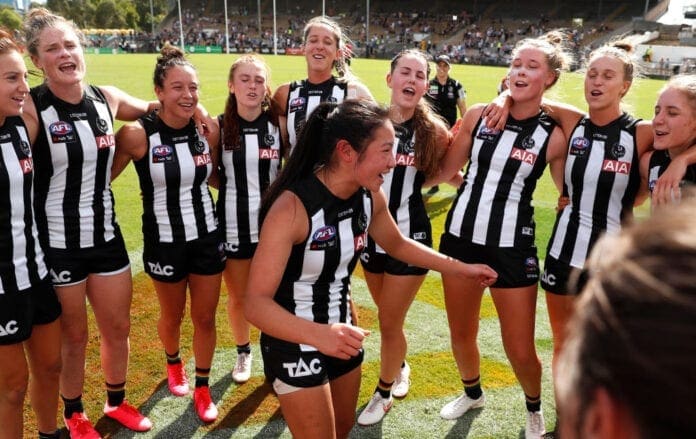 Players from Collingwood, Gold Coast and at least one other Victorian side are said to be stuck in isolation after being recorded as close contacts of known Covid cases.
A Tuesday morning report The Herald Sun has claimed that four names from the Magpies' roster are currently housebound due to Victorian state government conditions.
But with the clock ticking down towards Collingwood's season-opening clash against Carlton in just five days time, club sources have suggested that the quartet of unnamed players remain on track to face the Blues.
"We have a small number of players isolating in accordance with health protocols and will know later in the week what if any impact on the squad for the weekend," a spokesperson told The Herald Sun.
Although none of those currently affected are said to have tested positive themselves, each will need to provide a negative rapid result if they are to line up at Princes Park on Sunday.
This current hurdle for Stephen Symonds' side has arisen after five Suns players were also forced into isolation ahead of their Round 1 date with the Giants.
Further claims suggest that an unnamed Victorian team is also facing the same uphill battle.
Still, as is applicable to Collingwood, if those currently behind closed doors remain symptom-less and can provide a clearing RAT result on their sixth day of isolation period, each will be afforded the right to lace the boots this weekend.
Given the recent chaos Covid caused throughout other sporting competitions such as the EPL, NBA and BBL, it appears likely that such halts to proceedings will continue to play a role during the AFLW's summer of football.
However, speaking during a virtual captain's day event on Tuesday morning, the head of women's football, Nicole Livingstone, stated that she remained "committed to completing the season and crowning a premier" in 2022.
The sixth season of AFLW football will commence on Friday night when St Kilda plays host to Richmond under lights at Frankston City Oval at 7:15pm AEDT.