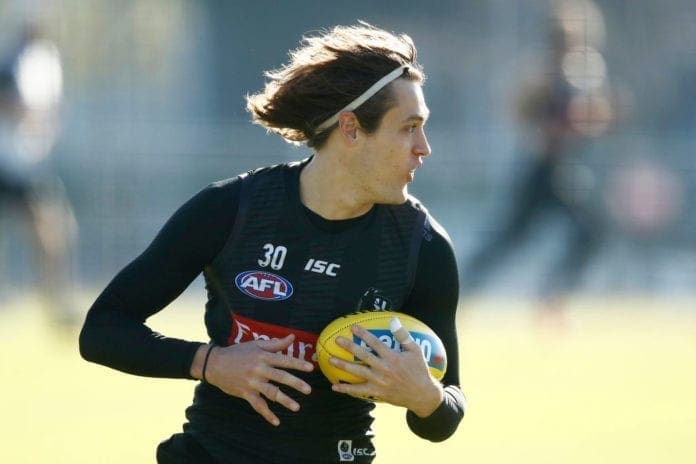 Collingwood star Darcy Moore has made it known that he wants to remain with the Magpies beyond this season.
After addressing the media on Thursday, Moore, 24, said negotiations on a new contract between the club and his management had been "positive".
Moore and fellow star Jordan De Goey are out of contract at the end of the 2020 season and have attracted interest from a number of clubs.
"I am loving playing here," Moore said.
"This season has given the group a chance to live together and live in each other's pockets at times and definitely brought us closer together.
"So it's a good place to be and I would love to stay."
Given the current situation with COVID-19, Moore admitted there is a lot of unknown at the same time for players also.
"Obviously now the AFL has lifted the contract freeze that's allowed the process to restart again which is a positive sign," Moore said.
"But that's for the club and my management to work through. It's – from all reports – tracking positively.
"There are a lot of questions marks about where the league is at and what season 2021 and even beyond that looks like in the coronavirus world.
"There are obviously lots of questions, so it's a lot for the club to work through, it's a lot for players across the league to work through in terms of contracts.
"A part of me is trying not to look too far ahead and just try and get a deal done and whatever that means for the long-term future who knows? But at this stage just trying to focus on getting it done in the here and now."
Moore also said a change in his physical preparation has allowed him to turn things around positively after a number of soft tissue injuries.
"There has been a huge shift for me in terms of my physical preparation," Moore said.
" I've got a new physiotherapist who I work with super closely and he has definitely taken my physical prep to the next level," Moore said.
"My program in terms of my Monday to Friday to prepare for games and recover from games is completely different to the way it was a couple of years ago, so that's a full credit to the medical team to fix those issues and really turn things around.
"The way I prepare from a soft-tissue point of view and a physical point of view is completely different to a couple of years ago and that's why I'm getting the results now and stringing the games together. It's a good position to be in."
Moore has been in career-best form this year to be in contention for the All Australian team.
He has averaged 13.4 disposals, 4.9 marks and 2.9 rebound 50s from 11 games.