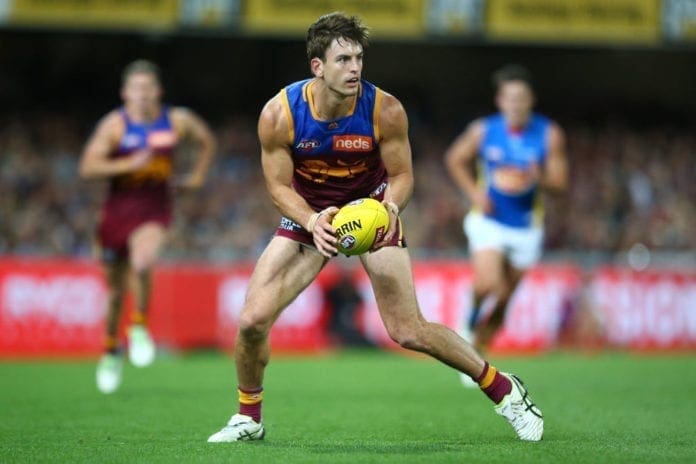 Brisbane midfielder Jarryd Lyons is set to undergo surgery this week to combat a niggling osteitis pubis issue that curtailed his 2022 campaign.
Lyons missed his side's three finals matches after playing a full home and away season, having carried the groin issue into September after suffering the ailment in the final third of the year.
The Lions were forced to be without the inside midfielder for their premiership push, with Lyons a surprise omission from Brisbane's side to face Richmond in the opening week of the post-season.
The 30-year-old wouldn't return to the field despite the Lions reaching a preliminary final, with Lyons put on ice after discussions with senior coach Chris Fagan,
Speaking to 9 News, Lyons revealed he is set to go under the knife as he looks to overcome the injury.
"Anything to sort of do with your pelvis is basically inflamed," Lyons explained.
"Running is the hardest part. Some days I could feel it (when) walking. Some days I even struggled getting out of bed. Even playing with the kids, trying to sit up off the ground... once I was down, I was down there for a while. It took a while to get up.
"The last eight weeks of the season was just an ongoing battle of anti-inflams and trying to get myself up for a game. It really hampered me a lot.
"I was probably playing games at 70%. By the end of the year, me and 'Fages' sat down and had a conversation after Round 23 and just knew that I was quite there. I put my hand up and said I wasn't right for finals footy."
Jarryd Lyons will have surgery tomorrow on the troublesome groin injury that ruined his 2022 finals campaign for the @brisbanelions.

He's determined to regain his spot in Brisbane's midfield - a job that's become even tougher since Josh Dunkley's arrival. @MarkGottlieb #9News pic.twitter.com/Hvhn7i1gJs

— 9News Queensland (@9NewsQueensland) November 14, 2022
Lyons will be back into training prior to the new year, looking to build on his fitness ahead of his 12th seasn in the AFL.
But with the arrival of Bulldogs star Josh Dunkley and imminent draft selection Will Ashcroft, Lyons' position in Fagan's engine room isn't a certinaty.
The former Crow and Sun isn't listening to questions over his place in the Lions' best 22, placing all his attention on getting his body right.
"People can assume whatever they want," Lyons added.
"It's just up to me now to go out and get my body right, have a massive pre-season and go from there."
Meanwhile, Collingwood star Taylor Adams is set to gain further treatment on the groin injury that cruelly ended his finals campaign earlier this year.
After suffering the setback in his side's qualifying final loss to Geelong and seeing his 2022 campaign end early, Adams is still needing to build on his fitness ahead of another year in black and white.
The injury added to a frustrating run of injuries for the midfielder, who will receive injections in the coming weeks to aid his recovery.
"I've been injury prone over the last couple of years," Adams told 7 News. 
"I just wanna prove to myself that I can still play some really good footy."
Collingwood star Taylor Adams has revealed he still needs treatment from the serious groin injury that ended his finals campaign. The Pies midfielder with a few weeks up his sleeve before day one of pre-season. https://t.co/NjVbXHxbd8 @NatYoannidis @7AFL #7NEWS pic.twitter.com/R5inJ6hIe0

— 7NEWS Melbourne (@7NewsMelbourne) November 14, 2022
Speaking on his upcoming treatment, Adams added: "It's a series of injections to help strengthen the region (of the groin). It might even get done next week before we start back. The downtime from that is only four to five days.
"Although the mental strain was difficult, I feel like my body is in a really good position now to have a good pre-season and hopefully start the season well."
Adams will enter his 10th season with the Magpies next year and will be joined in midfield by new recruit Tom Mitchell as the ball-winning duo look to improve on Collingwood's top four finish to this year.