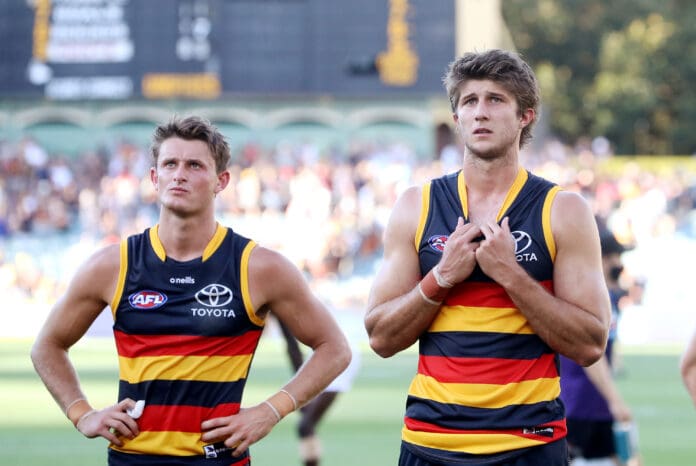 Adelaide midfielder Matt Crouch has spoken openly about his disappointment and frustration about being dropped from Matthew Nicks' senior side for the second time this season.
The 27-year-old has represented the Crows on 135 occasions since joining the West Lakes club with the 23rd selection of the 2013 National Draft and has performed with aplomb, including claiming 37 disposals during Adelaide's grand final defeat in 2017.
Yet, even after collating a statline that included 31 touches, 7 tackles and a septet of clearances during his side's loss to the Suns last Sunday, Crouch was made aware he would not be making to flight to Hobart this week, instead being asked to ply his trade in the SANFL.
The Victorian spent a three-week stint at the reserves level earlier in the season, missing the Crows' consecutive clashes against Carlton, Brisbane and St Kilda.
Still, while the prospect of representing the club's SANFL side was not a new sensation to him, Crouch told Channel 10 that he was caught off guard by his second demotion of the season.
"It's quite disappointing, I'm quite frustrated at it," Crouch offered ahead of Adelaide's date with North Melbourne on Sunday.
"I didn't see it coming and I spoke to 'Nicksy' and 'VB' (midfield coach Nathan van Berlo) about that.
"It was a little bit unexpected."
Though rattled and at a loss, the hardnosed ball-winner remained uber-professional when stressing that he was aware of what was ahead of him.
"There's nothing I can do apart from go back and play good footy now and put my hand up again," Crouch delineated.
"If I play well, hopefully, there's still a spot for me."
After opting for Harry Schoenberg in the middle ahead of Crouch, with Riley Thilthorpe also set to miss the battle on the Apple Isle due to an ankle complaint, Nicks expressed that he was aware of his midfielder's mood.
"I've got no doubt at the moment Matty's doing it quite tough but, as all players are, they'll go back to work, put their best foot forward, perform and put their name back up," Nicks said.
"We'll look at the balance of our side in weeks to come, and look at form and we'll pick the team around that."
Crouch remains a contracted Crow until the cessation of the 2023 season, however, it is not yet known whether similar frustrations as to those expressed by his brother and former teammate, Brad, may have the younger sibling following his lead away from the City of Churches.
Adelaide's SANFL outfit is fixtured to face South Adelaide at Flinders University Stadium at 1:40pm (ACST) this Saturday afternoon.