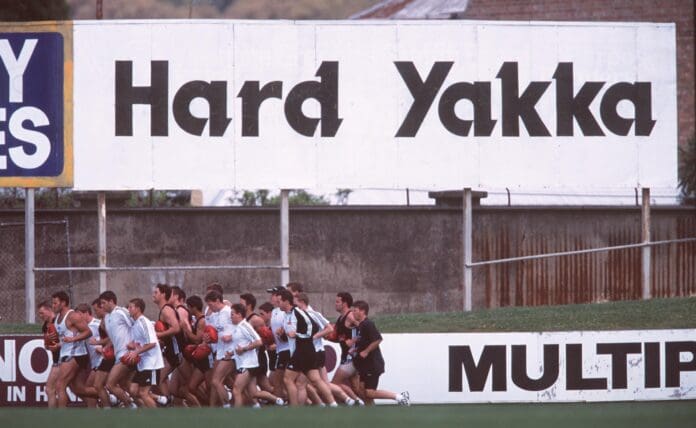 Ever since the first fixture was produced ahead of the 1897 VFL season, the notion of home ground advantage has been a topic of conversation.
While the theory is routinely put forward by fans in the stands rather than those on the field of play, the concept remains relevant given the dimensions and idiosyncrasies of league venues are sure to be understood best by those that play on them every week.
Add in the fact that the vast majority of said fans are there to cheer on the home team, and it is little wonder why the concept has become iron-clad law in the minds of those with skin in our national game.
Though every one of the AFL's 18 clubs has somewhere they call their spiritual home, the vast majority of teams boasting histories that extend beyond the inception of colour television, no longer play out of their heartlands.
Like first-year university students living on a shoestring budget, these same sides that once ran out on suburban grounds on a regular basis have these days been forced into sharing their home addresses in an effort to cut costs.
While the concept of multiple clubs sharing home grounds is something that is taken as read by all but four of those teams currently in the competition, ground rationalisation, and divided deeds were ideas sure to have had fans of yesteryear choking on their pies.
However, since the days of Dr. Allan Aylett and Jack Hamilton's reign as chairmen at VFL House, sides on both sides of the continent have been forced out of their now-cobwebbed digs and asked to shack up with rivals instead.
Each of these now unused - yet not forgotten - league venues used to provide a genuine advantage to the teams that would train there on a Thursday, do battle onsite on a Saturday, and congregate over a rehabilitative can - or twelve - on a Sunday.
In Melbourne's suburban south-east, the mud at St Kilda's Moorabbin Oval was said to drag premier sides down to the level of the struggling Saints, while over the Westgate at the Footscray's Whitten Oval, travellers were subjected to a swirling breeze, and their coaches the task of scaling up and down a rusty ladder each and every break.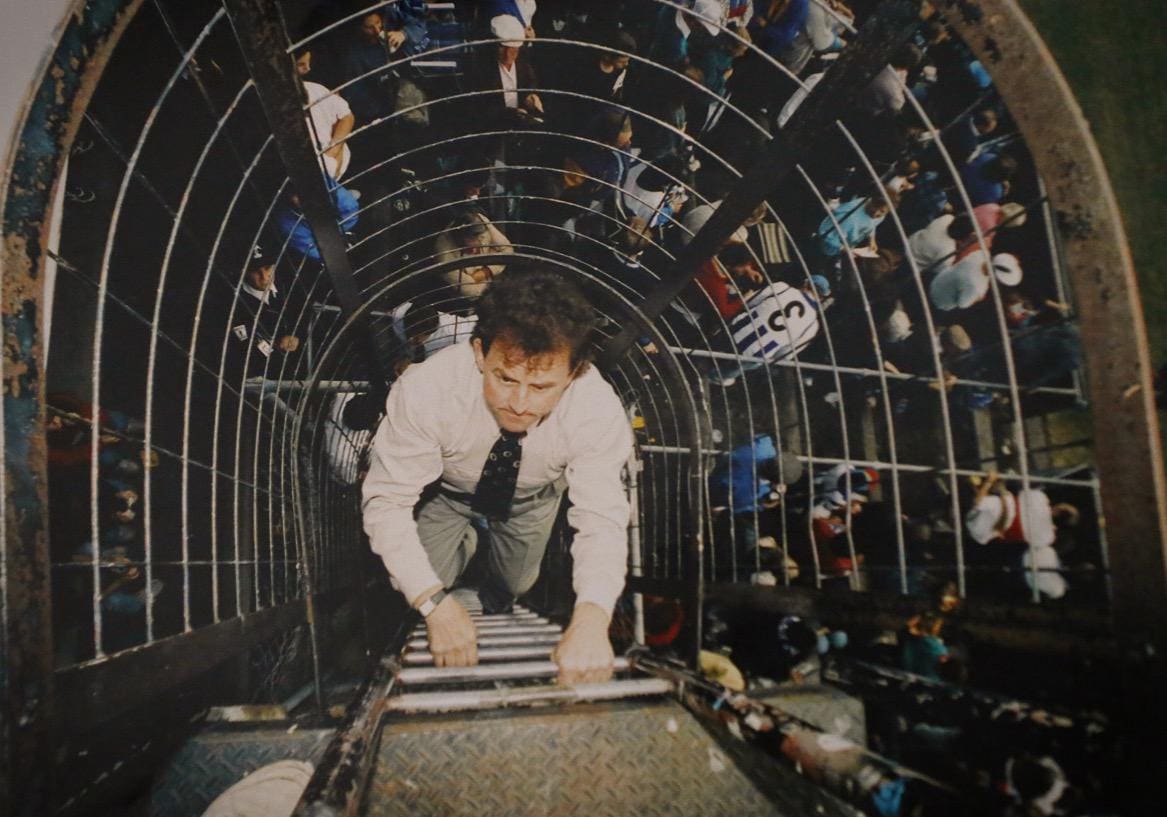 The raucous cheer squads at each end of Collingwood's Victoria Park were likely to have carried the Pies to more than just a handful of wins, just as the dense dimensions of Kardinia Park in Geelong and Richmond's Punt Road have long perplexed visitors when transitioning the ball.
Though some still train at their suburban bases, the lessons learned by the now full-time athletes on the track are unable to be put into practice when four points are up for grabs.
And with the wrecking balls bringing structural facelifts and hyperbaric chambers, these once snowflake-esque venues have all begun to resemble one another anyway.
If local knowledge has fallen by the wayside just to be replaced by larger cookie-cutter stadiums catering to multiple sets of 'home fans' every weekend, what are home-ground advantages actually worth in the contemporary game?
At present, there are only four AFL clubs - Brisbane, Geelong, Gold Coast, and Sydney - routinely afforded the opportunity to practice on the grounds where they actually play for competition points.
So, if conventional wisdom is correct, this quartet of clubs scattered across the country should, in essence, have an advantage over the vast majority of their rivals given their unimpeded access to plan and play in the same place.
In an effort to understand whether this modern-day version of ascendency actually holds water, the present must be compared to the past.
Since waving goodbye to aligned training and home games at Football Park, Princes Park, Victoria Park, Windy Hill, the MCG, Punt Road, Subiaco and the Whitten Oval as their playing and training headquarters, each of the Adelaide Crows, Blues, Magpies, Bombers, Demons, Tigers, Eagles and Western Bulldogs have seen a drop-off in their ability to dominate home fixtures.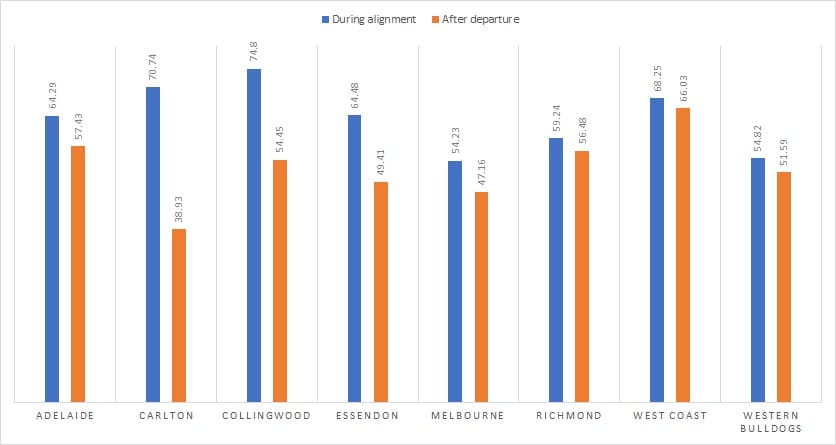 For Adelaide, their last home game at what was then called AAMI Stadium came during Round 22 of the 2013 season with a 68-point win over the lowly Demons.
Yet, while Matthew Nick's murder of Crows still goes through their weekly paces at the now semi-demolished venue, their ability to win home games (co-habiting Adelaide Oval with Port Adelaide) has dipped from a healthy 64.29% to that of 57.43%.
In the case of the once-supreme Victorian trio of Carlton, Collingwood, and Essendon, a seismic dip in supremacy has occurred for each after packing up and heading for the bright lights of the MCG and Marvel Stadium.
Proving able to win nearly three-quarters of their contests at Victoria Park on Lulie Street, Abbotsford, since 1897, the Pies have seen their competitive edge shaved from 74.80% to a still commendable - but much lower - 54.45% in the years since 1999.
Though the Bombers were able to cruise through the millennium bug to claim a 16th premiership in 2000, the foundation club has only managed to win 49.41% of their home games after jetting from Windy Hill prior to the 1992 season, down from a historical home win rate of 64.48%.
While Carlton was the last of this trifecta to finally see their heartland struck off the seasonal fixture list ahead of the 2006 AFL season, the club's hard-earned brand as the routine team to beat has eroded sharply since moving away from the Blues's home on Royal Parade, dropping from 70.74% to a mortifying 38.93%.
While far more minor in comparison, Melbourne, Richmond, West Coast and the Western Bulldogs have all seen their home win percentages fall, irrespective of the fact that the quartet has combined to win eleven flags since shifting their training sessions to venues further afield in 1985, 1965, 2018 and 1998 respectively.
Still, it hasn't been a case of strongholds on home games cascading right across the competition, with Hawthorn, North Melbourne, and St Kilda actually improving their ability to step onto home soil and win.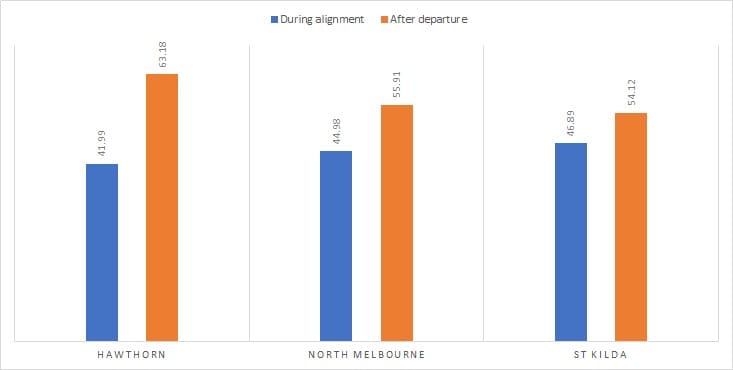 After entering the league in 1925, the Hawks - also known by other monikers such as the Mustard Pots and Mayblooms - were seen as the competition easy-beats, and their home deck of Glenferrie Oval likened to a sardine tin.
While Linda Crescent did play host to both of Hawthorn's 1961 and 1971 premiership celebrations, once the Hawks spread their wings and took home games away from their train-line-adjacent nest, the self-dubbed 'Family Club' became a powerhouse, owning a combined winning percentage of 63.18% at Princes Park, Waverley Park, and the 'G, up from a paltry 41.89%.
Proving able to claim another pair of cups in the 90s after outgrowing their once Gasometer-shadowed home on Arden Street, the Roos were also able to shed their previously atrocious home form, hopping up from a win rate of 44.98% to a much more respectable 55.8% since uprooting in the mid-80s.
Yet, if one Wayne Carey was plying his trade under stewards such as Carter, Killigrew or Dixon instead of the legendary Denis Pagan, you can bet your bottom dollar that this statistical split would be reversed entirely.
Though the Saints' trophy cabinet still holds just the one cup, jaunts to Waverley and the Docklands have provided far more cheer for their loyal congregation, winning 54.12% of games at these venues since shifting away from Moorabbin's localised weather patterns in 1992.
Between time at the Junction Oval and Moorabbin Oval, the luckless Saints sported a win percentage of just 46.89%.
Of the four aforementioned clubs that are able to both train as and where they play, their historical records suggest that most hold the whip hand.
Since 1897, Geelong's provincial Cats have only ever called two venues - Corio Oval and Kardinia Park - home. And, with a combined 1066 games at these venues on record, the Hoops boast a win rate of 66.32%.
Up north, Brisbane has carved out the ability to win more than half of their home fixtures. Since the Bears and Fitzroy were forced down the aisle to wed at the end of 1996, the River City side has roared home a healthy 54.84% of the time.
Just south of the border, Sydney has been provided with unfettered access to the SCG across each of the past 39 years, with their only barring coming during their debut season in the Harbour City.
However, when able to align practicing and playing at both Albert and Moore Parks on either side of 1982, the Swans have carved out a far more than competitive 55.90% success rate - an incredible feat considering the club's 72-year premiership drought.
Though those aware of how the Suns spend an average week will tell you that the club is far more prone to conducting sessions away from Metricon Stadium's preened surface, the former home of the Brisbane Bears is still routinely made available to Stuart Dew's side.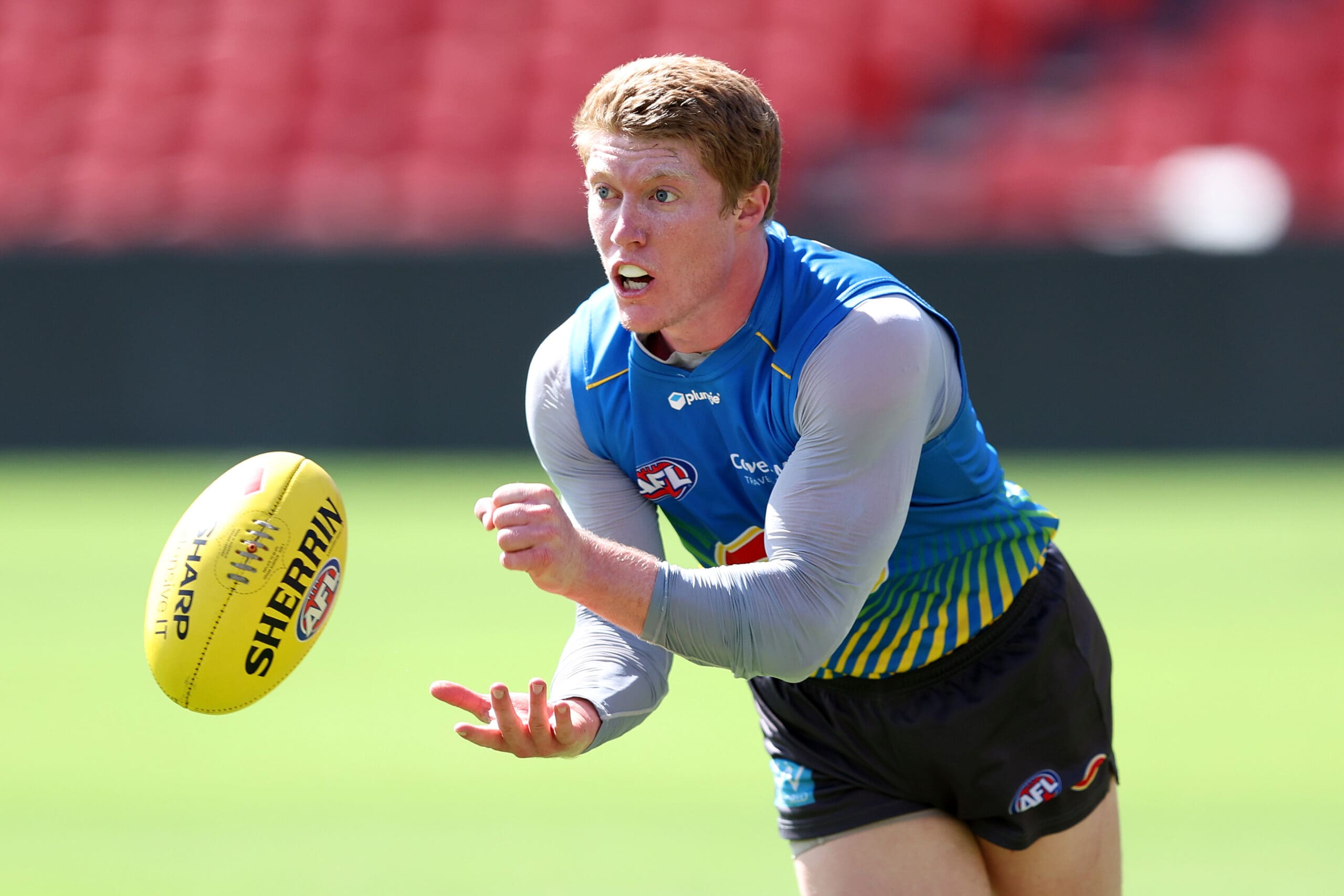 And since joining the competition ahead of the 2012 season, Dew and his predecessors - have often seen fit to have hitouts on the same turf they play for points on.
Still, given the expansion side is yet to make their September debut, it should surprise next to none that across the course of their fledgling history before their routine sparse stands, the Suns have only ever managed to win 34.55% of their 110 clashes on the coast.
Since entering the expanded competition in 1995 and 1997 respectively, both Fremantle and Port Adelaide have never undertaken routine training sessions at any of Subiaco, Optus Stadium, Football Park or the Adelaide Oval.
However, with an ability to claim a near-unassailable 36 SANFL premierships whilst playing in black and white bars at Alberton, had Port ever been granted access to play out of their spiritual home, their record when hosting fixtures would almost certainly be greater than their current percentage of 60.12%.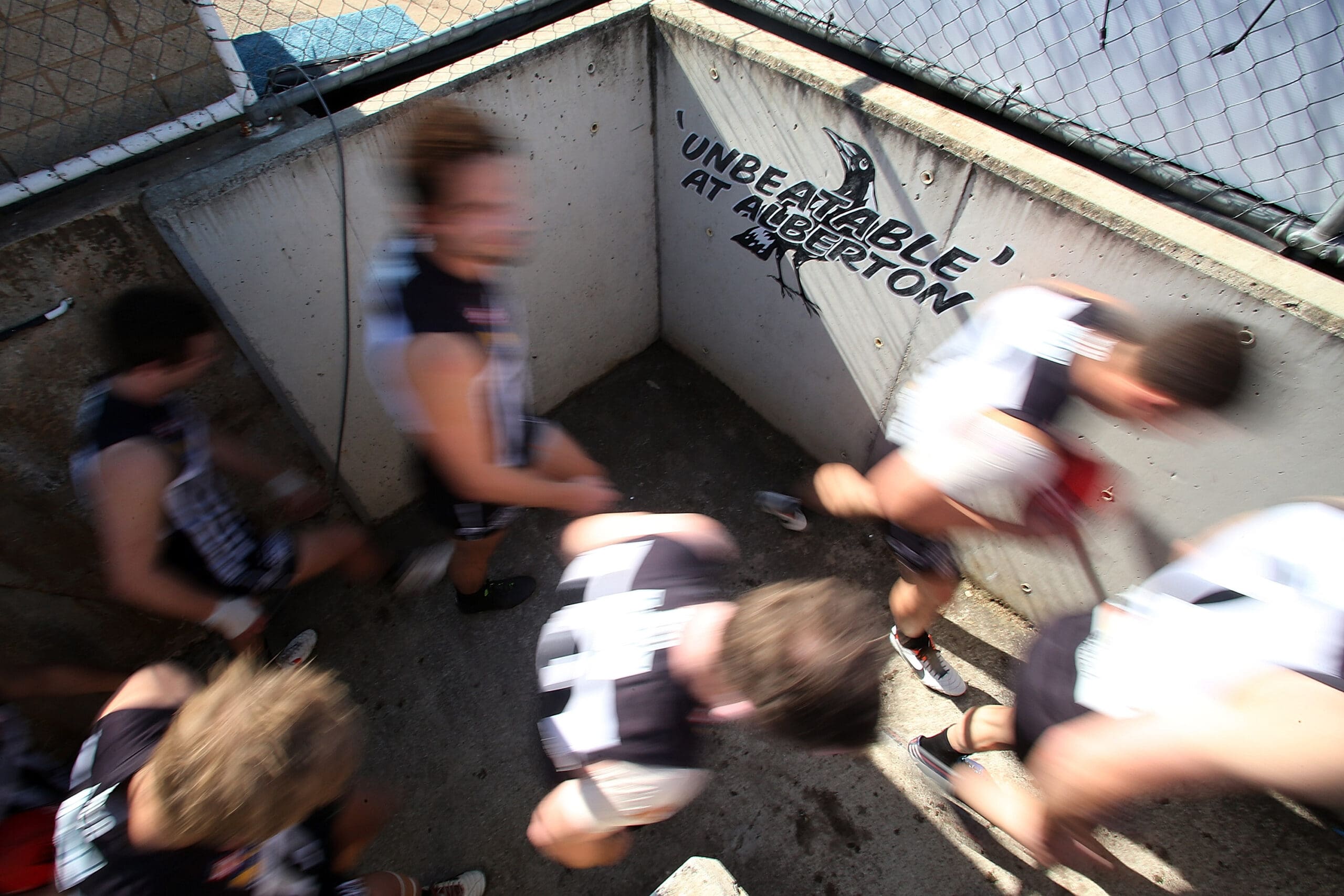 While these numbers collated across the course of the past 125 years can be construed to tell a number of tales, the trends found on offer here create a relatively clear conclusion.
In spite of the fact that breaches, retirements and recruiting have altered the histories of every club across the course of the competition, the figures above show that those afforded the right to acclimatise on home soil before doing battle do see real dividends.
And with the vast majority of sides now playing games at shared venues, any competitive advantage built from geographical or dimensional individuality appears to have gone the way of the dropkick.
Sure, the choice to walk away from their crumbling, terraced homes of the past has provided each club with a much healthier bottom line focused on dollars and cents, but when purely dissecting the one metric that matters - wins and losses - within a zero-sum game, the decision to shift out of their local heartlands makes little to no sense.
*data accurate to May 30, 2022.