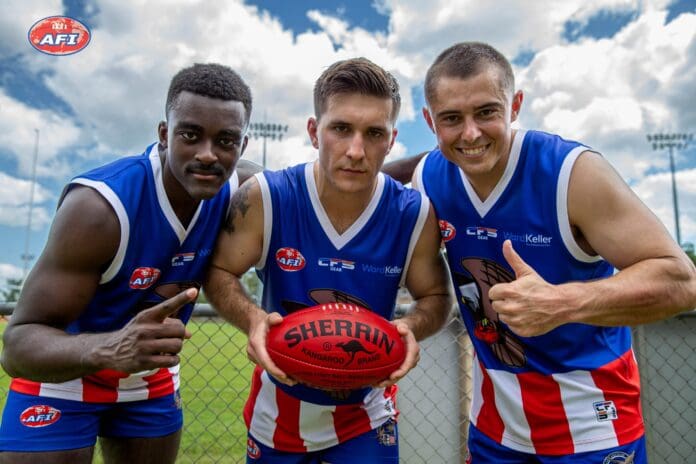 Little did he know at the time, but the day cricketer Tom Wills published a letter in the Bell's Life in Victoria and Sporting Chronicle, he changed the landscape of Australian sport forever.
Wills put out a letter calling for the formation of a foot-ball club, to keep cricketers fit during the winter months, and two weeks later, his friend and fellow cricketer Jerry Bryant called for a scratch match.
Many experimental versions of Aussie rules football were played after that but it was one late Autumn day on May 17 1859, around 10 months to the date of Wills' letter, that the foundations were written.
Wills had gathered alongside cricketers William Hammersley, James Thompson and teacher Thomas Smith at a hotel owned by Bryant, to write the rules of Aussie rules football.
These 10 points became the foundation of what we all watch and play today.
Aussie rules footy is played in all states and territories, and as we know, the premier league is the AFL.
Now what if we told you that footy could be played in the Olympics and internationally?
Yes there are leagues worldwide, but nothing to the level we have here in Australia.
This country is a multicultural hub, with 27.6 per cent of the population born overseas, according to the 2021 Census. Not taking into account second and third-generation migrants who are still deeply rooted in their heritage.
AFL also has a decent following overseas, be it from Aussies who have left or even people who have learned of the game on their own.
And while most to all professional sports were shut down worldwide during the recent pandemic, the AFL soldiered on after a three-month shutdown, providing entertainment for not just us, but those worldwide as well. Many eyes were brought to the game, especially in the US.
On the topic of international interest, there is an organisation called Australian Football International (AFI), who were established to grow and develop the sport internationally, starting from the local communities.
AFI is overseen by a star-studded board, including the likes of legendary player and coach Ron Barassi, AFL Hall of Famer and former parliament member Brian Dixon, and until recently the late North Melbourne legend and former VFL president Allen Aylett.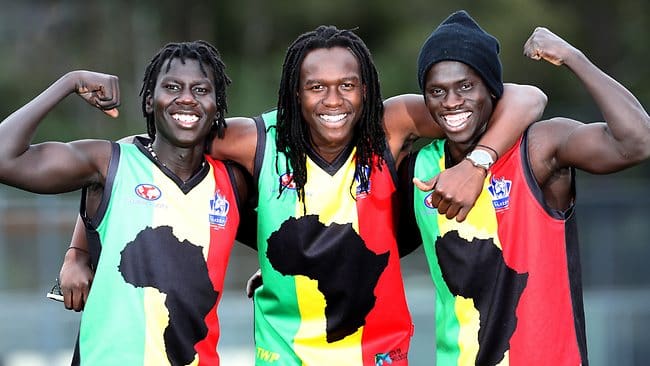 The AFI runs several events, having started with the Harmony Cup, but has since introduced Footy 9s, due to community feedback of not being able to form teams of 18 or 25.
The main difference between traditional footy and Footy 9s is that it's played on smaller grounds, with nine players a side and no behind posts. 
Footy 9s is contested in a number of events by the AFI.
Zero Hanger spoke with AFI CEO Brian Clarke about the organisation, its events and future goals.
"The first year we had it (World 9s), we had it at Lakeside Stadium, and that was a really good professional stadium," Clarke told Zero Hanger.
"The downside was it was just one field, and we have a lot of teams come to us after the first one saying we want to play. So we couldn't play there anymore.
"We found a great facility out at Box Hill Rugby Club, which has got three rugby fields. And as a result, you know, we could really open it up, we have a first division, we could have the second division for the less stronger teams and we could have a women's division. And that was really appealing because everybody could play for a trophy, which is obviously very important."
This year, Footy 9s made its way to the Northern Territory for the Darwin 9s event. The teams playing? A representation of the AFI's goals to expand the game, again starting at community level.
Those involved were representing Timor-Leste, Ireland, Darwin, the US, Larrakia, Greece, New Zealand and the Pacific.
Larrakia and Greece played off in the Division 1 grand final, while Ireland and Timor-Leste played Division 2.
World 9s has seen many nations from across the globe represented over the years.
Clarke says the Larrakia side was star-studded, featuring the captains of NTFL sides the Wanderers and the Buffaloes, and some former AFL names.
"Now Larrakia rocked up not only with Shannon Motlop, who won a premiership with North Melbourne, and Daniel Motlop, who played for North Melbourne and Port Adelaide but also Steven Motlop had been retired for three weeks of his AFL career," said Clarke.
"Steven was best on ground in the grand final. So a star studded team."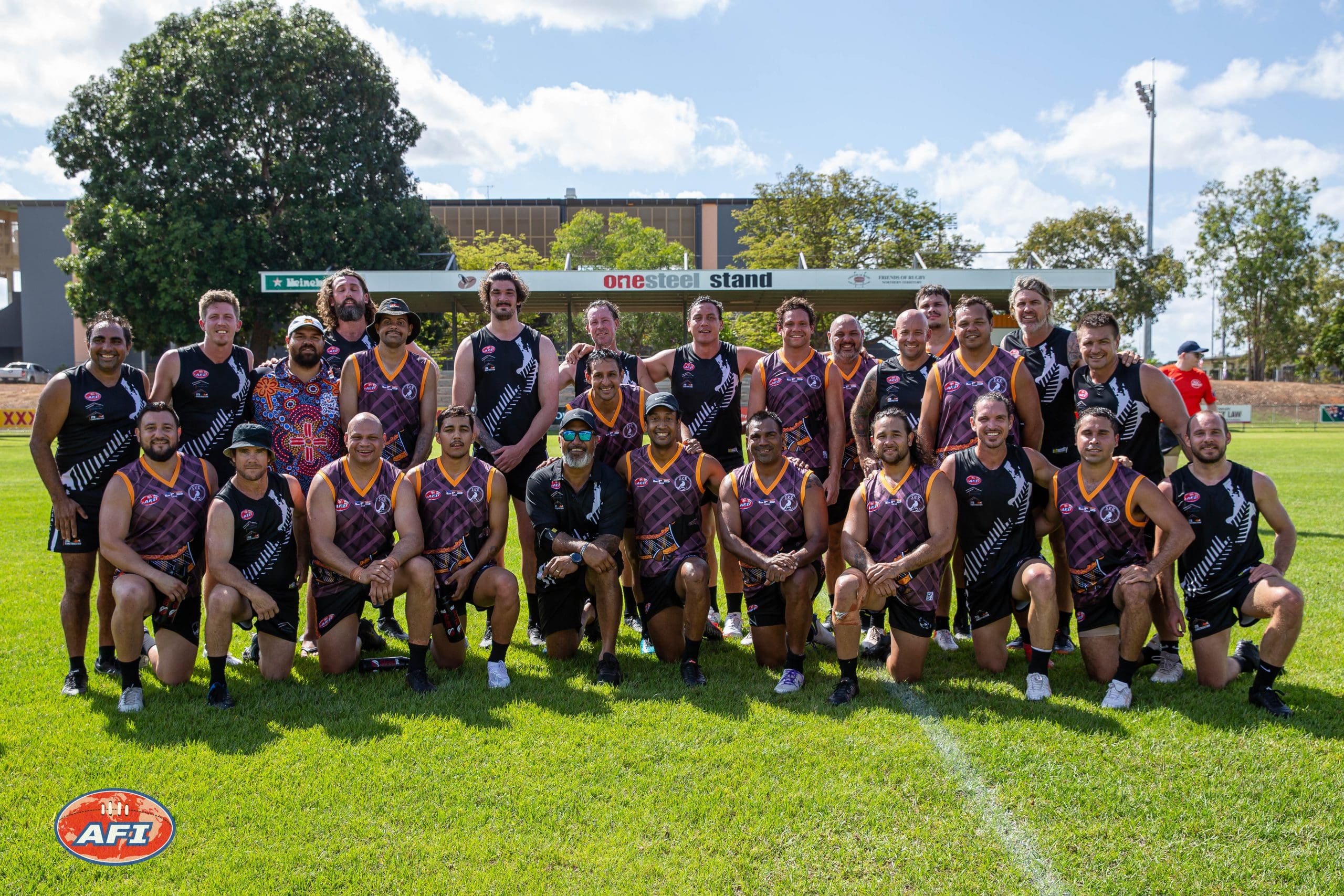 With the success of taking Footy 9s to Darwin, Clarke shares that they're looking further, to expand worldwide and seek inclusion in the 2026 Commonwealth and 2032 Olympic Games.
"Our ambitions are not just confined to Australia, we want to take the game overseas, make it truly international," he said.
"We want to get our nine a side version of the game into the Olympics. People said to me years ago, 'Oh this is just crazy talk, footy in the Olympics, (you should) go off to the funny farm, that's where you belong.
"Then Rugby Sevens got to the Olympics and then in Tokyo we had indoor sport climbing and skateboarding...they've announced that breakdancing is going to be in the Olympics in Paris in 2024. So I don't think the idea of footy... being in the Olympics is such a far-fetched idea."
There has even been talks for several years now of esports (competitive gaming) being included in the Olympics, and the Olympic committee have even commissioned events, so why can't Aussie rules football, at least a suitable version of it, be played?
RELATED: Esports and how the AFL can do more
"We really believe that it can become an Olympic sport, and you'll always have the naysayers, people that say, 'it's too hard, or it's an Australian game, let's not wreck it by taking it overseas'," Clarke said.
"We've got a market of 26 million people here in Australia and the world is eight billion people. (There is around) 200 countries, all of them have rectangular fields. Just imagine how great our game could be if it was truly international."
The 'rectangular fields' is a massive talking point in the conversation of going international.
AFL is played on massive, oval-shaped fields, and you won't find these fields worldwide, but that's where Footy 9s comes in.
Footy 9s can be played on rugby and soccer fields, and still includes all the foundations of  footy, the marking, kicking and handballing.
Australia is a young country, and as mentionee, mixed with many races and ethnicities, including Clarke, who was born in Amsterdam. 
"I think the prospect of taking a nine-a-side version of the game back to your home country is a very attractive one," he told Zero Hanger.
"But you go anywhere around Europe (for example), all you've got is rectangular fields. That's it.
"If we can play nine a side on rectangular fields and people that haven't played it, are quite dismissive of it, but when people play it and see it, they say this is actually a great version of the game."
The use of a rectangular field proved handy when a game of Footy 9s was contested in the UK for the first time earlier this year.
Aussie rules side Portsmouth Pirates hosted local rugby sides Southsea Nomads and Fareham Heathens, for the exhibition.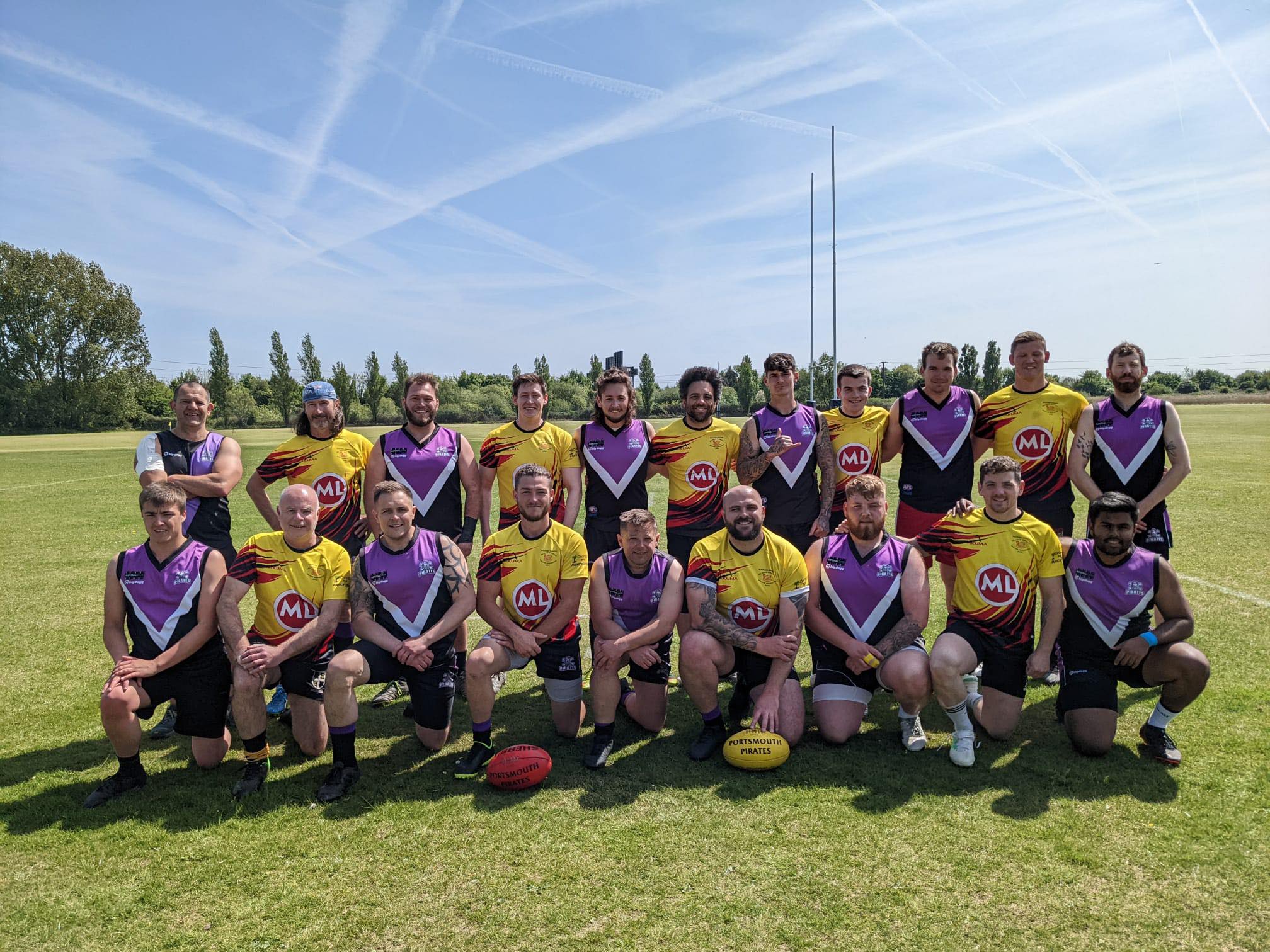 It's common knowledge that AFL shares grounds with cricket, so there is an argument to play the same game overseas on international cricket grounds.
Clarke suggests that prospect is harder than it seems.
"These cricket fields don't have a tradition of sharing the ground like we do in Australia," he said.
"So those curators overseas I know from experience will tell you to bugger off. Like there's no way you're gonna get on their hallowed turf.
"We have the world's greatest game, I've got no doubt about that. It's such a great game. However, we have sold it wrong. We've tried to sell the MCG-sized field around the world."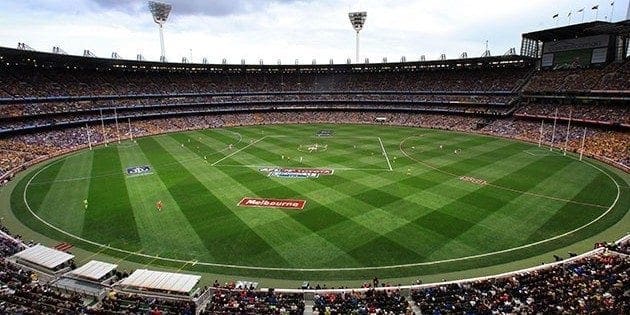 A market that is brimming with potential is that of the USA.
As mentioned earlier, there are footy leagues worldwide, including in the US with the USAFL, but there is more growth to be had, and it starts with Footy 9s, according to Clarke.
"We're working on something for the States at the moment, which is to play on their gridiron fields," he said.
"How many gridiron fields and how many colleges are there in the States? College football is by far the number one sport in the NCAA, daylight coming in second, nothing else even close to college football.
"Instead of trying to find a piece of grass in the middle of nowhere on the edge of the outskirts of some town in America, and try to mark a field from scratch and dig holes and put up posts. Wouldn't you rather just get out of the library and go to your local gridiron field on campus and play a game? So the opportunity is there. Huge Potential."
With college football comes another opportunity with women's sport.
Australia is a leader in women's sport, and AFLW is a great example. A top competition for female footballers.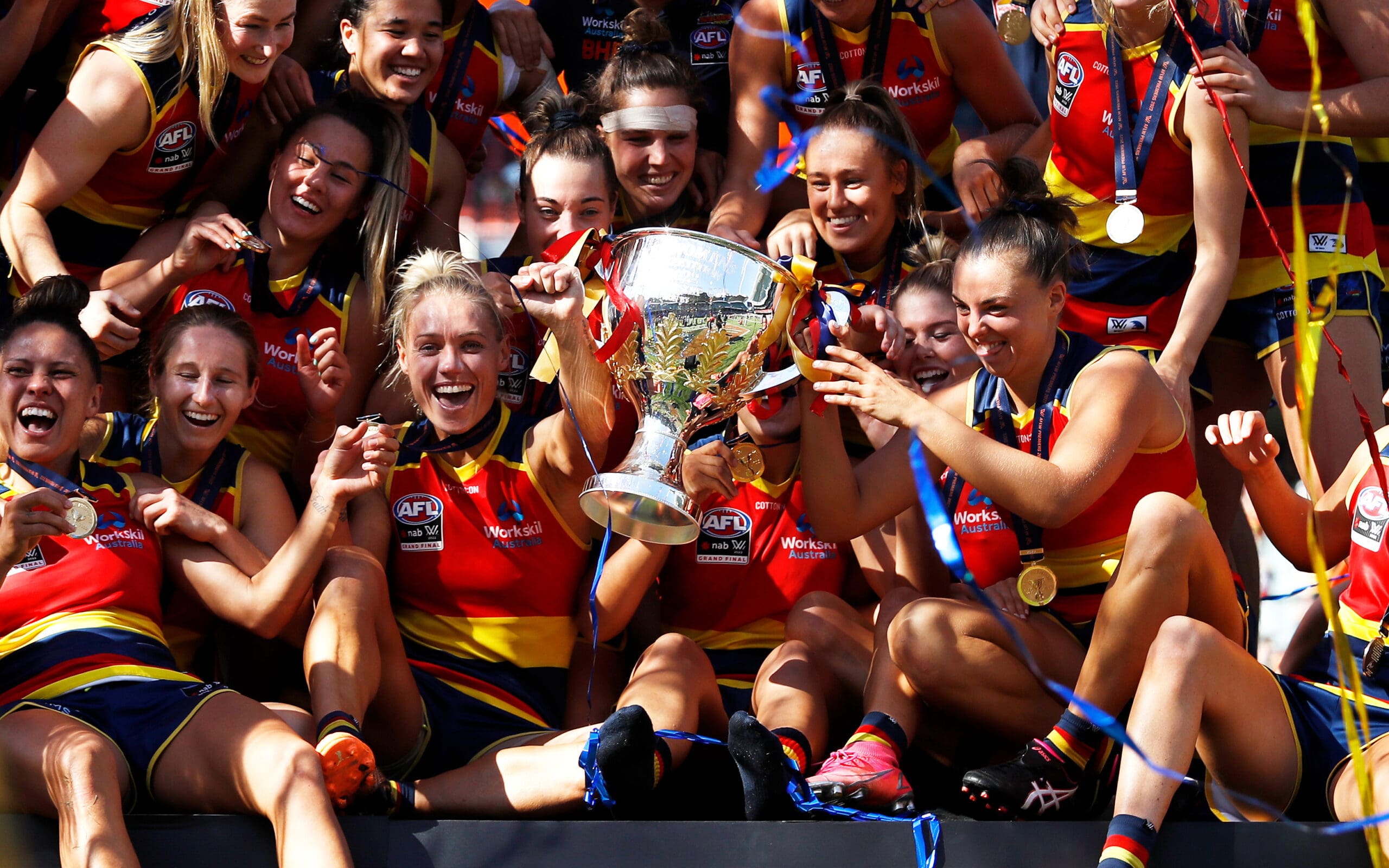 While the US is also a leading country in women's sport, there is a big omission at college level with full contact football. This is something footy 9s can fix, according to Clarke.
"How many women's college football teams are there do you think? Zero," he said.
"So college football is this massive, massive beast in America and not one girl plays it. We have an opportunity to use AFLW to inspire girls on college campuses to actually play a nine a side full contact version on their gridiron field."
From a sport that started as a way to keep cricketers fit nearly 165 years ago, to the highest spectated sport in the country, to perhaps an Olympic event, Aussie rules football has had, and will have, quite a remarkable journey.
To read more about AFI or Footy 9s, visit their websites AFInternational and Footy 9s.