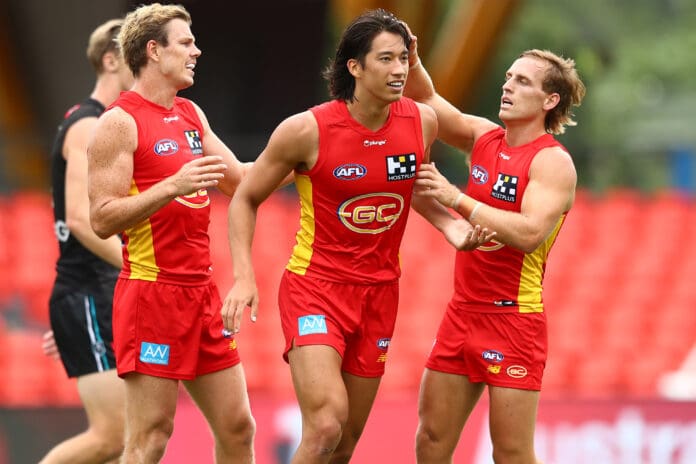 Gold Coast and Brisbane have finalised their lineups for the match at Metricon Stadium.
The Suns have made two late changes, with Alex Davies and Chris Burgess coming in for Malcolm Rosas Jnr (calf) & Jy Farrar (illness).
Jeremy Sharp (Suns) and Jaxon Prior (Lions) have been named as medical subs.
Brisbane WON BY 52 POINTS


Gold Coast

IN
C. Burgess, C. Budarick, J. Sharp
OUT
J. Farrar, M. Rosas, R. Atkins

| | |
| --- | --- |
| B | W. Powell, S. Collins, S. Lemmens |
| HB | L. Weller, C. Ballard, C. Burgess |
| C | D. Swallow, T. Miller, B. Ellis |
| HF | B. Ainsworth, L. Casboult, I. Rankine |
| F | A. Davies, M. Chol, N. Holman |
| FOL | J. Witts, M. Rowell, N. Anderson |
| I/C | B. Fiorini, O. Markov, J. Corbett, C. Budarick |
| EMG | J. Sharp, . , . |

Brisbane

IN
J. Prior, K. Coleman
OUT
M. Robinson, N. Cockatoo

| | |
| --- | --- |
| B | D. Gardiner, H. Andrews, M. Adams |
| HB | B. Starcevich, D. Rich, N. Answerth |
| C | J. Berry, D. Zorko, H. McCluggage |
| HF | Z. Bailey, D. McStay, L. McCarthy |
| F | D. Fort, J. Daniher, C. Cameron |
| FOL | O. McInerney, J. Lyons, L. Neale |
| I/C | K. Lohmann, C. Ah Chee, C. Rayner, K. Coleman |
| EMG | J. Prior, . , . |