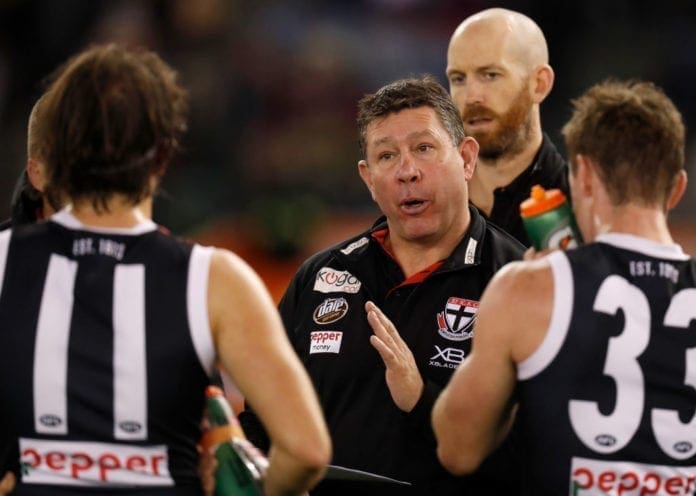 The Saints are playing finals for the first time since 2011, and their rise has been nothing short of brilliant.
They have played some terrifically attractive football this season and managed to take the scalps of some big teams along the way.
Wins against Port Adelaide and Richmond have headlined a season that not many could have predicted. The Saints made many changes to their club at seasons end, bringing in the likes of Dan Butler, Brad Hill, Zak Jones, Paddy Ryder and Dougal Howard from other clubs.
But no new addition has proved to be as important as that of their coach, with Brett Ratten taking over as caretaker coach when Alan Richardson was sacked and was awarded his second full-time senior coaching job at seasons end.
Ratten formerly coached Carlton from 2007-2012, where he was eventually sacked. He led the blues from wooden spooners to 3 straight finals series and a 5th placed finish in 2011.
Ratten departed Carlton and took up a role at Hawthorn beneath Alastair Clarkson, an apprenticeship that has strong pedigree.
His influence at St Kilda has been tremendous, with young gun Jack Bytel speaking exclusively to Zero Hanger about what Ratten has brought to the group.
"He's been good (for us), his main thing is how good a person he is, being an ex-player and facing some adversity throughout his playing career and life as well, he's good to speak to about stuff away from footy," Bytel said.
"He's been the main driving factor on how we've gelled so well already."
Bytel spoke about some of the things Ratten has introduced to help move the club forward.
"We do a lot on the mental side of things, meditation and mindfulness is such a big thing these days because the margin for error is so small, with the off-field stuff it's about any margin you can gain.
Bytel went on to say he believes Ratten has managed to get the best out of the group despite the list being so new to each other.
"It's evident in the way we have gone this year, most of the time it takes a few years for a team to gel together and obviously we are still gelling, but the results we've put out against some top teams shows how well he's done and how his structure suits our style of play."
Bytel debuted earlier in the year and has since lost his place in the side but said that Ratten's assistance with his game has been great in a difficult year.
"Obviously it's been a challenging year, debuting this year it was all great and then finding myself out of the side it was different for me, but he's been good in that sense. The feedback he's given and his main driving factors have put me in a clear mind.
"He links it back to when he played at Carlton, his early days there he found himself in and out of the side so he's been someone I can lean on."
Bytel believes Ratten has instilled confidence in the group that can see them achieve something special in the finals series.
"Any team that doesn't believe probably shouldn't be there, we're all believing we can go further than just the first week and go deep.
"We've shown our best footy is good enough, it's about consistency and fixing those little brain fades where we go missing. We always look at our best footy and it's capable of beating anybody."
The two weeks leading into the finals have seen Saints fans very excited for the clubs return to finals footy, and many of the Saints players haven't experienced a finals campaign before, so how they handle the pressure and build-up will be crucial.
Bytel spoke about how Ratten had prepared the group for the build-up.
"It's been about finding a balance (between embracing the achievement but knowing there's work to do), we're definitely enjoying making finals as we haven't done it for so long and there's players that haven't played (finals) and it's a pretty special occasion but it's also about knocking it on the head and accepting that we've done it and now moving on and looking forward to the Bulldogs.
With many of the Saints' loyal fans missing out on watching their teams new exciting brand of footy this year, Bytel said that Ratten will be bringing that same style to Marvel Stadium in 2021.
"You can see when he's coaching he's passionate, his passion to win and his passion to everything for this club.
"You can see how much he cares about the team but also the individuals here, the care he has for the staff too, he's always including staff members from different areas (of the club) which creates a sense of family.
"He's mentioned many times, it's not just the 22 that win on the weekend. it's going to take the whole list and the club as a whole, everyone has a part to play."
The Saints play the Bulldogs at The Gabba on Saturday afternoon at 4::40pm AEST.